Hillary emails prove State Dept. colluded with Obama and Clinton Foundation to give globalists like IBM, Cisco, Microsoft and Goldman Sachs control of the Internet
America's digital Benedict Arnold
Fig. 1–Philip L. Verveer.
Traitor to American national interests. Architect of Net Neutrality and the divestiture of ICANN management of global domain naming to an international crowd of dictators, strongmen, corrupt multi-national corporations. Failed to disclose his close collaboration with the Clinton Foundation and their donors including Goldman Sachs, JPMorgan, Barclays, Citibank, World Bank, Accel Partners (In-Q-Tel – C.I.A., Facebook), Microsoft, Cisco, IBM, John Podesta, Carlos Slim, Frank Giustra and Qualcomm.
Photo: ITU.
AFI highly recommends this 1.5 hr. video
Breaking News, Oct. 05, 2016
—Guccifer 2.0 released yesterday a trove of
Clinton Foundation documents
. Readers are encouraged to download them immediately so they cannot disappear suddenly.
More:
A Judicial Watch panel of experts blister the FBI, Justice Dept., State Dept., White House, Congress for permanently damaging public trust in the administration of justice in the government corruption surrounding the Hillary Clinton email server scandal.
Judicial Watch link
.
ORIGINAL POST
(Oct. 02, 2016)—Under court order, the State Department just handed over to Citizen's United a long stonewalled email exchange between Clinton loyalists at the State Department, including two Ambassadors, and the Clinton Foundation.

One of the obscured recipients, Philip L. Verveer, has just colluded with President Obama to give up America's control of Internet domain management (ICANN). The problem is that Verveer has undisclosed (and therefore fraudulent) ties to the Clinton Foundation beneficiaries of this decision—including Goldman Sachs and Citigroup.

WARNING: Chinese-style net censorship is next unless this decision is unwound. Our conclusion is that anyone in Congress who is FOR or NOT OPPOSING the ICANN transfer is either a globalist, a closet globalist, or is being blackmailed by them. This is a defining moment in the globalist takeover of the Internet. Will free people or immoral oligarchs define its future? The time for procrastination is over. Free people must ACT now. Congress failed to block it, so the official ICANN hand over date was last Saturday, Oct. 01, 2016. Now it must be unwound for fraud, which we prove in this post.

From:
CHRISTINA SASS, Clinton Global Initiative (CGI) program director
To:
MELANNE S. VERVEER, U.S. State Dept. Ambassodor-at-large for Global Women's Issues (wife of Ambassador of Telcom PHILIP L. VERVEER, ICANN traitor)
Cc:
RACHEL VOGELSTEIN, U.S. State Dept. director of global women's issues; GIULIA MARCHIORI, CGI government relations director; MYSTERY WO(MAN)
Subject:
Updated Executive Round Table Briefing for Melanne Verveer
Date:
Friday, September 17, 2010 1:07 AM
Attachments:
[1] 2010.ERT - commitments by participants, 091610.DOC;

[2] Girls and Women ERT Briefing 9 16 10.pdf
Source: United States. Department of State. (Aug. 23, 2016). Email Relase Part II, Citizens United v. US Dept. of State, Case No. F-2015-16007. Doc. No.C05982381, 06/21/2016 (see pp. 25, 27-87).
From the ICANN web site:
The Internet Corporation for Assigned Names and Numbers (ICANN) is a nonprofit organization that is responsible for coordinating the maintenance and procedures of several databases related to the namespaces of the Internet - thereby ensuring the network's stable and secure operation. ICANN performs the actual technical maintenance work of the central Internet address pools and DNS Root registries pursuant to the Internet Assigned Numbers Authority function contract.
Readers should familiarize themselves with the
ICANN
acronym because it is
critical
to First Amendment FREE SPEECH rights and everyone's use of the Internet globally. It means "Internet Corporation for Assigned Names and Numbers." Without an ICANN domain name and number, a website is not accessible on the Internet. Simple removal of an ICANN listing shuts down that website from Internet access. Censorship of any Internet site will be at the whim of unscrupulous actors. Example: "Wat? You want to start an investigative news site focused on corrupt judges and bureacrats and want a new domain name? Bwahahahahah . . . TOO BAD! One won't be avaiable.
It will be that easy to silence your voice
.
This email shines light on an evident conspiracy by globalist forces aligned with Barack Obama and the Clinton Foundation to take over the Internet before Obama leaves office. In law, such fraud unwinds any and all decisions these people have made as the "fruit of a poisonous tree."
Almost lost in the disclosure is a recipient pverveer :

This "pverveer" person is one of six people who received a 62-page Clinton Foundation leadership briefing. The document is titled "Clinton Global Initiative [CGI]- Executive Round Table Participants Commitment Highlights." The original version linked above is nearly unreadable due to an epically poor scan job. (Such obscuring of emails has become a telltale sign that the State Department is hiding something. Thanks to an AFI researcher that has spent the better part of two weeks transcribing the 62 pages linked in this paragraph. The American Republic thanks you!)
Rapist Bill's public-private female enablers
The sender was Christina Sass, Bill Clinton's "close" aide and Clinton Global Initiative (CGI) program director.
The primary recipient is Melanne S. Verveer, Hillary Clinton's first ever Ambassador for Global Women's Issues. Ambassador Verveer is a key CGI facilitator and presenter. Her Clinton Foundation programs include sponsorship by Goldman Sachs.

[Editorial: Are American leaders brain dead to let this epic corruption, collusion and conspiracy continue?! Are ALL American leaders on the Goldman Sachs payroll? We know Mitt Romney is. He has over 40 Goldman Sachs fund holdings. Goldman Sachs funds Hillary Clinton, John Kasich, Jeb Bush, Marco Rubio, etc. Goldman Sachs was lead underwriter for Facebook with whom Hillary's State Department had entered election rigging contracts starting in 2009 while obstructing justice in the Leader v. Facebook social networking patent infringement trial. ]
Copies went to Rachel B. Vogelstein, Hillary's State Dept. director of global women's issues, and Giulia Marchiori (Ceresa), CGI's head of government relations.
The revolving door between Hillary's State Department and Hillary's Clinton Foundation is evident.
The 62-page document attached to the email details the activities and commitments of over 600 companies and individuals supporting the Clinton Foundation with tens of billions of dollars in projects, mostly outside the United States. They include numerous Clinton Foundation and Hillary campaign donors, including Goldman Sachs, JPMorgan, Barclays Bank, Citigroup, World Bank, Accel Partners (In-Q-Tel – C.I.A., Facebook), Microsoft, Cisco, IBM, John Podesta, Carlos Slim (part owner of The New York Times), Frank Giustra, Uranium One and Qualcomm, among many.
Who is Philip L. Verveer?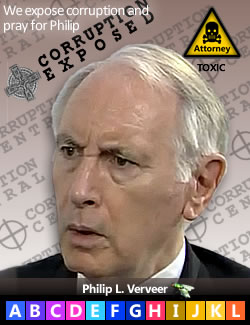 Philip L. Verveer


U.S. State Dept. Telecom Ambassador, FCC chief counsel, globalist hack, Clinton Foundation co-conspirator, America's digital Benedict Arnold
Philip L. Verveer was Obama's U.S. Ambassador for State Department Telecommunications Policy until recently. His wife Melanne was Hillary Clinton's first ever Ambassador for Global Women's Issues. Two ambassadors in one larcenous family. Priceless.
Verveer is Obama's chief legal counsel on the ICANN Internet domain name give away scheme set to take effect on Oct. 01, 2016.
Among the many scandalous activities revealed by this Hillary email, the attempt to obscure Verveer's involvement with the Clinton Foundation speaks volumes. Obama and the State Department do not want the American public to see how American interests are being sacrificed to their globalist cronies.
We will swing back around to the others involved with this email in the next post, but we'll focus on Philip L. Verveer, a modern-day Benedict Arnold, in this post.
the ICANN hand over is fraudulent for at least the following reasons:
Violation of the public trust:

Verveer, an attorney for Barack Obama's Executive Branch, signed an Ethics Agreement after being nominated by Obama on May 13, 2009 and before becoming Telecom ambassador shortly thereafter. Verveer promised to recuse himself in matters where he had a conflict of interest.

Verveer failed to disclose his close associations with the Clinton Foundation and its donors who are

direct beneficiaries

of his recommendations to divest ICANN.



Invalidated Obama's decisions:

Barack Obama's decision to divest ICANN is tainted by Verveer's undisclosed conflicts with the Clinton Foundation and its donors, most especially its technology donors like IBM, Microsoft, Cisco, Qualcomm, Facebook and In-Q-Tel (via Accel Partners) who are direct beneficiaries of the divestiture.



Public Corruption – Epic Obama collusion with Clinton donors:

Barack Obama's conflicts of interest with the same Clinton Foundation and Hillary for President donors disqualifies him from any involvement in decisions that will benefit these companies.



Fig. 2

—

On Mar. 02, 2015

, President Obama and senior adviser, Valerie Jarrett, met with chief beneficiaries of the stolen Eclipse Foundation code: IBM, Xerox, Dell, Micron Technology, Qualcomm and EMC. Given the timing of this meeting―a week after the radical "Net Neutrality" changes to Internet regulation by the FCC—the real agenda of this group was most likely to discuss progress on their common agenda—the IBM et al "The Internet of Things" takeover of global digital infrastructure, which the FCC changes to Internet regulation helped facilitate.

Photo: IBM.

Fig. 3

—

On Feb. 17, 2011

, Barack Obama (U.S. President), Mark Zuckerberg (Facebook CEO), Steve Jobs (Apple CEO), Steve Westly (Westly Group Partner), John Doerr (Kleiner Perkins Partner), Ann Doerr (John Doerr Spouse), Eric Schmidt (Google CEO), Art Levinson (Genentech Chairman), John Chambers (Cisco CEO), Larry Ellison (Oracle CEO), Reed Hastings (Netflix CEO), John Hennessy (Stanford Univ. President), Carol Bartz (Yahoo CEO) and Dick Costolo (Twitter CEO).

Photo: FinanceTwitter.com.

Fraudulent B6 exemption claims hide public property:

The State Department fraudulently claimed a "B6" personal privacy exemption for the Verveer's email address when he is clearly a State Department Ambassador!

In any event, a person's email domain name hardly qualifies for a healthcare or personnel records privacy B6 exemption. The State Department is evidently hiding Verveer's identity for the reasons we describe in this post, we believe.
Fraud unwinds decisions of public officials
Fraud unwinds legal decisions. When public officials are found to have been corrupt, the decisions they have made must be unwound as if they had never happened.
At a minimum, this bombshell discovery requires a full and fair investigation before ICANN is handed over to globalist forces aligned with Barack Obama, Hillary Clinton and the Clinton Foundation (and therefore George Soros).
Epic revolving door betrayal of America:

White House + State Department + Clinton Foundation + Globalist Clinton Donors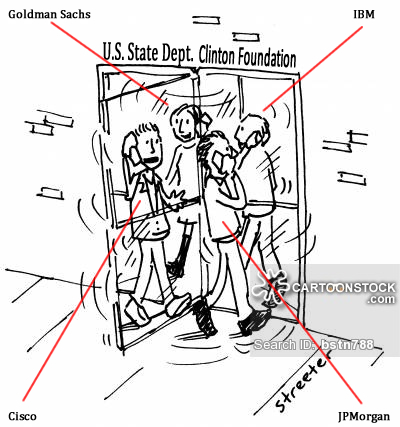 The stonewalled email and 62-page Clinton Foundation document (5 MB) reveal an epic level of collusion among the State Department, Clinton Foundation, Barack Obama and globalist Clinton Foundation and Hillary for President donors.
In fact, it appears that the Clinton Foundation has been driving the State Department and Obama from the beginning of Obama's first term on Jan. 20, 2009.
Stay tuned for a fuller analysis of the more than 600 Clinton Foundation corporate and individual sycophant donors that reads like a Who's Who of the globalist, anti-American agenda.
* * *
Notice: This post may contain opinion. As with all opinion, it should not be relied upon without independent verification. Think for yourself. Photos used are for educational purposes only and were obtained from public sources. No claims whatsoever are made to any photo. Fair Use is relied upon.
Comment
Click "N comments:" on the line just below this instruction to comment on this post. Alternatively, send an email with your comment to amer4innov@gmail.com and we'll post it for you. We welcome and encourage anonymous comments, especially from whisteblowers.