$543 million paid to Hillary's "insider henchmen" like Patrick Kennedy and Debbie Wasserman Schultz

Congressional beneficiaries lined up more than six months ahead of the contrived 2008 banking "crisis" and Presidential election—classic George Soros regime destabilization writ large
Bookmark: #wikileaks-podesta
Breaking News, Oct. 08, 2016—Wikleaks Podesta Emails confirm secret clinton ties to Putin, "gender research" & food security war gaming


WikiLeaks just released
emails from John Podesta—chronic Clinton adviser and Hillary's campaign manager.
Time magazine
described this leak as "mundane." Time's reporters are absolutely not doing their job, as you will read.
The emails prove that Podesta continues
secret business ties with Vladimir Putin's company Rusnano
. We covered this in our
Aug. 12, 2016 post
. Leaked Podesta Gmails mention the
Wyss Foundation
—Feb. 22, Mar. 19 and Mar. 25, 2015. Podesta is a consultant to Wyss.
New, 10/10/2016:
Selling Out America
—
On Dec. 06, 2008
, before Barack Obama's inauguration to his first term, Podesta's PAC Center for American Progress organized a board of directors retreat. The invitees included: (1) Wyss Foundation founder Hansjorg Wyss, (2) George Soros's Open Society president Aryeh Neier, (3) Goldman Sachs operatives, and (4) Cheryl Mills, Hillary's soon-to-be chief of staff. This email ties Hillary and Mills directly to George Soros and secret Russian influences via the Wyss Foundation.
On Feb. 22, 2015
, Podesta scheduled meetings re.
Facebook social media strategy
,
"Gender Research"
(what's that?) with Facebook's COO Sheryl Sandberg, meetings on
food security war gaming
(whatever that is), and a meeting with
Molly McUsic, president of Wyss Foundation.
Wyss has donated up to $5 million to the
Clinton Foundation
and holds stock in Boston-based
Joule Unlimited
in which
Vladimir Putin's
company
Rusnano
invested $35 million.
The
Mar. 19, 2015
Podesta email discusses a blistering
Washington Examiner
article about Wyss Foundation that failed to analyze Wyss & Podesta ties to Rusnano and Putin.
Podesta topics Time chose to ignore: Putin, Rusnano, Chubais, "gender research," conflicts of interest with foreign powers, email security, surveillance, food strategy war gaming. C'mon Time, do your First Amendment job and stop being lapdogs!
The
Mar. 25, 2015
email outlines a plan for Podesta's next Apr. 09 Wyss Foundation board meeting in Boston where "Wyss will cover travel." The email also mentions: "Wyss Foundation: Reach out to
Hansjorg Wyss
," who is a Putin confidante.
New, 10/10/2016:
On
Dec. 3, 2015
, Podesta coordinated a meeting between longtime Obama-Clinton community organizer operative
Nick Rathod
and the Wyss Foundation using his Gmail account. Note: Magically, Rathod's
White House
bio has disappeared. This is more proof of influence pedaling among the White House, Clinton Foundation and Clinton campaign.
New, 10/10/2016:
On Mar. 10, 2016
, Podesta and the Wyss Foundation used Podesta's Gmail to coordinate a board meeting with former Arizona governor Bruce Babbitt, Harvard Business Publishing professor Howard H. Stevenson, and UC Hastings property law professor John Leshy. This corruption embroils Hillary's campaign with Harvard and UC in Hillary's and Podesta's secret Russian business dealings—all the while Podesta and Hillary blame the Russians for the WikiLeaks leak.
The CEO of Rusnano is
Anatoly Chubais
, who in 1993 secretly colluded with
Larry Summers
,
Sheryl K. Sandberg
and
Yuri Milner
to implement the disastrous
World Bank
voucher privatization program in the former Soviet Union. Milner was later assigned to takeover email systems in the Russian sphere of influence via
Mail.ru
and
VKontakte
, while Sandberg did the same in the West via
Gmail
and
Facebook
. Between them these scoundrels control most of the supposedly"free" email, globally.
Why is Podesta meeting with Facebook's Sandberg on "gender research" (there's a joke there, but never mind) and others on "food security war gaming." Are these not the topics of dictators and schemers, not statesmen?
ORIGINAL POST
(Oct. 05, 2016)—Guccifer is the whistleblower who first exposed Hillary Clinton's private email server after hacking into adviser Sidney Blumenthal's AOL email account. His successor, Guccifer 2.0, has also delivered.

Guccifer 2.0 released a trove of almost 1 gigabyte of Clinton Foundation documents on Oct. 04, 2016. Several key points stick out immediately. The documents look more like Democratic National Committee fund raising. Since the Clinton Foundation is a non-profit organization, such political activity is illegal. It is the same kind of activity that the IRS complained of with the Tea Party.

The principle is simple. If an organization wishes to be exempt from public tax, then that organization should be apolitical. Clearly, The Clinton Foundation promotes a progressively leftist agenda.  This Guccifer information would be deadly to any other non-profit.
We focus this post on several key documents uncovered in a folder titled "To be filed."
$543 million Clinton Foundation pay-outs to favored Obama & Clinton cronies before the 2008 bank bailout — 1,146 projects. Epic!
Key Requester chart, dated Jun. 20, 2008 (Guccifer 2.0, 12.7 MB)
Here is the spreadsheet summarizing the following insider's pay-to-play deals.
The best operatives money can buy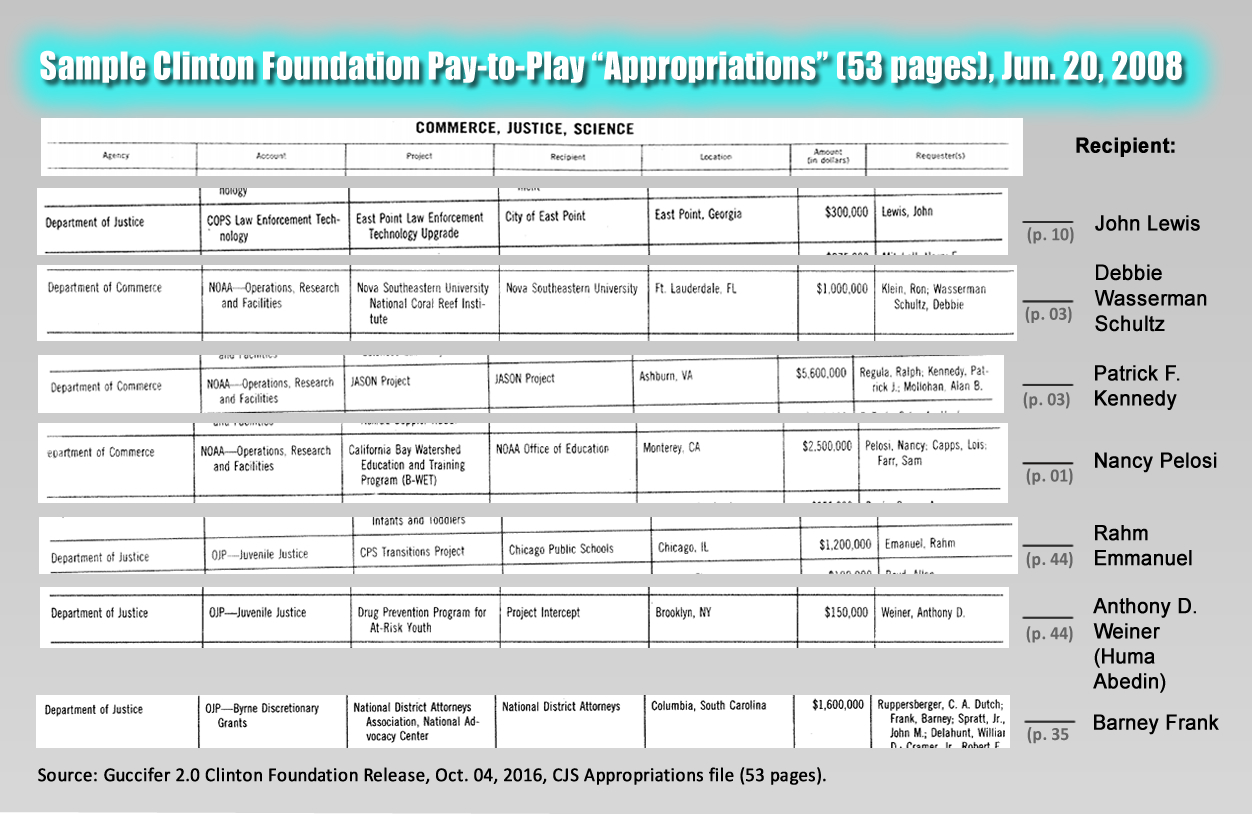 Fig. 2–Clinton Foundation corruption.
$543 million Clinton Foundation Pay-to-Play Appropriations among 1,146 projects, Samples, Jun. 20, 2008: John Lewis, Debbie Wasserman Schultz, Patrick F. Kennedy, Nancy Pelosi, Rahm Emmanuel, Anthony D. Weiner (Huma Abedin). Source: Guccifer 2.0, Oct. 04, 2016.
Clinton Foundation Requester:
Amount received:
Background
Patrick F. Kennedy
$9,850,000
State Dept. official who failed to approve security for Benghazi embassy and stonewalls Congress and the courts on subpoenas and FOIA requests regarding Hillary Clinton
Barney Frank
$2,550,000
Former gay Massachussets Representative; chaired House Financial Services Committee (2007-2011); co-sponsored Dodd-Frank Act; Signature Bank director
John Lewis
$400,000
Civil Rights pioneer, U.S Representative, Ranking House Benghazi Committee member, opposes all investigations into Hillary Clinton
Rahm Emmanuel
$2,200,000
Former Obama Chief of Staff and now Mayor of Chicago
Debbie Wasserman Schultz
$2,800,000
Dethroned DNC Chair who performed dirty tricks against Bernie Sanders and prevented his success
Anthony Weiner (Huma Abedin)
$450,000
Husband of Hillary confidante and top aide, Huma Abedin
Nancy Pelosi
$6,200,000
Former Speaker of the House favoring nationalized health care; opposes all investigations into Hillary Clinton

Table 1:

Sample Clinton Foundation "Appropriations" Requesters, Jun. 20, 2008.
No wonder our federal officials are silent about Washington, D.C. corruption. They are part of the corrupt and have betrayed their oaths of office. They have lied and deceived the American citizenry.
AFI researchers were told years ago by a very wealthy Midwestern philanthropist that Washington, D.C. and Wall Street combined are an inside game that he called "The Acela Mafia." The Acela Express is the fast train that runs between New York, Boston, Philadelphia, Baltimore and Washington D.C. This data reinforces that observation.
Clinton Foundation tracked donations from Wall Street to FnDn insiders, comparing these donations to T.A.R.P. fundings the insiders approved for those banks
One particularly telling spreadsheet is a Feb. 12, 2009 spreadsheet that tracks Wall Street bank donations to key Democrats and sycophant Republicans compared to the TARP fundings that they approved in Congress (NONE of these people disclosed their conflicts of interest).
Clinton Foundation record snippet from Feb. 12, 2009 showing paybacks from Wall Street TARP recipients to Representatives who approved TARP
Source
: Guccifer 2.0.


The globalism of Barney Frank,
George Soros
and The Clinton Foundation is founded on
unethical, immoral, secret dealings
and
fraudulent financings
. Therefore, globalism is
stillborn
as a moral principle and means of governance. (Notice that both Bono and Barney Frank were uncomfortable being videotaped in this meeting—a scene of globalist crimes.)
Davos. (Jan. 29, 2011)
. Herman Van Rompuy, President of the European Council meets with Bono, George Soros and Rep. Barney Frank. YouTube. World Economic Forum.
Raw video (*.mp4)
.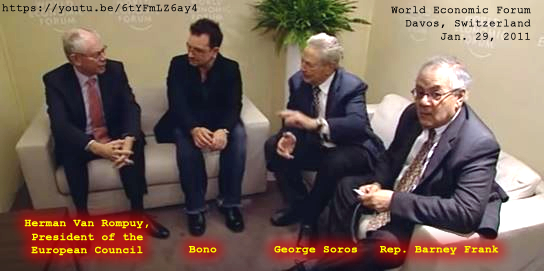 Fig. 3–Clinton Foundation Pay-to-Play Payback record.
Snippet from
Clinton Foundation. (Feb. 12, 2009)
. Barney Frank, Nancy Pelosi, Master Spreadsheet PAC Contributions. Guccifer 2.0 released Sep. 04, 2016. Note that all of these bank were underwriters for the Facebook intial public offering on
May 18, 2012
. Every one. Not a single U.S. Representative, Senator, judge or agency official disclosed their conflict of interest in receiving donations from Facebook underwriters during the
Leader v. Facebook
proceedings. Such conflicts are flaggrant obstruction of justice.
Bono made over $1 billion from his Facebook stock that was first sold to him, then sold for him by Goldman Sachs and other Wall Street beneficiaries of the 2008 T.A.R.P. bailout. No wonder Bono did not want to be filmed with Barney Frank, George Soros and the President of the European Council—so many globalist criminals in one little Davos meeting room might have sparked an inversion of the space-time continuum.
It is illegal for a government agency or official to interfere in an active lawsuit according to 
18 U.S. Code § 1505
—Obstruction of proceedings before departments, agencies, and committees. "Proceedings" is a broad term for essentially any official government activity in courts, agencies, grand juries and Congress.
Conclusion
Since Bill Clinton's first term, and through George W. Bush and Barack H. Obama, America has been governed by globalists intent on replacing the American republican form of government (majority rules without infringing the rights of minorities).
They want to establish a profligate capitalist oligarchy. This oligarchy stole Leader Technologies' social networking invention as a global spy data collection tool. They have used that invention to accelerate their globlal takeover of the Internet via "The IBM Internet of Things." This nasty, immoral web can be fixed and cannot be allowed stand. Such a house is built on shifting sand.
Their agenda is visible in the $543 million payoffs and quid pro quo donations in the Clinton Foundation charts above. Their goals are clear: chaos abroad and domestically, nationalized health care, corruption of our political election system, supporting chaos in major cities, and creating insider foreign deals that interfere with our country's success.
Bill Clinton and George W. Bush were their tools.
Barack H. Obama and Hillary Clinton are their tools.
Hillary Clinton is hell-bent on continuing. Obama says Hillary will never go to jail for her crimes.
It's up to us, the American citizenry, to take back the power that these people have abused.
* * *
Notice: This post may contain opinion. As with all opinion, it should not be relied upon without independent verification. Think for yourself. Photos used are for educational purposes only and were obtained from public sources. No claims whatsoever are made to any photo. Fair Use is relied upon.
Comment
Click "N comments:" on the line just below this instruction to comment on this post. Alternatively, send an email with your comment to amer4innov@gmail.com and we'll post it for you. We welcome and encourage anonymous comments, especially from whisteblowers.