Putin invested $35 million in Joule Unlimited, Podesta's Boston green energy company

Hillary's "The Russians did it" email hacking excuse is busted
Fig. 1–Vladimir Putin & hillary Clinton—Common financial interests—
Vladimir Putin's political mentor, Anatoly Chubais, is Chairman of Putin's favored funding front—
Rusnano
(Russian Nanotechnology Corporation). Bill and Hillary's closest advisor, John Podesta, has been associated with various Dutch companies in which Podesta and Chubais have been directors and in which Rusnano invested $35 million. If this weren't close enough, one of the investors with Rusnano is the Wyss Foundation that made an up to $5 million donation to The Clinton Foundation.
Chubais helped lead the disastrous
Russian privatization voucher program
in the early 1990's pressed by then World Bank chief economist, Larry Summers. Summers later served alongside Podesta in the Clinton and Obama White Houses. Summers' aids in the Russian privatization debacle were Sheryl K. Sandberg and Yuri Milner, who were later placed in charge of global email and social networking via Gmail, Mail.ru, Facebook and VKontakte. In short, this small group has taken over the Internet by exploiting state powers using the social networking invention stolen from Columbus innovator Leader Technologies as well as core Internet inventions by others.
Photo: Free Republic.
(Oct. 10, 2016)—Between yesterday's Sunday talk shows and the second presidential debate last night, Hillary Clinton and her key Democratic operatives blamed the Russians in unison for The Podesta Emails released by WikiLeaks.
The facts show otherwise. They reveal a cozy set of relationships among Hillary, Podesta, Vladimir Putin, Yeltsin-era mentor, Anatoly Chubais, Larry Summers, Sheryl Sandberg and George Soros.
Is this grounds for treason?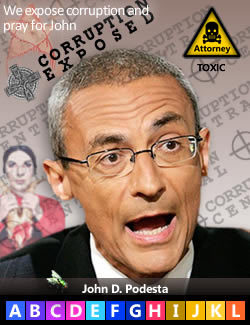 Fig. 3—John D. Podesta.
Hillary & Bill Clinton's serial advisor and back channel for The Clinton Foundation and Clinton Global Initiative (CGI). Release of his emails involving Secretary of State Hillary Clinton and CGI creator Douglas J. Band were stonewalled for years by the State Department. 44 email exchanges were just released on Aug. 09, 2016 to corruption watchdog
Judicial Watch
. Most of Podesta's back channel emails with Hillary are believed to have been deleted by Clinton's attorneys in the 30,000 she admits deleting, describing them as personal yoga and wedding plans. Any deletion of Podesta emails is criminal.
WikiLeaks
has now added to the trove of Podesta emails. Mr. Podesta's house of cards appears to be collapsing.
On Dec. 06, 2008, John Podesta's PAC Center for American Progress held a board retreat that included many future Obama and Hillary operatives including Cheryl Mills, George Soros' Open Society Foundations president, Goldman Sachs operatives and Hansjorg Wyss, founder of The Wyss Foundation, a perennial Podesta consulting client.
This meeting shows that just six weeks before Hillary Clinton formally convened her State Department staff, her chief of staff, Cheryl D. Mills, was colluding with operatives of foreign powers and George Soros.
These relationships should have been disclosed at the time Mills and Clinton signed their ethics statements. They should have precluded them from any involvement in a whole range of issues related to these conflicts of interest, like any matter involving Russia and Russian interests, Uranium One, Frank Giustra (a Clinton Foundation donor and collaborator), George Soros and his global web of activities through Open Society Foundations, the Goldman Sachs bailout and their involvement in Hillary's promotion of Facebook as an e-diplomacy tool while the Leader v. Facebook patent infringement legal battle was proceeding.
Arguably, given the breadth of these conflicting relationships, they should have completely disqualified Clinton and Mills from State Department activities.
Joule Unlimited, Boston
In 2011, Wyss and Podesta were investor and director, respectively, in a Boston-based green energy company Joule Unlimited Technologies, Inc. Oddly, the Russian press announcement contains lewd analogies to "sexy lesbian porn" and "alternative gay porn" (see the link at the beginning of the paragraph, no way to explain why it is there). Given the genesis of this company, perhaps the analogies are appropriate to this obscenity of a company, and it is not surprising that Hillary is involved.
Rusnano, Moscow
On Apr. 10, 2011, Vladimir Putin's company RUSNANO invested $35 million in Joule Unlimited. Putin's mentor Anatoly Chubais joined the Joule board along with Podesta.
Podesta resigned the Joule Unlimited board in 2012, but Wyss continues to be a major shareholder. The leaked emails show that as recently as Mar. 10, 2016, Podesta and the Wyss Foundation used Podesta's Gmail to coordinate a board meeting with former Arizona governor Bruce Babbitt, Harvard Business Publishing professor Howard H. Stevenson, and UC Hastings property law professor John Leshy.
This corruption entangles Hillary's campaign with Harvard Business School and UC in Hillary's and Podesta's secret Russian business—all the while Podesta and Hillary spuriously blame the Russians for the WikiLeaks leak.
These associations may amount to treason and are certainly illegal conflicts of interest, in our opinion.
The Russians did NOT do it, Hillary & Podesta exposed their emails and plans Themselves
Podesta and Hillary relied on Gmail and other "free" email services in these leaked emails—despite the warnings from security and privacy experts. Here are some of the unsecured Gmail addresses:
Gmail users can have no expectation of privacy, by license
Here's the license every Gmail user clicks, usually without reading it:
When you upload or otherwise submit content to our Services, you give Google . . . a worldwide license to use, host, store, reproduce, modify, create derivative works . . . communicate, publish, publicly perform, publicly display and distribute such content. . . . This license continues even if you stop using our Services . . . "
Google, its agents, third party purchasers and the NSA (ref. Edward Snowden) have access to ALL of Podesta's and Hillary's Gmails. The bottom line is, the moment Podesta and Hillary started using Gmail, they leaked their own emails—by their own hand.
Therefore, "The Russians did it" excuse is a blatant lie—yet another. And we expect this woman to protect our cybersecurity?
* * *
Bookmark: #wikileaks-podesta
PostScript (repeated from previous post)—WikiLeaks Podesta Emails confirm secret clinton ties to Putin, "gender research" & food security war gaming


WikiLeaks just released
emails from John Podesta—chronic Clinton adviser and Hillary's campaign manager.
Time magazine
described this leak as "mundane." Time's reporters are absolutely not doing their job, as you will read.
The emails prove that Podesta continues
secret business ties with Vladimir Putin's company Rusnano
. We covered this in our
Aug. 12, 2016 post
. Leaked Podesta Gmails mention the
Wyss Foundation
—Feb. 22, Mar. 19 and Mar. 25, 2015. Podesta is a consultant to Wyss.
New, 10/10/2016:
Selling Out America
—
On Dec. 06, 2008
, before Barack Obama's inauguration to his first term, Podesta's PAC Center for American Progress organized a board of directors retreat. The invitees included: (1) Wyss Foundation founder Hansjorg Wyss, (2) George Soros's Open Society president Aryeh Neier, (3) Goldman Sachs operatives, and (4) Cheryl Mills, Hillary's soon-to-be chief of staff. This email ties Hillary and Mills directly to George Soros and secret Russian influences via the Wyss Foundation.
On Feb. 22, 2015
, Podesta scheduled meetings re.
Facebook social media strategy
,
"Gender Research"
(WHAT'S THAT?) with Facebook's COO Sheryl Sandberg, meetings on
food security war gaming
(whatever that is), and a meeting with
Molly McUsic, president of Wyss Foundation.
Wyss has donated up to $5 million to the
Clinton Foundation
and holds stock in Boston-based
Joule Unlimited
in which
Vladimir Putin's
company
Rusnano
invested $35 million.
The
Mar. 19, 2015
Podesta email discusses a blistering
Washington Examiner
article about Wyss Foundation that failed to analyze Wyss & Podesta ties to Rusnano and Putin.
Podesta topics that Time magazine chose to ignore:
Putin, Rusnano, Chubais, "gender research," conflicts of interest with foreign powers, email security, surveillance, food strategy war gaming.
The Mar. 25, 2015 email outlines a plan for Podesta's next Apr. 09 Wyss Foundation board meeting in Boston where "Wyss will cover travel." The email also mentions: "Wyss Foundation: Reach out to Hansjorg Wyss," who is a Putin confidante.

New, 10/10/2016: On Dec. 3, 2015, Podesta coordinated a meeting between longtime Obama-Clinton community organizer operative Nick Rathod and the Wyss Foundation using his Gmail account. Note: Magically, Rathod's White House bio has disappeared. This is more proof of influence pedaling among the White House, Clinton Foundation and Clinton campaign.

New, 10/10/2016: On Mar. 10, 2016, Podesta and the Wyss Foundation used Podesta's Gmail to coordinate a board meeting with former Arizona governor Bruce Babbitt, Harvard Business Publishing professor Howard H. Stevenson, and UC Hastings property law professor John Leshy. This corruption embroils Hillary's campaign with Harvard and UC in Hillary's and Podesta's secret Russian business dealings—all the while Podesta and Hillary blame the Russians for the WikiLeaks leak.

The CEO of Rusnano is Anatoly Chubais, who in 1993 secretly colluded with Larry Summers, Sheryl K. Sandberg and Yuri Milner to implement the disastrous World Bank voucher privatization program in the former Soviet Union. Milner was later assigned to take over email systems in the Russian sphere of influence via Mail.ru and VKontakte, while Sandberg did the same in the West via Gmail and Facebook.
These scoundrels control most of the supposedly "free" email, globally.
Why is Podesta meeting with Facebook's Sandberg on "gender research" and others on "food security war gaming." Are these not the topics of dictators and schemers, not statesmen?
Notice: This post may contain opinion. As with all opinion, it should not be relied upon without independent verification. Think for yourself. Photos used are for educational purposes only and were obtained from public sources. No claims whatsoever are made to any photo. Fair Use is relied upon.
Comment
Click "N comments:" on the line just below this instruction to comment on this post. Alternatively, send an email with your comment to amer4innov@gmail.com and we'll post it for you. We welcome and encourage anonymous comments, especially from whisteblowers.