Ask Kamala!
Hamilton Brown, Kamala Harris' paternal ancestor, an attorney, enslaved Africans, Creole, Irish . . . white, black and brown alike, and persecuted Methodist, Baptist and Anglican abolitionists
Kamala's promotion of reparations should start with compensating the tens of thousands of souls enslaved by her ancestors in Jamaica—a British slave hub for the Americas
Kamala cannot be President because she is not a natural born citizen (see below)
Click image to enlarge.
Fig. 1—Kamala Devi Harris. She says she is running for U.S. President, yet fails to tell us that she is not qualified to be President. As an officer of the law, you'd think she had mastered Constitutional Law 101 that requires a candidate for President to be natural born. Kamala's problem is that she was born in Oakland, California in 1964 to a Jamaican father and Indian mother who had only been in the U.S. about six months on student visas. To make matters much worse, Kamala has jumped on the reparations bandwagon without telling us that her Jamaican roots are steeped in the 19th century Jamaican slave trade.

Photo: Town Hall.
Bookmark: #kamala-may-be-british
|
https://tinyurl.com/y3m6ubfp
News Update, Aug. 14, 2020:

Kamala Harris gives no evidence that she is an American citizen—All evidence points to Jamaican, Canadian or maybe even British citizenship—she is most definitely groomed by the british Pilgrims Society
Fig. 2
—
Michael Voris. (Aug. 13, 2020)
. The Vortex — Kamala Family, Slave Owners. Church Militant.
https://youtu.be/fXDHW1de3cA
(
Raw *.mp4 video file
).
Blanket claims to be an "Anchor Baby" or "Birthright Baby" are mere "open borders" propaganda fiction. Such claims are fact specific, according to the Supreme Court on the 14th Amendment.
For new coverage about Kamala Harris, including a thorough legal analysis of the 14th Amendment
vis a vis
the claim that Kamala is an "anchor baby," see:
Biden picks not black-not eligible Kamala Harris as VP nominee
.
American Intelligence Media
, Aug. 11, 2020

PHONY Kamala Harris must be arrested and deported immediately for immigration fraud
.
American Intelligence Media
, Aug. 11, 2020.
Marie Claire Publication Shills for Kamala Harris
.
Patriots for Truth
, Aug. 12, 2020.
U. S. Senator Kamala Harris is not a United States citizen. Demand her deportation immediately
.
Patriots for Truth
, Aug. 11, 2020.
Kamala Harris is an illegal alien
.
Patriots for Truth
, Aug. 13, 2020.
Deport Kamala Harris. No proof of U. S. citizenship. SENATE FRAUD
.
Truth Bits
, Aug. 11, 2020.
Is Kamala Harris an illegal alien? She even fails the "anchor baby" test!
Truth Bits
, Aug. 12, 2020
Video: Church Militant.
Bookmark: #kamala-harris-slaves
|
https://tinyurl.com/yynns7hm
Video: American Intelligence Media, Americans for Innovation, Leader Technologies, Inc.
Bookmark: #birther-propaganda-to-be-repeated
|
https://tinyurl.com/y42gxxn3
Audio: American Intelligence Media, Americans for Innovation, Leader Technologies, Inc.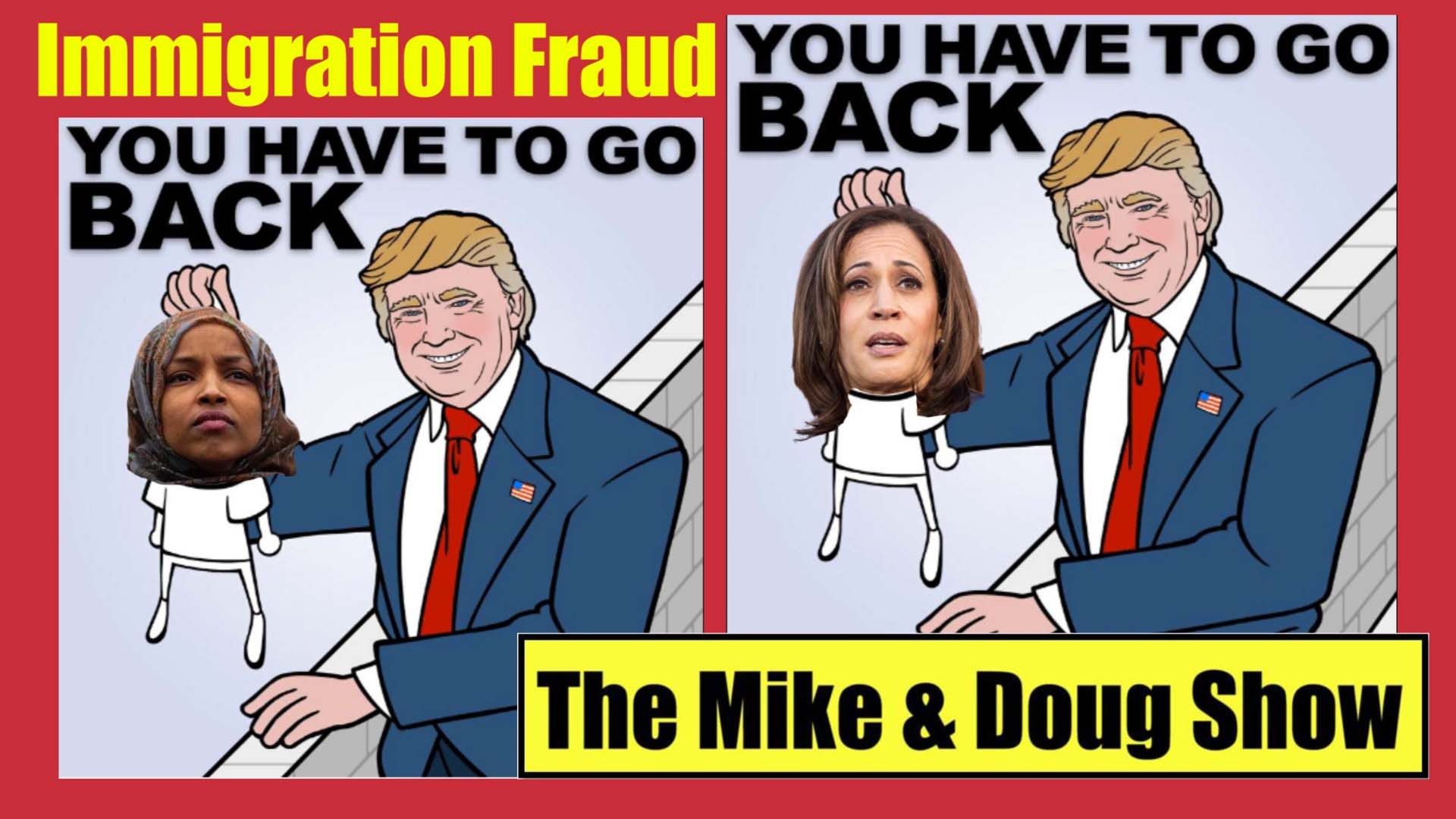 American Intelligence Media " Gabriel & McKibben" Show Audio Interview, Aug. 14, 2020. Listen to powerful investigative journalism about Kamala Harris' claims to be a birthright baby and her father's association with The British Pilgrims Society.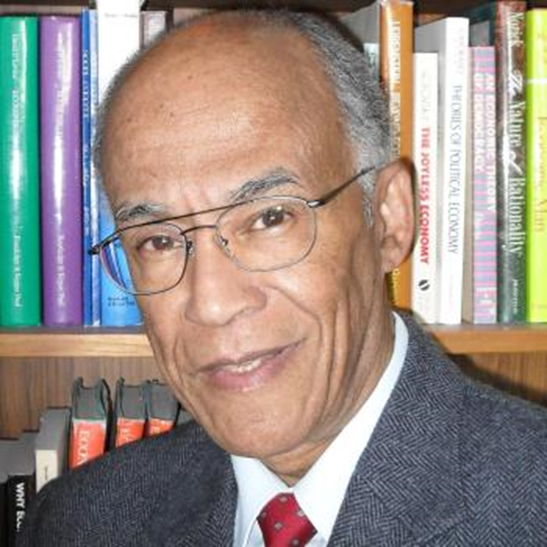 (Jul. 19, 2019)—Kamala Harris' father, Donald J. Harris, is a professor emeritus of economics from Stanford University.
Stanford's website boasts a long list of Harris' writing and associations. He has also consulted to successive prime ministers in his homeland of Jamaica.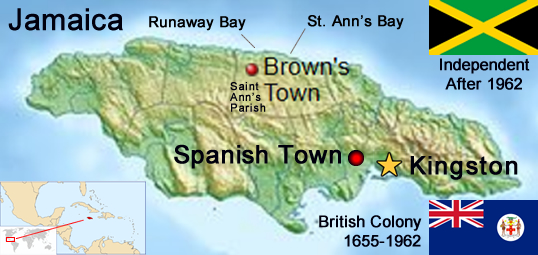 Kamala's father is a New World Order George Soros, Lord Mark Malloch-Brown, Sir Geoffrey Pattie U.N.-led globalist
Professor Harris' economic and political connections include Cambridge, Yale, Ford Foundation, Fulbright Scholar and Inter-American Development Bank. To say that he has been nurtured by British Lord Mark Malloch-Brown, former Deputy Secretary General of the United Nations, George Soros, British Sir Geoffrey E. Pattie and other new world order globalists in his career would be an understatement. Indeed, the British Privy Council appears to still control Jamaica despite the Country's "independence" from Britain in 1962.
Given the tribal, nepotistic nature of globalists, one can reasonably assume that the Brown-Harris family heritage of influence peddling, legal chicanery, human trafficking and abuse now falls upon Kamala to uphold.
On Jan. 13, 2019, Professor Harris told Jamaica Global Online  that Kamala's paternal great grandmother, Christiana Brown, was a:
". . . descendant of Hamilton Brown who is on record as plantation and slave owner and founder of Brown's Town."
Hamilton Brown (1775-Sep 18, 1843) was an attorney, plantation-owner, slave-owner, slave-trader and Assemblyman in St. Ann's Parish, Jamaica. Here is an annotated Wikipedia entry for Brown. Notice the difference between the full truth of his heinous, well-documented brutality of slaves and Wikipedia's sanitized version. Also note that there is no mention that Kamala Harris is a direct descendant.
Brown's Town (originally Hamilton Town) is named after him.
Hamilton Brown enslaved 2,158 African & Creole and more than 2,000 Irish
University College London has published about 100 pages of Hamilton Brown's legacy of slave ownership based upon court records of his attorney work as a receiver, executor, trustee and awardee for numerous plantation owners and the claimed slave properties bought, sold and transferred.
These records reveal that Hamilton Brown managed 2,089 enslaved souls for his clients and was awarded 69 slaves in part payment for his legal fees.
Ask Kamala!
Hamilton Brown enslaved, ritually whipped, raped & humiliated many 1,000's of black, white & Brown souls in British Jamaica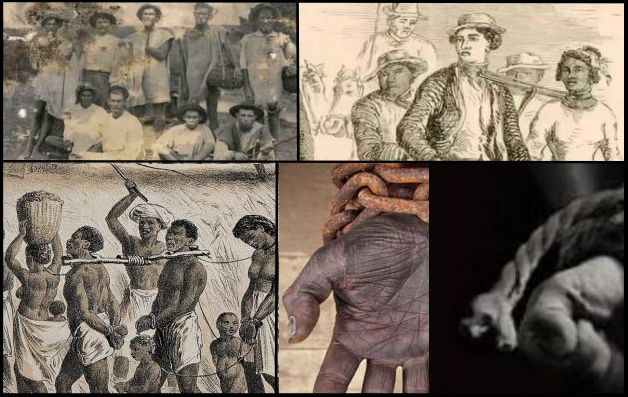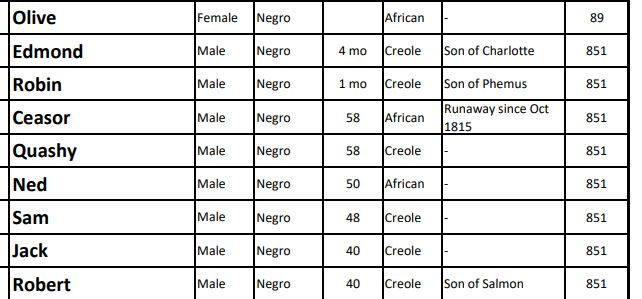 Fig. 6
—
Jeanne A. Smith, MD. (Accessed Jul. 17, 2019)
. A return of slaves in the parish of Saint Ann in the possession of Hamilton Brown as owner on the 28th day of June 1n the Year of Our Lord 1817, Excerpts From The Slave Registers, National Archives, London, T71/43, series, CO137/231-23, Despatches Apprentices 1838. Jamaican Family Search.
Source: The National Archives in London.
The National Archives in London actually names each of Hamilton Brown's 204 slaves owned personally as of Jun. 28, 1817: 100 males, 104 females.
In 1833, the British Parliament outlawed slavery by the Slavery Abolition Act. Harris vehemently fought this.
Hamilton Brown defiantly opposed freedom from human trafficking (aka slavery)
The year before, on Sep. 03, 1832, Henry Whiteley, a young English job-seeker had arrived from England hoping to get a job as a store clerk or plantation book-keeper.  Whiteley's notarized affidavit was published by the Anti-Slavery Society upon his return to England.
A draft of the Slavery Abolition Act, then called the "Order in Council for the Amelioration of Slavery," was circulating throughout the Caribbean colonies.
Whiteley described that upon first meeting St. Ann's Assemblyman Hamilton Brown, Brown swore by his Maker that abolition of slavery would never be permitted by the planters of Jamaica.
He also said that Brown and other slave owners waxed eloquent about the "happiness and comfort of the slaves of Jamaica" as compared to the destitute of England. Whitely would quickly discover that these self-serving assertions were horrifically false.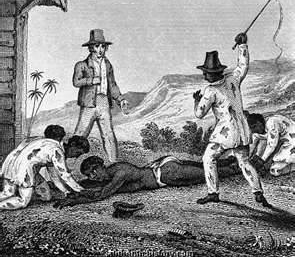 Fig. 7
—Systemic whippings were a part of daily existence for the slaves of a Jamaican plantation. 39 lashes per incident was the British legal limit, but often went higher. See
Henry Whitely's
sworn affidavit account meeting Hamilton Brown multiple times in 1832, the ritual abuse of slaves by the plantation owners, and the persecution of Christian abolitionists working to stop the inhumanity.
The young Whiteley chronicled his observations of systemically brutal whippings (39 lashes per incident was the British legal limit, but often went higher), deprivations of food and sleep, and rape by owners and overseers.
Whitely was forced to return to England just seven weeks later by a mob representing the "Saint Ann's Colonial Church Union." Hamilton Brown was a member and leader of this Union. They had come to tar and feather him for the sin of asking questions of the slaves and inciting them to question their conditions. He pled guilty to all of the charges except preaching to a gathering of 150 slaves at one time.
To replace his newly-released African and Creole slaves, Limerick 'Slaves' for Jamaica by Carl Senior (1986) presented compelling research showing how Hamilton Brown and his fellow slavers and sub-agents used street pamphlets to lure Irish peasants hungry from the potato famine to move to Jamaica with the promise of: (1) free passage with food, (2) comfortable cottage, (3) medicine and medical care, (4) sow pig and milk cow, (5) barrels of oatmeal and herring, (6) good wages and (7) Roman Catholic churches and chapels.
Item 7 was especially disingenuous since Whitely had described how slaves were being whipped for even the sin of praying, not to mention forbidden from attending church, and Methodist and Baptist churches being destroyed for nurturing prayer and devotion to God.
The Hibernian Anti-Slavery Society organized "friends of humanity" to help poor Irish avoid being lured by Brown's "man-traps" and "Jamaican slave-ships." Despite the Society's best efforts, some 2,060 Irish men, women and children sailed to Jamaica in "the hope of bettering their miserable condition." Over 1,180 Germans and 92 Portuguese also made the trip.
Ask Kamala!
The facts are well-documented and unmistakable. High volume human trafficking and ritual abuse is in Kamala Harris' blood. If anyone should be paying reparations for the heinous sins of slavery, Kamala and her Jamaican family should be among the first to pay.
Kamala Harris' political conduct has precipitated this analysis of her heritage that was enriched by slavery
Kamala Harris is supporting reparations for slavery—specifically African slavery—in a cynical attempt to elicit African-American votes.
She is not even qualified to seek votes for the Presidency since she is not a natural born citizen. She was born to foreign students in the U.S. and does not meet the Constitutional requirements. Constitutional attorney Larry Klayman just made this case quite clearly.
Her reparations argument is equally fallacious since she ignores her own family heritage. Hamilton Brown's enslavement of black, white and brown slaves was horrific and unrepentant.
Perhaps Kamala should first make reparations for the crimes of her own family.
Women who live in glass houses should not throw stones. And, it is outrageous that a person with her hideous family background would try to make an issue out of slavery reparations.
Ask Kamala!
Postscript, added Aug. 14, 2020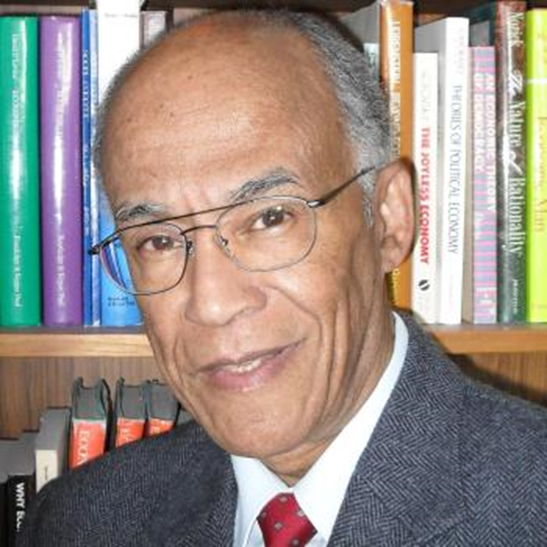 Kamala's father Donald Jasper Harris figures prominently in the claim by her supporters that she was a birthright baby, also called anchor baby, since her Jamaican/British father and Indian mother (dots not feathers) gave birth to her when they were 26-year old Berkeley graduate students.
There is no blanket "birthright" or "anchor" baby right in the 14th Amendment
The precedent-setting Supreme Court case on this 14th Amendment "birthright baby" or "anchor baby" question is United States v. Wong Kim Ark, 169 U.S. 649 (1898) where a simple test was established to clarify what the Framers meant by "subject to the jurisdiction thereof" for the citizenship eligiblity of a newborn child of foreign parents.
Besides Donald Harris failing the "are not employed in any diplomatic or official capacity" (since hindsight shows that Donald was evidently being groomed by the (British) Pilgrims Society), he also failed the "residence and domicile" leg of the five-pronged test as well. Even a cursory look at the 16-unit apartment building at 2531 Regent Street, Berkeley, CA can see that it is student housing, not a permanent residence.
Tellingtly, the Permanent Address on Donald's ship manifest (see below) is suspicously faded on that line only, but still shows an address in Spanish Town, Jamaica. Temporary student housing almost never qualifies for residence and domicile questions. In any event, the Wong test determined that the question of citizenship to newborns was fact specific, not a blanket right.
Therefore, she failed the residence and domicile test. She also failed Donald's status as "are not employed in any diplomatic or official capacity" when hindsight clearly shows he was being groomed as an agent of the British, U.N., Pilgrims Society and CFR.
If Kamala Harris has ever become a naturalized American citizen, we see no proof of it. She moved to Canada with her mother when she was 12, and attended high school at Westmount High School in Westmount, Quebec.
Did she rely on Donald's British citizenship for her time in Canada? Did she become a Canadian citizen? What did she list as her citizenship when she moved to Canada? We ask Patriots to dig up these records, or alternatively, to tell us if the Canadian/British authorities are suppressing this important evidence.
Bookmark: #donald-jasper-harris-papers
|
https://tinyurl.com/y2woxcjn
Here is Donald's basic information to start your research:
Donald Jasper Harris:
Born: Aug. 23, 1938, Kingston, Jamaica
Ship Manifest: Aug. 07, 1959, Jamaica to Puerto Rico
Citizenship British-Commonwealth-to-Jamaica Commonwealth: Aug. 06, 1962
Married: Jul. 05, 1963, Gopalan Iyer, Age 24
Divorced: Dec. 1971, Gopalan (Iyer) Shyamala
Birth: Oct. 20, 1964, Daughter Kamala
Political/Economic/NGO/Government Work, ca. 1959-present

Kamala's snarky, fact-less trolls attempt to cover up this information that disqualifies her
The mockingbird press is crawling today with snarky comments about Kamala's citizenship, but NO PROOF to backup their smugness. That carries all the harkmarks of propaganda.
By contrast, we show you proofs here.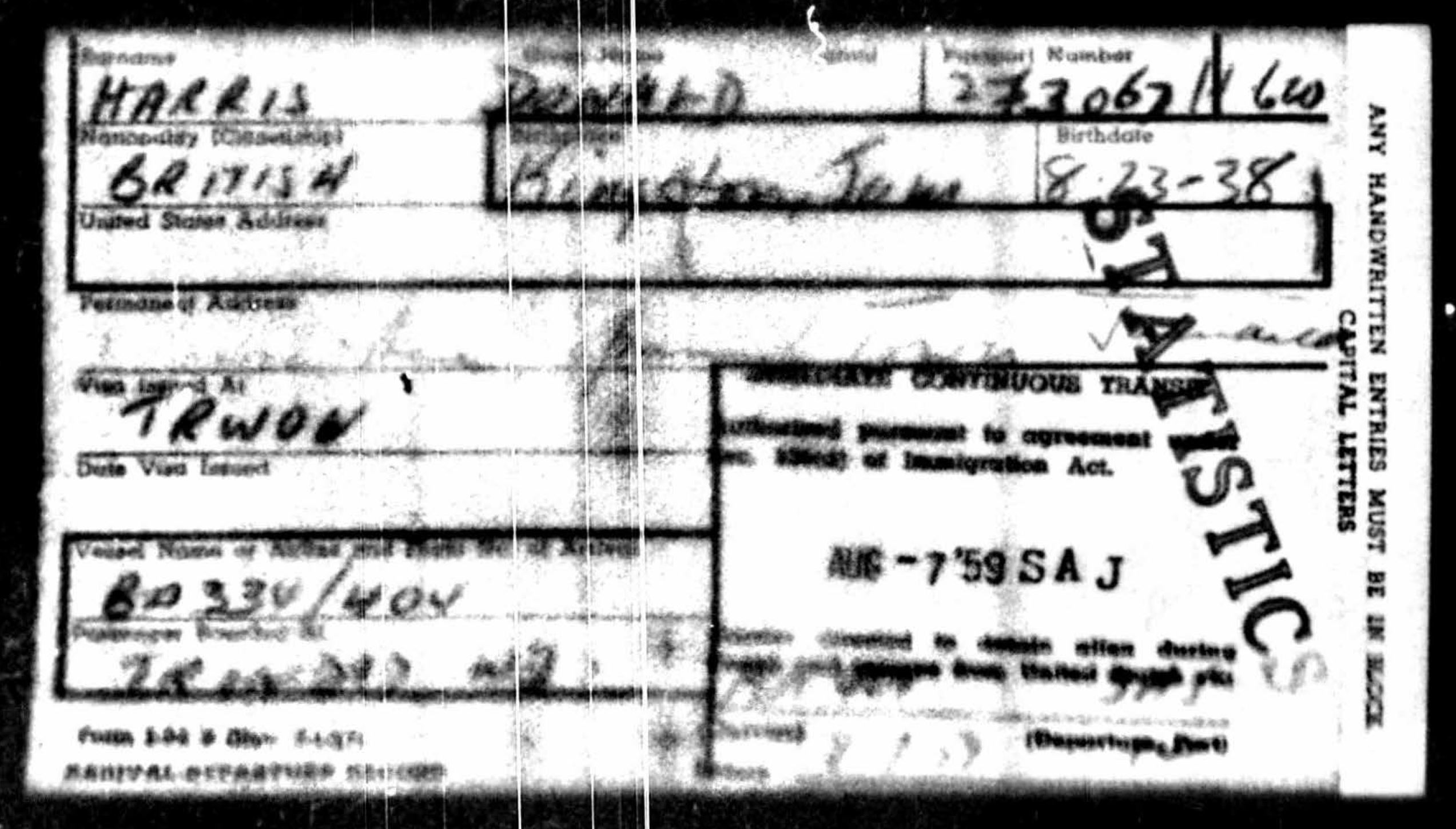 Fig. 9
—
Donald J. Harris. (Aug. 07, 1959
). Arrival, San Juan Puerto Rico Passenger and Crew Lists, Age 20, b. Aug. 23, 1938, Kingston, Jam., Nationality: British, A3534-San Juan, Puerto Rico, 1957-1959, Voyage No. 334/404. National Archives.
* * *
Notices: This post may contain opinion. As with all opinion, it should not be relied upon without independent verification. Think for yourself. Photos used are for educational purposes only and were obtained from public sources. No claims whatsoever are made to any photo.
Comment
Click "N comments:" on the line just below this instruction to comment on this post. Alternatively, send an email with your comment to afi@leader.com and we'll post it for you. We welcome and encourage anonymous comments, especially from whisteblowers.
Bookmark: #mueller-testimony-analysis
|
https://tinyurl.com/y4f3w4p6
Video: American Intelligence Media, Americans for Innovation, Leader Technologies, Inc.
Reminder Re. the Miller Act Notice
FIRST AMENDED MILLER ACT NOTICE
to President Trump today. It is a contract demand for the U.S. Treasury to pay them for the federal government's 18-year theft of their social networking inventions. These inventions were stolen by Major General James E. Freeze (US Army, ret.) and Leader's patent attorney James P. Chandler, III, on behalf of Andrew W. Marshall and the Department of Defense Office of Net Assessment that steals and weaponizes inventions for
continuous
war making and enrichment of its fascist insider military-industrial corporations.
Patriots are encouraged to help get this First Amended Miller Act Notice to President Trump and past the Praetorian Guard.
See
American Intelligence Media
republish of the Leader Miller Act Notice.