EVERY federal judge in Leader v. Facebook held stock in Facebook; We need an Inventor Protection Act
Fig. 1—Obama's Perkins Coie LLP SES Hit Squad: (L/R) Robert F. Bauer, Anita B. Dunn (Bauer), Joseph P. "Cuck" Cutler.
Graphic: AFI.
"In the darkness of secrecy, sinister interest and evil in every shape have full swing. Only in proportion as publicity has place can any of the checks applicable to judicial injustice operate. Where there is no publicity there is no justice. Publicity is the very soul of justice . . . It keeps the judge, while trying, under trial." Jeremy Bentham (1748–1832)

English jurist, philosopher, legal and social reformer
Perkins Coie LLP:
Obama's White House Plumbers?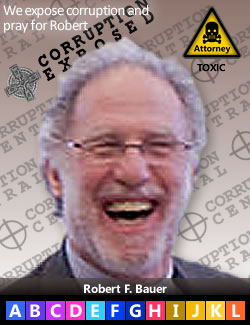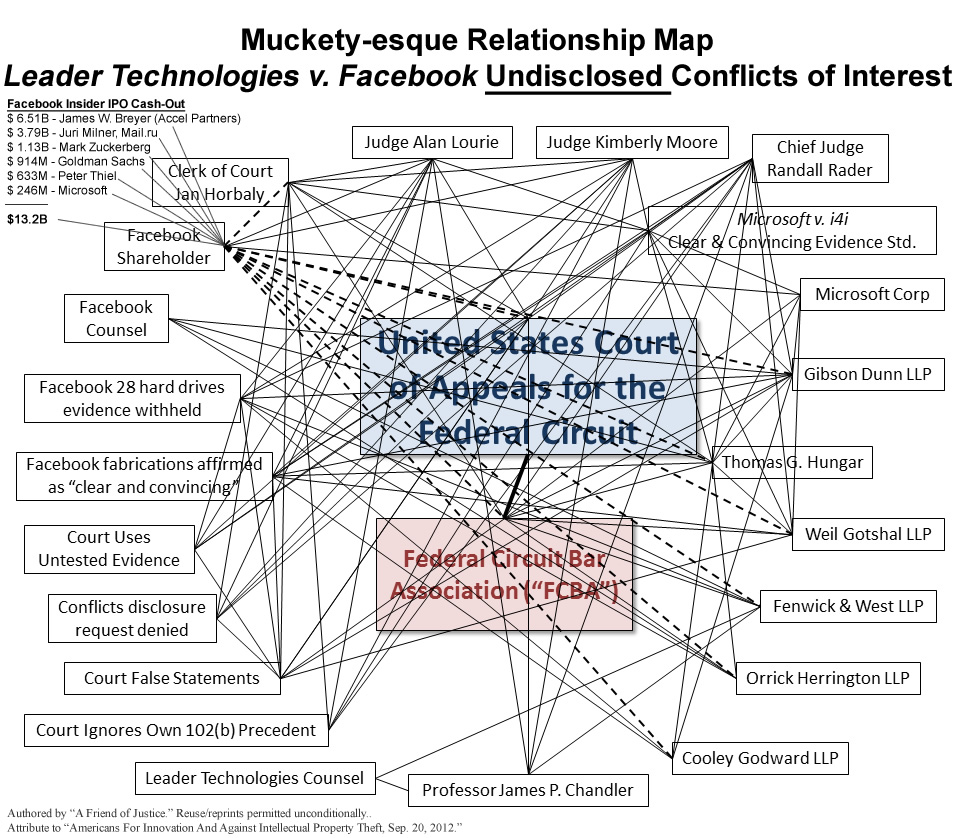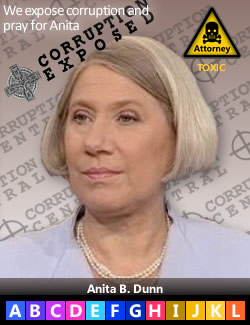 Anita B. Dunn (Bauer), Obama's lawyer, Bio
The IRS & Leader v. Facebook are scandals linked . . . as expected. Pervasive ties have been uncovered that directly link the former and current personal legal counsels to President Obama, Robert F. Bauer, and his wife, Anita B. Dunn, and their long-time law firm, Perkins Coie LLP, with the SES Deep State shadow government, including Facebook and Google.
Bauer was just identified as the man in the White House who helped direct the targeting of Tea Party groups by the IRS. He also counsels Obama's funding raising arm, Organizing For America, which includes multiple donations by many Leader v. Facebook attorneys, esp. Michael Rhodes, Cooley Godward LLP, who was appointed chief counsel to Obama's $465 million "green" energy stimulus recipient, Tesla Motors, prior to the Leader v. Facebook trial. Just search any of these key words and you'll find plenty of news on these actors. AFI researchers are on it. Stay tuned.
Here is a Muckety relationships analysis of Perkins Coie LLP's treachery. Read WSJ (Aug. 01, 2013): "New [Perkins Coie LLP] Links Emerge in the IRS Scandal." See also previous Conflicts of Interests Map among SES shadow government and Facebook already identified.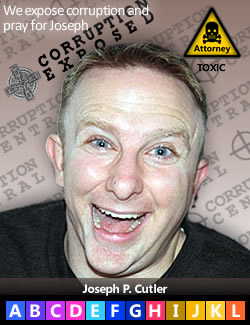 Readers are reminded that the Patent Office recently claimed Executive Privilege in refusing to release FOIA records. We have just discovered that Perkins Coie LLP is another Facebook attorney firm. They are also attorneys for Microsoft. This association directly ties Obama's legal counsel to undisclosed conflicts of interest on matters regarding Leader v. Facebook. Joseph P. Cutler, Perkins Coie LLP, a Bauer and Dunn partner, represents Facebook in multiple cases, along with Ramsey M. Al-Salam (currently co-defending Facebook in a case with Facebook's Leader v. Facebook attorneys from Cooley Godward LLP), David P. Chiappetta and James R. McCullagh.
SES paramilitary legal operation

Makes Nixon's "Plumbers" look like schoolyard criminals
Cutler's bio has an almost paramilitary tone:
"Joe manages a rapid response enforcement team to vigorously defend clients, such as Facebook, against illegal spamming, phishing, pretexting, and other forms of malicious Internet behavior."
Hackers hiring hackers to stop other hackers from hacking. Priceless. These hackers aiding The President of the United States to break the law. Tragic.
New, Aug. 6, 2013, Perkins Coie (advisor to the PRESIDENT) appears not to know the meaning of conflicts of interest. They chose to represent alleged infringer EasyLink Services as recently as Dec. 2012, even though one of their attorneys had counselled the plaintiff patent holder, J2 Global Communications, previously. Are these people really this morally deficient? Ironically, Robert F. Bauer speaks regularly on the topic of . . . ethics. His title at the Obama White House was "Special Counsel to the President for Ethics and Government Reform." More misdirection and Orwellianism, to be sure.
Fed Chairman candidate Lawrence "Larry" Summers tied to Leader v. Facebook corruption.
America Now in a State of Anarchy & Tyranny?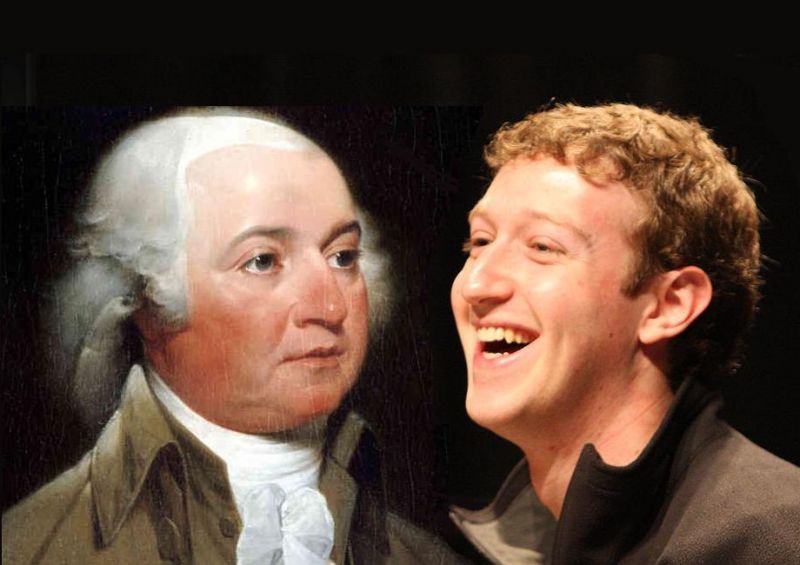 (Jul. 26, 2013)—Based on America's Founding Father John Adam's criteria, Leader v. Facebook proves that America is now in a state of anarchy and tyranny, says feature article at OpenTrial.org written by AFI contributors. Click here to read the article. Also available at. Leader HTML
(Jul. 23, 2013 ) — Message to Congress: Fight Leader v. Facebook judicial corruption—Rescind. Investigate. Sanction. Certify.
Corrupt judges and government officials are in the proverbial cross-hairs of a growing anti-judicial-corruption movement. Calls to arms to combat the systemic corruption exposed by Leader v. Facebook are being made across America. (See the new poster on right. We encourage you to download the poster and display it prominently.) Washington D.C. should be plastered with these posters. The time of judges and attorneys secretly sniggering behind the black robes must end. In a democracy, a judgeship is a sacred trust. That trust has been violated.
---
(Jul. 17, 2013)—The U.S. Supreme Court declined to take up the failed district court ruling and judicial misconduct in the Leader v. Facebook patent infringement case. The injustice to Columbus-OH-based inventor Leader Technologies aside, this case also shines a flood light on the "old boy" backrooms of our federal system. Those rooms are in dire need of renovation. Their ethical underpinnings have sheered and the floor has collapsed.
The ethical lapses cannot get any worse than we are witnessing in Leader v. Facebook. EVERY judge who has touched this case holds Facebook stock. If we still value our freedom and our democracy, Congress must step in now to fix this injustice and the endemic problems that caused it. A democracy cannot survive without just judges.
"This is a simple case of theft. The people in power to correct it have been complicit. At a minimum, they were motivated by personal greed. At worst, other coercive forces were at play. Whatever the reason, justice must be served," said a social scientist close to the investigation.
"Who are we to preach about the rule of law when our own Chief Justice can't get it right?"
An historian told AFI, "American foreign policy advocates John Withrop's 'city upon a hill' vision of American justice. But, the judicial corruption exposed by Leader v. Facebook is an utter embarrassment. I cringe now when I see our foreign service  officers lecturing Afghans on democracy. Who are we to preach about the rule of law when our own Chief Justice can't get it right?"
An entrepreneur close to this investigation said, "The conduct of Facebook's unscrupulous attorneys and these judges leaves me numb. Why bother building a business if these judges (and their cousin regulators) are just going to take it away based on 'old boy' payola, and not laws? We have become a Banana republic, sad to say."
These sentiments were echoed just today by syndicated columnist Thomas Sowell writing about the fate of the American justice system and referring to the lawlessness of this Administration. "After Zimmerman, is this still America?" by Thomas Sowell, The Patriot-News, Central PA, Jul. 17, 2013.
Trust is hard to build and easy to destroy.
Facebook was contacted for comment, but did not return calls.
AFI-related reads topped 200,000 last week. The world is watching how America fixes its own corruption. Do we practice what we preach?
Leader Technologies Inventor Protection Act
Rescind. Investigate. Sanction. Certify.
A group of bipartisan leaders has proposed the Leader Technologies Inventor Protection Act (see documents below). With the stated purpose to "restore public confidence in the patent system, and the justice system in general," the Act has three elements:
Rescind the corrupted Leader v. Facebook decision,
Investigate the wrongdoers among the judges and attorneys, and
Enact new judicial conflict of interest certification procedures.

All patent holders, prospective patent holders and freedom-loving Americans are urged to support this initiative by contacting your Senators and Congressperson and asking for their support and advocacy. The investigators at AFI will be more than happy to package any research they require.
Two different narratives have been created for the Act and the backstory. Here they are:
Proposed Leader Technologies Inventor Protection Act of 2013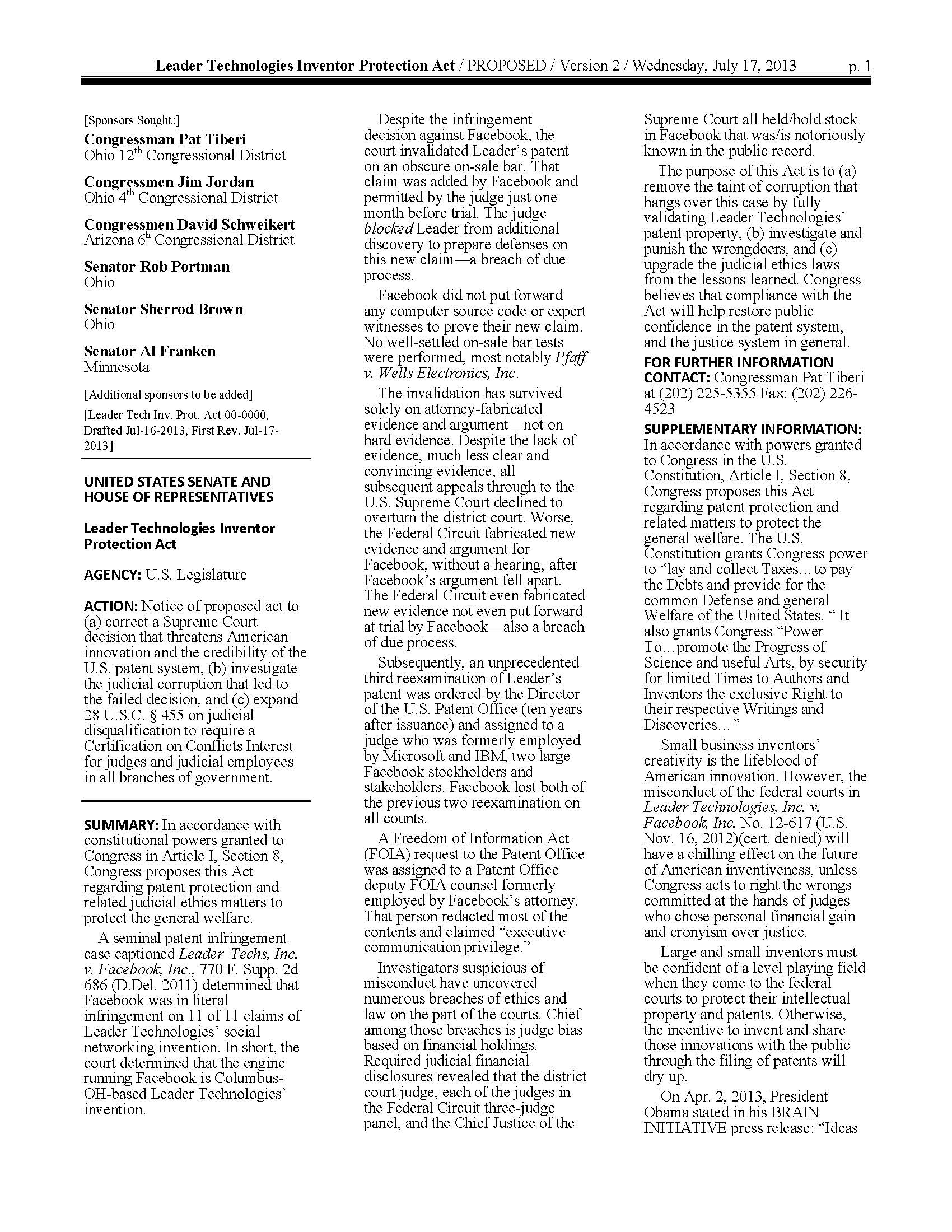 Fig. 2
– Legistlative summary of the background and key elements of the Leader Technologies Inventor Protection Act.
Click here to obtain a direct PDF version
.
* * *
Comment
Click "N comments:" on the line just below this instruction to comment on this post. Alternatively, send an email with your comment to afi@leader.com and we'll post it for you. We welcome and encourage anonymous comments, especially from whisteblowers.