The C.I.A. learned "lawfare" from the Soviets and now use it against us
C.I.A. Lawyers and judges use legal power to reward friends and punish enemies
More than 4.8 million Americans are forced to waive the Bill of Rights to work for the government
Fig. 1: The Deep State's tool for sedition is the C.I.A. Secrecy Agreement.
Government employees sign away ALL of their Constitutional rights. Therefore, Deep State lawyers and judges for the C.I.A., NSA, FBI, Department of State, Department of Justice, Department of Defense, NOAA and the National Weather Service have instituted a modern form of slavery. They intimidate employees and politicians into silence through blackmail data gathered from illegal mass surveillance of email and the social Internet.
Photo: Branco. Liberty Alliance.
Racketeers are people who make money from a pattern of illegal activities.
(Apr. 28, 2017)—The Soviet KGB disinformation department devised "lawfare" (Be patient: This URL links to a timeline that may take time to load) as an offensive political weapon against the West. The laws of the target country are used to bury them in uncreative and time wasting lawsuits, lawyers and legal expense. The techniques of lawfare are now being used by the United Nations, rogue C.I.A. shadow government, and globalists like George Soros.
Insurrection by lawyer
Saul Alinsky, the communist community organizer who advised the Clintons and Obama, wrote in Rules for Radicals: "Rule Four: Make the enemy live up to its own book of rules. If the rule is that every letter gets a reply, send 30,000 letters. You can kill them with this because no one can possibly obey all of their own rules."
Likewise, the Deep State is engaged in lawfare against the American people.
Many large, multinational law firms are Constitutional rogues. Ironically, many of them advertise as experts in ethics and constitutional law. Beneath this ruse it is clear that they study those subject in order to subvert them. They are the $1,000 per hour "hired liars" for their globalist corporate clients. Mega law firms should be banned. The number of partners in a law firm should be limited. They have ruined our judicial system with their cronyism and secrecy. The U.S. Constitution is for everyone else, not for them.
Where are the whistleblowers?
On Aug. 05, 2016, Kevin Shipp, a decorated C.I.A. agent turned whistleblower and author of FROM THE COMPANY OF SHADOWS (2013), spoke on the subject of "Where are the whistleblowers?"
He opened his talk by saying:
"But the higher I got up in the Agency, the more I began to see illegal, unconstitutional, sometimes criminal activity that the Agency, and some other sectors of the shadow government, I call it, were doing things that were illegal and unconstitutional."

"When the US government violates the Constitution, they are committing multiple felonies based on the foundation of our government."
Shiff continued,
"So, as a federal agent I had to swear an oath to the Constitution, to defend the Constitution and our country against enemies foreign and domestic. The problem was there were some that were domestic. And, there were some that happened to be in our own government."
Shiff: Wake up call. It's almost too late.
"It is almost too late to stop what is now a post constitutional government. The People are no longer ruling in our country. The government in a tyrannical form is not ruling people by subversion, force and fear."
Shipp zeroed in on the "secrecy agreement" or "nondisclosure agreement" as the primary weapon used by the government against potential whistleblowers. He went on to describe his moral decision to resist the intimidation, follow the truth, and follow his oath to preserve, protect and defend the Constitution as his higher, righteous calling.
The C.I.a. Secrecy Agreement Weapon: Form SF312 Classified Information Nondisclosure Agreement
C.I.A. uses threats and Intimidation to muzzle citizens from holding their government accountable
Shiff said all intelligence employees and contractors must sign Form SF312 Classified Information Nondisclosure Agreement. (Sometimes called the "Secrecy Agreement.")
On the surface, it is a simple two-page agreement.
However, those two pages directly incorporate 1,242 pages of nested laws, directives, orders and regulations to which the person is committing! Do you think anybody has read those pages?
We just did. We actually compiled those pages below. Here are the laws, orders and regulations referred to directly in the Secrecy Agreement:
Executive Order 12356, later became 13526 (18 pgs.). This order binds the following laws, orders and regulations INSIDE it:

5 USC 552 (29 pgs.)
USC Title 44 (317 pgs.)
Atomic Energy Act of 1954, 42 U.S.C. §§ 2011-2021, 2022-2286i, 2296a-2297h-13 (543 pgs.)

18 USC 641 (2 pg.)
18 USC 793 (3 pgs.)
18 USC 794 (3 pgs.)
18 USC 798 (3 pgs.)
18 USC 952 (1 pg.)
18 USC 1924 (1 pg.)
50 USC 783 (2 pgs.)
50 USC 421-426 (4 pgs.)
 5 USC 7211 (1 pg.)
10 USC 1034 (4 pgs.)
5 USC 2302 (8 pgs.)
Inspector General Act of 1978, 5 USC App, (57 pgs.)
50 USC 403 (3 pgs.)
CIA Act of 1949 (6 pgs.)
Classified National Security Information, Final Rule, 32 CFR 2001 (in 70 pgs. Fed. Reg.)
The total number became not two, but 1,242 pages!
In this environment judges rule by fiat. Perhaps he decides in one case to be decent. But then, when a globalist crony is in the docket, she rules for her crooked friends. It's pure lawyer street rule. We the People are not even in their equation.
Nobody can follow nested laws
Our calculation of 1,242 pages above does not incorporate the additional pages incorporated within those 1,242 pages of nested regulations. For example, one page counted above contains 26 embedded references to other regulations:
10 USC 1054 (1 pg.) contains 26 pages of nested laws:
28 USC 1346 (5pages)
28 USC 2672 (2 pgs.)
32 USC 3116 (1 pg.)
32 USC 502 (3 pgs.)
32 USC 503 (3 pgs.)
32 USC 504 (1 pg.)
32 USC 505 (2 pgs.)
28 USC 2677 (1 pg.)
28 USC 2680 (3 pgs.)
28 USC 1346 (5 pgs.)
Some pages will have more, others fewer nested pages. So, for the purposes of this example, we will use a factor of 13 as the average number of nested regulations per page.
If this 13:1 ratio holds, that would increase the total number of pages referenced in the secrecy agreement from:
Nested layers of regulations (pages):
1,242
16,146
209,898
2,7 million
35.5 million
461.1 million, then
6  billion
"Law nesting" empowers only crooked Deep State judges and attorneys
Clearly, this lawfare nesting of regulations inside of regulations ad infinitum is designed to destroy our Constitution as moral standard.
Whenever judges want to rule against something to support their globalist handlers—no matter whether legal precedent constrains them or not—they'll just rummage through these nestings until they find something to justify ruling for their globalist handlers anyway. Then, if that decision is challenged, they'll deny appeals using the now meaningless excuse of "judicial discretion."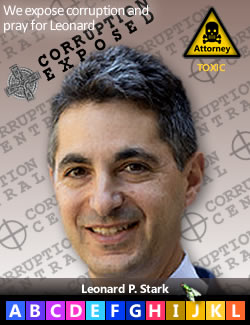 Fig. 4—LAWFARE Judge Leonard P. Stark,
Obama's last minute replacement judge in Leader v. Facebook. Played a bogus "judicial discretion" privilege to protect Facebook, in whose financial interests he was substantially invested. He was also recommended to Obama for appointment by Facebook's attorney, Cooley Godward LLP.
For example, in the Leader v. Facebook patent infringement battle, Obama's one-month-before-trial replacement Magistrate Judge Leonard P. Stark engaged in lawfare. He cited an 1898 criminal law to support his negation of Leader Technologies' victory over Facebook proving the engine running Facebook is Leader's invention on 11 of 11 claims. Stark ignored well-established patent law precedent. Wantonly, he excused his misconduct, saying "There is nothing impermissible* about such [Stark's/my] an analysis" in dredging up the 1898 criminal law that has NEVER been used in a patent case.
* STARK: "There is nothing impermissible" plays a bogus "judicial discretion" excuse. He is essentially saying: "I am a federal judge and I can interpret the law anyway I please." The fact was that nothing in law or precedent justified his opinion other than his profligate abuse of his judicial discretion for his globalist handlers. On appeal, each additional judge had a clone of Stark's financial and relationship conflicts of interest. They were all invested heavily in Facebook financial interests and attorney relationships. Chief Justice Roberts was even an admitted mentor to Facebook's attorney. See Leader Technologies' Petition for Writ of Certiorari to the U.S. Supreme Court.

If permitted to do that long enough, these globalist lawfare judges create new precedent out of thin air.
"Post Constitutional Form of Government"
This, we believe, is what Mr. Shiff refers to when he said we are in a "post constitutional" form of government. The rule of law has been replaced by judicial fiat where the highest bidder in the judge's chambers rules.
AFI researchers are now familiar with this Deep State modus operandi. These are the same lawyers who wrote the deceptive 1,500+ user license agreements for Google, Facebook, Instagram, What's App, Yahoo, Microsoft, etc. where users are fooled into giving up all their privacy rights and property in exchange for free stuff.
Institutional Slavery
Then, as if the lawfare nesting is not harmful enough, these lawyers then have their government employees, numbering over 4.8 million people according to Agent Kevin Shipp, sign their life to the Agency, essentially engaging in institutional slavery:
6. I understand that the

United States Government may seek any remedy available to it to enforce this Agreement

including, but not limited to, application for a court order prohibiting disclosure of information in breach of this Agreement.
Both sides lie in Section 12: Built in fraud
12. 

I have read this Agreement carefully

and my questions, if any, have been answered.

I acknowledge that the briefing officer has made available to me

the Executive Order and statutes referenced in this agreement and its implementing regulation (32 CFR Part 2001 , section 2001 .80(d)(2) ) so that I may read them at this time, if I so choose.

SIGNATURE
This Secrecy Agreement is clearly the binding element of the Deep State shadow government.
"4.8 million Americans (and those are just the ones we know of) hold government security clearances" and are bound by and threatened by the secrecy agreement to stay silent" Now the figure is a lot bigger than that, but that's a lot of people, and their families, and everybody that they're connected to.

Do you think they're going to speak up if it means total destruction? Probably not.

"
Common sense says that the briefing officer did not provide 6 billion seventh layer of nested documents at the signing of the Secrecy Agreement.
But, since: (1) the C.I.A. officer misrepresented himself or herself by not providing the 6 billion nested regulation pages (or 35 million in the fifth layer; or even the 16,146 in the second layer), and (2) the applicant did not review those 6 billion pages of regulations; both sides lied and committed fraud.
Given this fundamental fraud, the law says the Secrecy Agreements are fundamentally null, void and unenforceable, since they were entered into under false pretenses.
Restatement (Second) of Contracts (1981) (numerous provisions regarding lack of good faith, fraudulent inducement, misrepresentation, threat, duress, when contract is voidable, retraint on competition, interference, recklessness, negligence, unenforceable by public policy, incl. Sec. 164 (p. 23): "If a party's manifestation of assent is induced by either a fraudulent or a material misrepresentation by the other party upon which the recipient is justified in relying, the contract is voidable by the recipient."
Conclusion
In conclusion, the C.I.A. Secrecy Agreement is a total fraud that has undermined the Republic.
The solution is to wipe the slate clean of this fraudulent tool of globalist Deep State shadow government threats and intimidation that has harmed so many people, and has made America less secure—the polar opposite of its stated aim. The Secrecy Agreement is clearly the shadow government's central organizing tool.
Then, use simple, straightforward, unnested, common sense law.
While we are at it, let's move our government agencies out of Washington, D.C. around the country, to more down-to-earth places with traditional values like North Platte, Nebraska, where the lawyers will have to do real work again instead of ruin our Republic.
* * *
Notice: This post may contain opinion. As with all opinion, it should not be relied upon without independent verification. Think for yourself. Photos used are for educational purposes only and were obtained from public sources. No claims whatsoever are made to any photo. Fair Use is relied upon.
Comment
Click "N comments:" on the line just below this instruction to view comment on this post. On about Dec. 05, 2016, Google began blocking comments to this blog. However, if you email your comment to a secure email website we have established at:: afi@leader.com we'll post it for you. We welcome and encourage anonymous comments, especially from whisteblowers.