Paul Ceglia's attorney asks, again, for access to review Zuckerberg's 28 Harvard computer devices and emails for hard proof of Facebook's perjury
FBI Mueller and Comey have failed to investigate Zuckerberg's many crimes
Fig. 1 – C.I.A. Asset Mark Zuckerberg.
The rogue C.I.A. has hidden their pawn Zuckerberg's 28 computer devices and Harvard emails from 2003-2004. Multiple judges and lawyers in multiple cases who are evidently controlled by the Deep State have clearly violated the law. They have covered up for: (a) Zuckerberg's theft of the social networking technology from Columbus OH innovator Leader Technologies, as well as (b) fabricated evidence to hide the fact that NY entrepreneur Paul Ceglia.had two
verified genuine
contracts with Zuckerberg—entitling him to 50% of Facebook, like he has claimed all along. Mr. Ceglia and his family were forced to flee the country after death threats. Ceglia's attorneys have regrouped and are focused on getting the court to follow the Rules of Civil Procedure for a change and actually allow them to examine Zuckerberg's stonewalled evidence.
Illustration: Photo: Central Intelligence Agency / CNBC.
Jun. 06, 2017—Facebook is currently engaged in wanton censorship in violation of the First Amendment. This is because Facebook and Mark Zuckerberg are not who they want us to think they are.
They are, in fact, part of a rogue C.I.A. surveillance system. These globalists operate outside of all government checks and balances. They have systematically bribed, bought, cajoled, sexually compromised, threatened and blackmailed so many American leaders that they have become an unelected shadow government. Facebook is just one of their brainwashing creations.
Attorney Paul Argentieri just filed a blistering letter to the court in U.S. (Facebook) v. Paul D. Ceglia that helps prove the rogue nature of these criminals.
Bookmark: #argentieri-letter
Paul Argentieri's letter to Judge Vernon S. Broderick proving facebook's fraud on the court
Argentieri Letter
(19 pgs) —
Exhibit 1
(2.5 MB) |
Exhibit 2
(2.0 MB) |
Exhibt 3
(2.5 MB) |
Exhibit 4
(938 K)
U.S v. Ceglia
, 12-cr-876-VSB (SDNY). Suspended docket after Paul Ceglia fled into exile.
See previous
Paul Ceglia v. Zuckerberg
analysis and coverage from AFI:
For years Facebook has been successful at fooling an unsuspecting public who believed the movie The Social Network—that a 19-year old Harvard sophomore Mark Zuckerberg created Facebook all by himself in "one to two weeks" while he was drinking, chasing girls and studying for finals. The story makes no logical sense, yet has never been questioned by a psychophant mainstream media. Courts have been equally psychophantic. They have allowed Facebook lawyers to actually quote from the movie and the equally fictional book The Facebook Effect as if it is fact.
During Zuckerberg's short time at Harvard he received more news coverage in the Harvard Crimson than any world figure or world event. He was stalling various campus facebook initiatives by Paul Ceglia, Aaron Greenspan and the Winkelvoss Twins until Columbus inventor Leader Technologies' 750,000 lines of social networking programming were ready and supplied to him via the C.I.A. IBM Eclipse Foundation. That day came the night of Oct. 28, 2003 (Zuckerberg wrote: "Let the hacking begin.")
Tellingly, Bill Clinton's former Treasury Secretary Larry H. Summers just happened to be Harvard president at the time. Imagine that. Summers' Harvard chief of staff was his perennial staffer Marne L. Levine (Deutch). Deutch's later father-in-law, John M. Deutch, was Clinton's former C.I.A. Director (1995-1996) who Clinton pardoned on Jan. 18, 2001—for keeping C.I.A. information on his personal computer! This is another example showing that Hillary Clinton knew exactly what she was doing in setting up her private email server. At the time of Deutch's 2001 Clinton pardon, James B. Comey was Managing Assistant United States Attorney in the Clinton Justice Department.
Summers appeared almost overnight in Silicon Valley in 2011 as the sole director of Andreeseen-Horowitz—just before they sold Instagram to Facebook for $1 billion. Andreessen is a Facebook director. Summers' Levine (Deutch) perennial staffer is currently chief operating officer at Instagram, after stints working for Facebook and Hillary Clinton at the State Department. She worked on "gender strategies" (Read: the wussification of men with estrogen mimickers, vaccines, GMOs, barium-laden chemtrails and politically correct virtue signaling) on Mar. 27, 2012 with Hillary, Cheryl Mills, Marne Levine and . . . Sheryl K. Sandberg, chief operating officer at Facebook and Larry Summers' former chief of staff as Treasure Secretary. Sandberg also set up Gmail at Google. Sandberg is clarly Zuckerberg's handler at Facebook.
We believe that the evidence shows that Zuckerberg is a C.I.A. MKUltra recruit who was selected to be the face of Facebook because he fit the profile of a recruited C.I.A. drone asset: pathological liar and devoid of empathy.
Zuckerberg is known to have picked up dates on Craig's List back then. The juxtiposition of Zuckerberg's time at Harvard, the veritable concrete tomb built around his 28 computer devices and emails from 2003-2004 by his lawyers and colluding courts, his use of Craig's List (that is how he met Paul Ceglia), his serial patholigical lies and thefts, his instant messages about unmarked burlap sacks, a pizza shop apartment and poison ivy, and the still unsolved murder of Jessica Taylor in 2003, ostensibly by the "Craigslist Killer,"are notable coincidences.
A quality control test in the MKUltra recruiting program is to order drones to murder on command. According to superstar FBI Agent In Charge Ted L. Gunderson, the Oklahoma City Bomber Timothy McVay was one such C.I.A. MKUltra drone. The investigation records for the FBI's illegal raid on the Branch Davidian compound in Waco, Texas disappeared completely out of the Oklahoma City FBI offices after the blast (read Gunderson's video transcript).
Fifty (50) adults and twenty-five (25) children were murdered by Bill Clinton's Attorney General Janet Reno-ordered Waco raid. It would appear that all the Clinton White House justice, law enforcement and intelligence cabinet members were psychopaths. Coincidentally, four of Bill & Hillary Clinton's Arkansas bodyguards were executed with shots to the head during the Waco raid. (C. LeBleu/T., T. McKeaham, R. Williams, S. Willis). Another one of Bill & Hillary's bodyguards, Alan G. Whicher, died in the Oklahoma City blast as well. Please pray for us gentlemen.
In addition to Waco, these same Clinton cabinet psychopaths, including Attorney General Madeleine Albright, approved encryption backdoor keys to the NSA / FBI / C.I.A., the Rwandan massacre, the Kosovo Islamist takeover, the Iraq sanctions starving 500,000 children (please be patient, the May 12, 1996 bookmarked timeline entry "Cry of the Innocents" should load automatically), abolished Glass-Steagall banking controls, established In-Q-Tel as a private funding arm of the C.I.A., the explosion of C.I.A.-managed satanism and pedophilia (blackmail and MKUltra mind control tool), and C.I.A. Asset Osama bin Laden. They also laid the executive order legal groundwork for the Deep Spy State takeover of the Internet. For anyone with eyes to see and ears to hear, there is obvious evil intent here. (Jeremiah 5:21: "Now hear this, O foolish and senseless people, Who have eyes but do not see; Who have ears but do not hear.")

See Timeline for facts and analysis of each of the events above (use the search tool or Ctrl + F find function on your browser to search the keywords).
The truth about Facebook is stranger than fiction
Facebook is a spy surveillance grid run by a rogue C.I.A. Their rogue C.I.A. controllers appear to stop at nothing to maintain their access to unlimited amounts of blackmail and population mind control data.

WARNING: Google's Home and Amazon's Echo Dot devices being heavily promoted currently are primarily Deep State spy listening devices.
Don't invite these spies into your private family life! You don't have anything to hide? Think. Yes you do—your private life should remain private from state-sponsored snooping. We fought a Revolution over this issue of illegal search and seizure!

Tellingly, as many times as Facebook and Zuckerberg have been sued, Zuckerberg has never produced his 28 Harvard computing devices and emails for a fair analysis. The ConnectU Winklevoss "analysis" in 2005 was so limited as to be laughable. Then, the record was sealed by the court.
One of the early lawsuits filed against Zuckerberg after ConnectU was by Paul Ceglia. Ceglia produced two contracts that he signed with Zuckerberg in April 2003 regarding his software ideas for "StreetFax" and "thefacebook." One of Ceglia's New York attorneys was Paul Argentieri.
Then in 2009-2010, Facebook lied in Leader v. Facebook (which is yet more fraud on the court). They told the court just before trial that Zuckerberg's devices were "lost." This was only after stonewalling for nine months while Leader's attorneys pressed to review the Zuckerberg computer evidence.
The ConnectU court had sealed that evidence from public knowledge and Facebook's lawyers failed to tell the court that these devices were not lost at all. In fact, they were in the custody of Zuckerberg's attorneys McManus Faulkner LLP and Gibson Dunn LLP the entire time.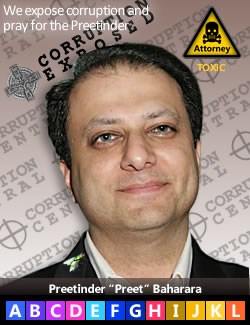 Preetinder 'Preet' Bharara
, former U.S. Attorney for the New York Southern District,
arrested Paul Ceglia for the Deep State on now disproven pretext charges.
Bharara is currently singing the praises of Mueller's selections for special counsel staff. In our opinion, Bharara is an utterly corrupt lawyer who has mercilessly
persecuted
Paul Ceglia to protect Zuckerberg, Facebook, Obama, Bush, 9/11 collusion, Clinton and the Deep State. So, his praise of Mueller and his picks bodes ill for the objectivity of the special counsel—which Comey
admitted
he wanted to trigger by his
illegal
leak of his Trump meeting notes, created on his
personal
computer while FBI Director, to
The New York Times
!
The first time the public learned of the existence of these devices was at the release of transcripts of a blistering deposition cross examination of Facebook's forensic experts by Ceglia's attorney Dean Boland on July 18-19, 2012.
Three months later, on Oct. 26, 2012, the Deep State, clearly panicked, had Obama-appointed U.S. Attorney Preetinder Bharara arrest Ceglia on fabricated charges of forgery. This effectively shut down the civil case. While Ceglia was out on bail, his life was threatened so he fled the country with his family and is currently in exile.
Update: President Trump fired Bharara recently.
The courts have consistently protected Facebook from all challengers.
On May 07, 2017, Paul Argentieri wrote Judge Vernon S. Broderick in the criminal case to ask for a thorough review of the stonewalled computer data and emails (see the full court filing above).
"Zuckerberg, and his lawyers, are subversives to our administration of justice."
Argentieri stated:
"Zuckerberg, and his lawyers, are subversives to our administration of justice."
He said,
"This is not a complex case, but a complex fraud by Zuckerberg."
Argentieri said he was trained as an FBI special agent and stated:
"This application is not my opinion, but what I can prove."
The truth of Facebook's rogue C.I.A. public origins must be exposed
Since the rogue C.I.A. Deep State is known to be abusing the privacy of Facebook users, the American public has a right to know the true origins of the Deep State PUBLIC origins of Facebook. Public organizations do not enjoy the protection available to private organizations.
The FBI under Robert S. Mueller and James B. Comey have refused to investigate Facebook's and Zuckerberg's criminality.
Why?
See previous AFI posts:
On Meuller:
AFI. (May 18, 2017). PROOF: Robert Mueller cannot be impartial in the Russia investigation. Americans for Innovation.
AFI. (Mar. 25, 2016). Betrayal: Former FBI director colluded with Cartel offshore money laundering havens. Americans for Innovation.
On Comey:
AFI. (Apr. 01, 2016). Hillary Server-gate covered up by FBI directors. Americans for Innovation.
AFI. (Jul. 05, 2016). FBI Director Comey not qualified to decide on Hillary Emailgate. Americans for Innovation.
The answer is obvious, Comey and Mueller are members of the Deep State who benefit from these crimes.
What is Facebook hiding on Zuckerberg's 28 computer devices and emails?
Here's what we think:
The IBM Eclipse Foundation supplied Zuckerberg the program; Zuckerberg was merely a C.I.A.-recruited MKUltra drone front face, who fit the profile as a pathological liar with no empathy.


Columbus innovator Leader Technologies' invention formed the base of Facebook's social networking platform, as Leader later proved in federal court on 11 of 11 claims—even without having the benefit of reviewing Zuckerberg's stonewalled files.


The Ceglia contracts are genuine, and therefore Paul Ceglia has a legitimate claim to 50% of Facebook.


Zuckerberg was recruited by rogue C.I.A. Agents, including Harvard alums Larry H. Summers, James W. Breyer, Ping Li, Jim Swartz, Sheryl K. Sandberg, James P. Chandler, Marne L. Levine as well as Hillary & Bill Clinton, John D. Podesta, John M. Deutchand the "PayPal Mafia" insiders Reid Hoffman, Peter Thiel, Marc Andreessen, Matthew R. Cohler and Joseph Lonsdale, among others.

Facebook's rogue C.I.A. handlers
Tellingly, these C.I.A criminals are present or former principals of:
Facebook

—Summers, Breyer, Li, Sandberg, Milner, Deutch, Levine, Thiel, Andreessen, Chandler, Podesta, Clintons, Hoffman

Instagram

—Cohler, Andreessen, Summers, Levine

Palantir (NSA spy tool)

—Thiel, Lonsdale, Schmidt, Chandler
Conclusion
The rogue C.I.A. runs Facebook. Therefore, Facebook is a public utility.
Justice and public transparency demand that Zuckerberg's 28 computing devices and Harvard emails be thoroughly analyzed to expose the levels to which the rogue C.I.A. Deep State shadow government has gone to sieze globalist control over the Internet.
Public networks (as Facebook & Google are) require public accountability.
Let the chips fall where they may.
Either this swamp will get drained, or the American Republic will likely die in the Deep State's corruption.
* * *
Notices: This post may contain opinion. As with all opinion, it should not be relied upon without independent verification. Think for yourself. Photos used are for educational purposes only and were obtained from public sources. No claims whatsoever are made to any photo.
Comment
Click "N comments:" on the line just below this instruction to comment on this post. Alternatively, send an email with your comment to amer4innov@gmail.com and we'll post it for you. We welcome and encourage anonymous comments, especially from whisteblowers.