Undisclosed Conflict: hsbc is major clinton foundation donor where Comey was a director
Note: The bulk of this research on FBI Director Comey was written almost four months ago on Apr. 01, 2016. It is proving to be precient.
Bookmark: #gag-order
ORIGINAL POST
(Jul. 05, 2016)—FBI Director Comey just announced he will not indict Hillary Clinton for her numerous breaches of our nation's secrets. However, Comey is now in trouble because he had a duty to recuse himself due to his common interests in HSBC, a major Clinton Foundation donor where he was a director (03/13–09/13), among his many conflicts of interest. Oh! what webs we weave . . .

The FBI and Justice Department have stubbornly refused to prosecute heinous criminal acts of the Obama Administration. They include Benghazi, Fast and Furious gun running, Hillary's private server, 2008 bank bailout, social networking patent theft, illegal NSA snooping, energy company subsidies, IRS targeting of conservatives, Bureau of Land Management (BLM) confiscations, baby parts trafficking, LIBOR rigging, open borders, overstayed visas of more than one million people, religious persecution and so on.
Now we know why
The current and former FBI directors are members of a dangerous Cartel whose agenda is a self-styled New World Order. In fact, before coming to the FBI, the current director James B. Comey was a director of the London money launderer extraordinaire, HSBC. Even The Clinton Foundation website boasts about HSBC donations. This fact alone disqualifies Comey from involvement in the Hillary Clinton indictment decision.

A light was shined on the FBI director when it was discovered that former FBI director, Robert S. Mueller, III (2001-2013), recommended Obama's Supreme Court recent nominee, Merrick B. Garland, to be circuit judge for the District of Columbia in 1995.
New World Order proponents, like hedge fund billionaire George Soros, and former Hillary Clinton political adviser Anne-Marie Slaughter, call it A New World Order. The rest of us call it plain old greed and lust for power in new clothes.
We are approaching a Point of No Return: A digital world controlled by spies & power-mongers
The quantum difference from past attempts by power-brokers to rewrite history is the ubiquity of the digital world. In our new digital world, information is more valuable than gold.
Since about 1990, unscrupulous people in banking, technology, politics, intelligence and law compared notes and began joining forces to embed their power permanently while lining their pockets.
The AFI research below concludes:
FBI directors since 2001 have been tied at the hip to a Cartel that promotes a new world order. The current FBI director James B. Comey (2013-current), and former director Robert S Mueller (2001-2013) have numerous financial holdings and relationships that tie them unmistakably to this group.


The net worth of FBI directors since 2001 have skyrocketed during the Great Recession. (Note that judges and senior federal officials are inexplicably only required to report ranges of their financial holdings publicly, e.g., $100-250,000, $1-5 million, etc. This is despite the fact that if they reported such loose, vague numbers to the IRS, they'd likely be thrown in jail for fraudulent reporting. These ranges are large enough to drive a Mack truck through. The clear intent among these bureaucrats is evidently obfuscation. Therefore, in their financial disclosures, we tally only the upper end of their ranges reported. Let them tell us it is lower. And, ask them why they don't just tell us the actual number to begin with.)

FBI directors since 2001 have enjoyed exclusive hedge fund holdings not open to average Americans:

Commercial Power-Mongers:

FBI directors since 2001 are tied intimately with the IBM Eclipse Foundation and the theft of Leader Technologies' social networking invention. (The now familiar cast of characters are: IBM, Microsoft, Goldman Sachs, Bank of America, JPMorgan, GE, Morgan Stanley, Qualcomm, HP, Vanguard, Fidelity, Cisco, Wind River, Eurotech SpA, Xerox, Oracle, SAP, Wells Fargo, Intel, HSBC, Lockheed Martin, etc.)


Current FBI director Comey, who was general counsel at Lockheed Martin, is and has been active IBM Eclipse member. Therefore, Comey and Lockheed were complicit in the theft of social networking, perhaps the most important invention since the light bulb.


In 2012, Comey held up to $100,000 stock in BHP Billiton Ltd. ADR, an Australian ore producer, including uranium.

On Jun. 20, 2012, Bill Clinton was paid $175,000 by BHP Billiton for a speech in New York. Just coincidence?

On Sep. 06, 2005, Bill Clinton brokered a UrAsia uranium mining deal in Kazakhstan that netted The Clinton Foundation $152 million in "donations" and $1 million in Goldman Sachs fees, the broker of that uranium deal.

Clinton and Comey interests are inseparable
Comey, Clinton and FBI interests could not be more tightly aligned.
The FBI directors and Justice Department senior Attorneys General have been protecting Obama's, the Clintons' and the Cartel's objectives for going on two decades. This protection extends to other members of the Clinton, Bush and Obama administrations.
The former Attorney General Eric H. Holder, Jr. was an evident Cartel plant. He did not prosecute any of this criminality. Holder bought the judges in Leader v. Facebook and aided the theft of social networking from Leader Technologies because the Cartel wanted to use it to consolidate their power and control.

The current Attorney General, Loretta Lynch, is also a Cartel patsy. She will follow orders dutifully.
So the question of whether Hillary will get out of her email server problem is up to Comey, who will pass it to Lynch, who will likely find a way to punt. This gaggle of attorneys has taken the art of misdirection to new heights.
Hillary is Comey's "godmother"
Judging from James B. Comey's investments and relationships, the zebra will not change its stripes.
As a result, Comey and Loretta Lynch will very likely fabricate a way to protect Hillary in a tangle of interlocking and indecipherable legal machinations.
After all, Hillary and Bill are Mueller's and Comey's "godparents."
[On Apr. 01, 2016, the State Department suspended its review of Hillary's possession of top secret emails on her private server. Citing the FBI investigation as the reason, we are suspicious of misdirection. With this suspended review, the State Department has created the opportunity for the FBI to kick the can back to the State Department "hypothetically: to complete their investigations before making a recommendation for or against indictment." It will all sound very reasonable. Remember, these people are all attorneys skilled in deception.]
Latest name for corruption: "Public-private partnerships"
The latest smokescreen for this new world order agenda is "public-private partnerships." When you hear that, grab your wallet and your privacy.
The "patron saint" of "public-private partnerships" in the Obama Administration is Anne-Marie Slaughter. Slaughter served as a Hillary Clinton senior political adviser at the State Department (2009-2011). Slaughter published A New World Order and is related to her new world order mentor George Soros by marriage. Much of what we know about Slaughter's relationship to Hillary comes from Judicial Watch's FOIA releases from Hillary Clinton's private email server.
Slaughter famously encouraged Obama and Clinton to "harness private incentives to public goals." To some, this sounds like German Fascism where Adolf Hitler did not nationalize industries that supported his policies. On the other hand, Jewish businesses and property were confiscated.
In other words, Obama and Clinton have used the power of their office to reward those who agree with them and punish those who don't.
This partisan policy has forsaken the American Republic. Instead of the process of compromise our Republic is suffering a wave of scandals including the bank bailout, energy company subsidies, Obamacare, IRS Tea Party targeting, BLM land rights confiscations, trafficking in baby body parts, LIBOR fixing, America Invents Act, Fast and Furious, Common Core, Massive Open Online Course (MOOC), open borders, Islamic pandering, allowing/losing more than one million visa violators and attacks on religious values.
Why has the FBI failed to prosecute these evident crimes?
FBI operations are shrouded in secrecy. Uncovering illegal conduct within the FBI is a minefield where out-of-the-office discussion of top secret information generally lands you in prison and the victim of smear campaigns by the powers that be.
An FBI run by honorable people keeping secrets is a good thing. However, an FBI run by money-grubbing, power-grabbing opportunists in the name of national security threatens the American Republic itself.
Follow the money
One of the few times the public gets a glimpse into the personal affairs of the FBI director is in their Senate confirmation hearing and their required annual financial disclosure. The rest of the time, these people just refuse to answer questions or stonewall, with a smile and condescending "trust us" words, or with belligerence (Hillary: "What difference does it make.").
Judge Merrick B. Garland's nomination raised suspicion about the FBI's impartiality
Judge Garland's 1995 Senate confirmation document included a letter of recommendation from Robert S. Mueller, then Assistant Attorney General, later FBI Director (2001-2013).
Investigation into Mueller's 2001 and 2011 financial disclosures revealed an astounding increase in net worth from $1.8 to $7.0 million. Cleverly buried in 233 entries were two hedge funds invested in almost $100 billion in hedge fund assets with at least 36% of them offshore in the Cayman Islands.
Mueller hedge "funds of funds" hide many sins
Mueller held Defenders Multi-Strategy Hedge Fund LLC and Mellon Optima L/S Strategy Fund LLC. These "funds of funds" invest in other hedge funds with innocuous names like "Pershing Square" and Glenview Institutional Partners." But as HSBC whistleblower Hervé Falciani revealed in 2015, many are secret havens for money laundering, arms trafficking and tax evasion.
Mueller's exclusive funds were not open to the general public. The minimum investment in several of the funds of funds is $10,000,000—MESSAGE: Great unwashed Americans do not qualify, but we'll make an exception for FBI director Mueller.

Mueller was evidently allowed into these funds by the Cartel to buy influence at the FBI. See previous post for more on this investigation.

Both Mueller hedge funds were managed by Mellon Bank of New York (BNY).
Ground Zero for Washington's poisoned well?
No less than ten (10) BNY directors were shared between Mueller's Defenders and Mellon Optima funds.
Laughably, these people were mostly designated "outside directors." According to ethics laws, an outside director must have an "arm's length" relationship to the company. One cannot be an "outside director" and be employed by the company also. This is a bad joke, a charade. Clearly these people care nothing about real ethics, they only make their actions look ethical to an unsuspecting outsider. Attorneys are especially adept at such deceptions. American regulators are obviously turning a blind eye for their friends. The system of accountability is broken.
These hedge fund disclosures are a charade of transparency. Are these people Ground Zero for the corruption that has poisoned the well in Washington, D.C.? Inquiring minds wonder. Few photos of these people are available, in fact, only two.
Anderson, Steven M.
Bowen, Robert
Dwyer, Robert J.
Grosswirth, Lisa
Hunter, Carla Diane
Merrill, Newton P. S.
Mossman, David K.
Murphy, Joseph F.
Williams, III, Arthur T.
Yanker, Rodney S.
Mueller's Defenders Fund had four names (same BNY bank) during its 9 years existence.
2002-2004: Ivy Multi-Strategy Hedge Fund LLC
2004-2009: BNY Ivy Multi-Strategy Hedge Fund LLC
2009-2010: Defenders Multi-Strategy Hedge Fund LLC
2010-2011: Ivy Asset Management LLC
Mueller benefited from Ponzi schemers
The incorporator of Mueller's Defenders Fund was William P. Sauer. He had been sued two months earlier by the U.S. Securities & Exchange Commission for running two Ponzi schemes for which he eventually paid $5 million to settle.
Then, the fourth name for Mueller's holding, Ivy Asset Management fed clients to Ponzi schemer Bernie Madoff and eventually paid $200 million to settle those complaints.
Tellingly, the FBI never prosecuted any of these BNY Ponzi schemers associated with Mueller's Defenders hedge fund.
Mueller's replacement, James B. Comey, carries on the FBI hedge fund tradition
Counting his clerk job during University of Chicago Law School in 1982, Comey has held 15 jobs before becoming FBI director. He changed jobs every two years. Most employers would consider such job hopping a sign of instability, but in government legal circles, that makes you qualified to be FBI director. It appears that he was being groomed. See Bibliography below for a complete timeline of Comey's jobs.
James B. Comey's five most recent jobs were:
James B. Comey, five most recent positions Source: Senate Confirmation Hearing, Sep. 15, 2012.
Dates
Organization
Industry
IBM Eclipse Foundation
Position
Dec 2003 to
Aug. 2005
U.S. Justice Department
Government
Member/Beneficiary
Deputy Attorney General
Sep. 2005 to
Sep. 2010
Lockheed Martin
Defense
Member
General Counsel
Sep. 2010 to
Jan. 2013
Bridgewater Associates
Hedge Fund
Client Members
General Counsel
Mar. 2013 to
Sep. 2013
HSBC
London-based Bank
Client Members
Director
Sep. 2013 to
current
U.S. Justice Department
Government
Member/Beneficiary
FBI Director

Table 1

: James B. Comey's four most recent employers of 15 jobs since 1982. Source: Library of Congress.
These disclosures prove that Comey is a card-carrying member of the IBM Eclipse Foundation and the NSA spy state machine.
New investigations into the financial holdings of Robert S. Mueller and James B. Comey reveal astounding conflicts of interest. These relationships would have stopped any mere mortal from being offered the top law enforcement job.
Lockheed Patent Theft
Comey was general counsel to Lockheed Martin (09/2005-11/2010). This might not be notable except for the fact that Lockheed Martin was and is an active member of IBM's Eclipse Foundation.
IBM Eclipse has and is exploiting the social networking invention of Columbus innovator, Leader Technologies. As Lockheed general counsel, Comey was either asleep at the general counsel wheel, or he participated in the theft of Leader's important invention. In short, Comey aided and abetted the Great Financial Crime in the History of the World.
Lockheed prosecutions for Leader Technologies' social networking patent property theft have not occurred.
Bridgewater paid Comey $7.2 million in 2012
Comey's financial disclosure for 2012 declared $7,200,595. That is $600,000 per month. Is any former U.S. Attorney worth such pay? What were they paying for? The likely answer is influence with the future FBI director.
Comey's Bridgewater pay works out to $3,800 per hour for a 48 week year. By comparison, $1,000 per hour is generally considered the highest attorney fee. Rates for salaried inside attorneys are generally half that, or less.
Comey also disclosed direct holdings (not counting portfolio holdings in his many mutual funds) in IBM Eclipse Foundation members: Verizon, Intel, Emerson Electric, Microsoft, Qualcomm, AT&T, Apple, HP, Morgan Stanley, Lockheed Martin, JPMorgan, Wells Fargo
These holdings are more proof that Comey carries water for the IBM Eclipse Foundation thieves of social networking and the NSA spy state machine.
HSBC Trafficking
In addition to his $25 million stock portfolio, Comey came to HSBC from Bridgewater with a cool $5+ million in his pocket, with the promise of another $3+ million in "phantom stock" cash-out to come. Does any reasonable person believe he earned this money? Remember, in his 2003 Senate Confirmation Hearing, he declared his net worth at $206,000.
He was HSBC director between Mar. 2013 and Sep. 2013. Seventeen months later, on Feb. 08, 2015, HSBC whistleblower Hervé Falciani tore the lid off of $100 billion in murky offshore private banking being sheltered by HSBC. Like Lockheed, unless Comey was asleep at the wheel as director, he had to know about this misconduct.
The $100 billion in HSBC sheltering was occurring on Comey's watch as director at HSBC. Yet, no HDBC prosecutions are occurring.
The Children of Israel had to make a choice between good and evil
In uncovering these dark secrets of ill-gotten gain, one is reminded of the Children of Israel's temptations surrounding the Golden Calf at Mount Sinai. Rather than uphold their faith and follow the laws of God, many chose to worship a Golden Calf.
American culture is experiencing something similar, as evidenced by the behaviors described in this blog. What will happen to our country if we cannot soon separate the wicked from the righteous?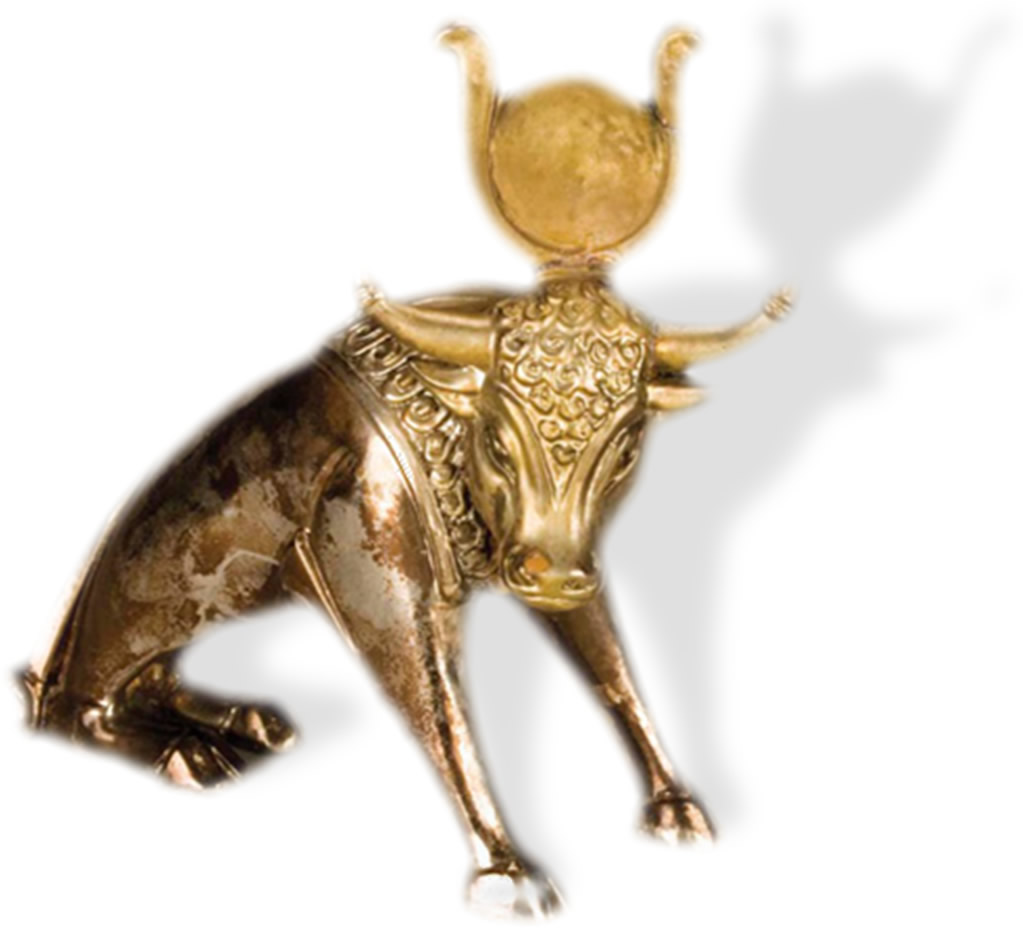 * * *
Bibliography:
Bookmark: #comey-bio
James B. Comey's employment history. Source: Senate Confirmation Hearing, Sep. 15, 2012.


06/82-08/82 - Bruinooge, Esq. - law clerk
07/83-09/83 - McCarger & English LLP - summer associate
06/84-09/84 - Cahill Gordon LLP - summer associate
09/85-09/86 - Hon. John M. Walker, Jr. NY - law clerk
09/86-10/87 - Gibson Dunn LLP, associate
10/87-08/93 - US Attorney SDNY, asst. us attorney
06/95-07/95 - US Senate, deputy special counsel (Whitewater)
08/93-09/96 - McGuireWoods LLP, partner
01/94-01/02 - Richmond Law School, adjunct professor
09/96-01/02 - US Attorney EDVA, mngng. asst. us attorney
01/02-12/03 - US Attorney SDNY, us attorney
12/03-08/05 - US Justice Dept., dep. attorney general
09/05-09/10 - Lockheed Martin, sr. vp, general counsel
09/10-01/13 - Bridgewater Assoc. Hedge Fund, general counsel
03/13-09/13 - HSBC Group PLC, director
09/13-current - FBI, director


Matthew Lee (Apr. 01, 2016) . State Department suspends review into 'top secret' Clinton emails. AP.
AFI. (Mar. 19, 2016). People you trusted are now hijacking the Internet. Bill Clinton's Sep. 06, 2005 Kazakhstan uranium deal for Canadian Frank Giustra. Americans for Innovation.

AFI. (Mar. 16, 2016). Obama nominates Spy State consiglieri [Merrick B. Garland] to replace Justice Scalia. Americans for Innovation.

AFI. (Aug. 11, 2015). Hillary & Bill shill for a secret intelligence agency cartel. Americans for Innovation. See Fig. 10. Clinton OGE Form 278 Financial Disclosures (2000-2015); See also Clinton Speaking Fees (2000-2014) PDF | Excel.

Ryle, G. et al. (Feb. 8, 2015) . Banking Giant HSBC Sheltered Murky Cash Linked to Dictators and Arms Dealers. ICIJ; See also ISIJ website.

Comey, James B. (Jun. 19, 2013). OGE Form 278 Financial Disclosure (2012). Office of Government Ethics, OpenSecrets.org.

PN586-113. (Sep. 15, 2012). James B. Comey Senate Confirmation Hearing to be director of the Federal Bureau of Investigation (FBI). Employment History, pp. 30-33. Judiciary Committee. 113th Congress. U.S. Library of Congress.

Mueller, III, James S. (Jun. 07, 2012). OGE Form 278 Financial Disclosure (2011). Office of Government Ethics, OpenSecrets.org.

S. Hrg. 108-472. (Oct. 29, 2003). James B. Comey Senate Confirmation Hearing to be Deputy Attorney General, Department of Justice. Financial Statement, Net Worth (2002), p. 27. Serial No. J-108-49. Judiciary Committee. 108th Congress. GPO.

S. Hrg. 107-33. (Jul. 30, 2001). Robert S. Mueller, III Senate Confirmation Hearing to be director of the Federal Bureau of Investigation (FBI). Financial Statement, Net Worth (2000), pp. 57-58. Judiciary Committee. 107th Congress. GPO, Purdue University.

S. Hrg. 104-512, Pr. 2. (Nov. 30, 1995). Merrick B. Garland Senate Confirmation Hearing to be U.S. Circuit Judge for the District of Columbia Circuit. Robert S. Mueller, III Recommendation, p. 39. Serial No. J-104-5. Judiciary Committee. 104th Congress. GPO, Purdue University.

SEC v. William S. Sauer et al, Case No. 02-cv-2191 (NDGA Aug. 07, 2002).
Catherine Herridge, Pamela K. Browne. (Jul. 14, 2016). 'Gag' order: FBI confirms special secrecy agreements for agents in Clinton email probe. FoxNews.
Charles Benninghoff. (Oct. 05, 2016). Charles Benninghoff: The Comey Clinton Organized Crime Family - Why James Comey Must be Impeached [Video]. (Raw *.mp4 video).
Charles Benninghoff. (Oct. 05, 2016). Comey-Clinton Connections [Flow chart].
Notice: This post may contain opinion. As with all opinion, it should not be relied upon without independent verification. Think for yourself. Photos used are for educational purposes only and were obtained from public sources. No claims whatsoever are made to any photo.
Comment
Click "N comments:" on the line just below this instruction to comment on this post. Alternatively, send an email with your comment to amer4innov@gmail.com and we'll post it for you. We welcome and encourage anonymous comments, especially from whisteblowers.