Facebook's Sheryl Sandberg drives fake "Lean In" feminists for the secret spy agency formed by Bill Clinton in 1995—Trump threatens their hegemony
Fig. 1–
On Feb. 16, 2011
, Facebook chief operating officer Sheryl K. Sandberg emailed Hillary Clinton and her chief aide Cheryl D. Mills. This email was stonewalled by the State Department during a Judicial Watch FOIA request and was only released recently by Judge Sullivan's order. The email gives detailed insight into the massive collusion among Hillary Clinton, the State Department, the Obama Administration, Wall Street and Silicon Valley. Sandberg invited Hillary to attend a private dinner in her home titled "the Women of Silicon Valley." She cited a
CNN Money–Forbes
article that highlights four woman in the puffery article as new female leaders in Silicon Valley. However, we now know that these women were chosen not for their skill and creativity, but for their willingness to follow the orders of a secret White House spy agency that President Bill Clinton first established in 1995 by
Executive Order No. 12958
. The truth is, these women are nothing more than kept women from Silicon Valley for Hillary and Bill Clinton and their crony capitalist co-conspirators in a massive RICO racketeering organized crime syndicate.
The meaning of "Handlers" is explained below.
Base Photo: Robert Maxwell..
(Jul. 15, 2016)—Silicon Valley media pumps out endless self-adulating drivel about the Valley's supposed genius for innovation. Given the continuous references to "smart people in Silicon Valley" it is clear that America's political class has been taken in.

Thinking pundits are finally seeing the cracks in the fabricated monument to Silicon Valley.

Few know or remember that Silicon Valley started after the U.S. government set up electronic silicon chip manufacturing there back in the days when computers with the computing power of an iPhone took up whole city blocks to operate. Message: Feed a monkey enough play money and even he will eventually get it right.

That's not inherent genius, that's trial and error with We The People's tax dollars. The flow of taxpayer dollars into the Valley never stopped after that. The dirty little secret about the Valley is that it was founded with taxpayer dollars and driven by spies.
That was during the Cold War when the enemy was clear: the Soviet Union and Communism.
As the Soviet Union was collapsing, the direction of Silicon Valley shifted when Bill Clinton became president in 1993. Hindsight shows now that it became a monument to greed and power mongering as these former spies began lining their pockets while still using "national security" as the overarching rationale and excuse for secrecy.
Silicon Valley's mission shifted from fighting communism to lining crony pockets
The American public was oblivious to this shift in priority from anti-Communism to the self-enrichment of spies and their crony capitalists, mainly because these purveyors used the old secrecy rules to hide their collusion.
Just about the time questions started being asked about the logic of the trillions of dollars being pumped into Silicon Valley, these insiders realized that they needed a new enemy that could continue to justify their secrecy. A majority of these unscrupulous individuals were from Harvard Law.
Uh, terrorism. That's the ticket. Yeh, that's it. Global too. Yeh.
Global terrorism was born. It has served them well as a worthy replacement for the U.S.S.R. threat.
Bill Clinton signed an Executive Order No. 12958 in 1995 that was the foundation for the current American spy state abuse of the U.S. Constitution. It is all legal. Sort of. A White House spy agency crafted out of Executive Orders is accountable only to the President and not Congress. The authority for such executive orders is constitutionally dubious. In this case, the abuse of power is so far over the top, it is undoubtedly illegal. This secret agency has been feeding dirt on everyone on the planet to these insiders for more than a decade.
No wonder Bill and Hillary get $200,000+ speaking fees by snapping their fingers. No wonder normal give and take in Washington, D.C. and in the world is so upside down. When Constitutional respect for privacy and property was so wantonly ignored by those in whom we placed our trust, abuse of power replaced it.
Blackmail: No wonder Bill and Hillary get $200,000+ speaking fees by snapping their fingers.
This spy state agency dictates the new rules in Silicon Valley. It funds companies that support their hidden agenda, and provides no funding to those that follow the U.S. Constitution.  Experience shows most take the money and become companies like Google, Facebook, Yahoo, Intel, Microsoft, Instagram, YouTube, WhatsApp, Skype, Cisco, Oracle, yada yada yada. You get the picture.
Hillary Clinton appointed Secretary of State by Barack Obama in 2009
Barack Obama appointed Clinton as Secretary of State and then gave her near free reign over America's foreign policy. That was the first tip off.
Turns out, we believe, that Barack Obama himself was a Manchurian candidate for this secret White House executive order spy agency. He was put in place to enable the secret Clinton spy agency to perfect a full global digital takeover under the cover of his presidency. We will present enough proofs in this post to prove this beyond doubt. The evidence uncovered is now unmistakable. The IBM Eclipse Foundation was the technical driver.
Barack Obama appointed Hillary Clinton as Secretary of State on Jan. 21, 2009.
On Jun. 03, 2009, we know from NSA whistleblower Edward Snowden that Facebook began illegally feeding all user data, including that of American citizens, to the NSA.
On Jul. 09, 2009, Hillary, shadow adviser Sidney Blumenthal, and chief policy adviser Ann-Marie Slaughter were drafting strategy documents to use Facebook and Twitter as their go-to "eDipolomacy" communications tools.

On Sep. 26, 2009, Hillary and the State Department contracted with Facebook for a "template for winning elections." Never mind that it is illegal for federal officials to tamper with U.S. elections. Never mind that Columbus innovator Leader Technologies had filed suit against Facebook for infringing their social networking patent, rending Hillary's activity obstruction of justice, and making the Hillary's collaboration with Facebook RICO racketeering—organized crime.
During this period Mark Zuckerberg and Facebook stonewalled all discovery of Zuckerberg's 2003-2004 Harvard files, documents and emails. After the Federal Circuit appeals court protected Facebook too it was discovered that his attorneys lied about their full possession of 28 Zuckerberg computer devices and Harvard emails. It was also discovered that the spymasters inside this secret and unconstitutional White House spy agency got most of these Leader v. Facebook judges their jobs.
Leader later proved in federal court that the engine running Facebook was indeed Leader's social networking invention on all 11 of 11 claims. Nonetheless, a sycophant judiciary including Chief Justice John G. Roberts, Jr. (appointed in 2005 at the recommendations of the spymasters) rallied around Facebook in evident collusion with the White House.
On Dec. 31, 2009, Barack Obama signed Executive Order No. 13536 making Hillary part of an inner circle of seven calling all the shots on national security.
On Jun. 29, 2010, Hillary approved the Uranium One deal with Vladimir Putin that generated over $150 million in donations to The Clinton Foundation. It also gave the Russians control of part of America's strategic uranium reserve.
On Jul. 19-20, 2010, the Leader v. Facebook trial resulted in a split verdict. Leader proved Facebook infringes its social networking patent on 11 of 11 claims.
Hillary clearly did not care that Facebook used stolen property—she obstructed justice to exploit Facebook for Clinton Foundation
On Sep. 30, 2010, Hillary entered a $265,000 contract with Facebook for a "template for election winning."
On Oct. 01, 2010, The Social Network false narrative movie about Facebook's supposed origins was distributed. A sycophant mainstream media accepted the story without question—proof that the Free Press was complicit, having been paid off by billions of dollars in Wall Street funding long before.
On Nov. 16, 2010, a Raytheon whistleblower leaked video of Riot software for tracking anybody on social media 24x7x365. Riot combined Facebook, Twitter, Google, YouTube, Yahoo, personal photos, personal information, family, friends, colleagues, biographical profile, police records, property records, writings, predilections, chats, video, etc. Clearly, Facebook was in the spy state plan and Leader Technologies' patent claims (and those of others like Dr. Lakshmi Arunachalam and Johannes Van der Meer) were not to be acknowledged.
Hillary and State DEPT stonewalled these exchanges among Hillary, Mills and Sandberg—proof of collusion with Facebook and Silicon Valley
Hillary and the State Department stonewalled a Feb. 16, 2011 email exchange between Hillary ("H"), Cheryl D. Mills and Facebook COO Sheryl K. Sandberg.
The email is an extraordinary recitation of the collusion among Hillary, Facebook and the State Department.
In now familiar sycophantic form, Sandberg praised Hillary for her "important and thoughtful speech" on Internet Freedom. Never mind that Facebook helped draft the speech and included four mentions of Facebook and three about Twitter.
Among the remarkable revelations is Sandberg's discussion of "field testing elements of the framework" which we now know from other stonewalled emails included many contracts to build "a template for winning elections" focused on the 2010 midterms. (See Sep. 26, 2009 and Sep. 30, 2010 above.) This American Secretary of State had turned software framework developer, even though FBI Director Comey just testified that Hillary was not very technically sophisticated. Question: Who was driving this bus? Answer: The spy state Cartel. No wonder Hillary did not want her emails on State Department systems.
Sandberg invited Hillary to speak at an exclusive and "always completely off-the-record" dinner series in her home named "Women of Silicon Valley."
Laughably, after telling Hillary the dinners were confidential, Sandberg gave Hillary a CNN Money-Fortune link titled "The new valley girls" featuring Sandberg talking about the dinners. Sandberg thus deceived the U.S. Secretary of State by saying her dinners were "completely off-the-record" when, in fact, she had already made them public.
The CNN-Fortune article touts four Silicon Valley women as the new face of female executives in technology.
Look at us folks, we're powerful girls!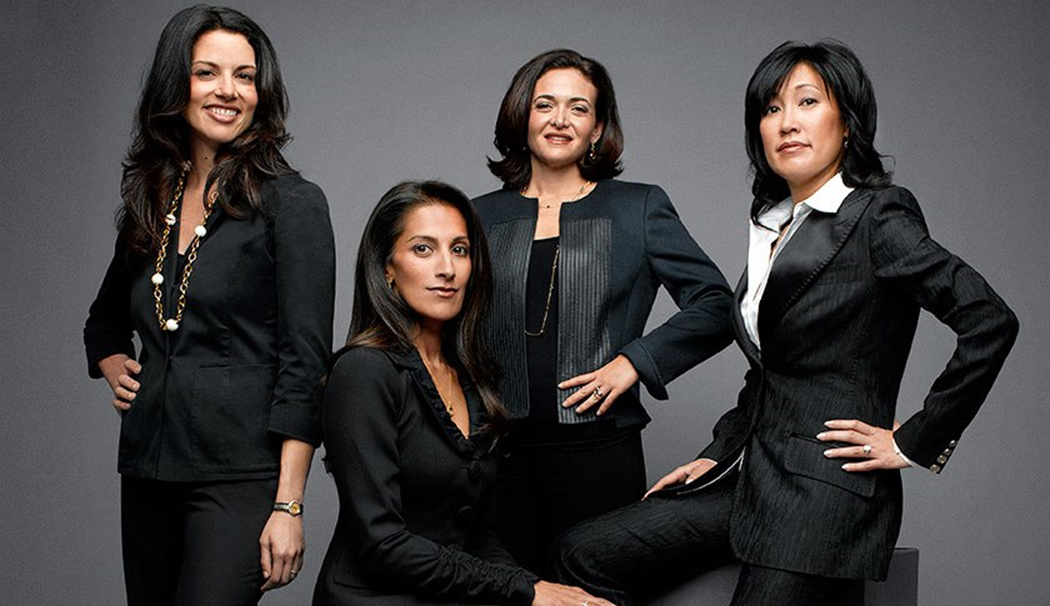 Fig. 2–
On Feb. 16, 2011
, in an email to Hillary Clinton and her aide Cheryl D. Mills, Facebook chief operating officer Sheryl K. Sandberg cited a
CNN Money–Forbes
article that highlights four woman in a long puffery article as new female leaders in Silicon Valley. The reality is these girls are merely good order takers for their spy state Cartel handlers Larry Summers, James W. Breyer and Marc Andreessen. From left to right: "Gina Bianchini, CEO of Ning, Sukhinder Singh Cassidy runs Asian and Latin American ops at Google, Sheryl Sandberg, COO of Facebook, and Theresia Gouw Ranzetta deploys capital at Accel Partners."
Note that the two girls on the left are mere props with absolutely
no prior distinction
in their lives other than looks (tee hee). The two on the right, Sandberg and Ranzetta, are long-time James W. Breyer, Accel Partners LLP venture capital goats.
Photo: Robert Maxwell..
New Jul. 16, 2016!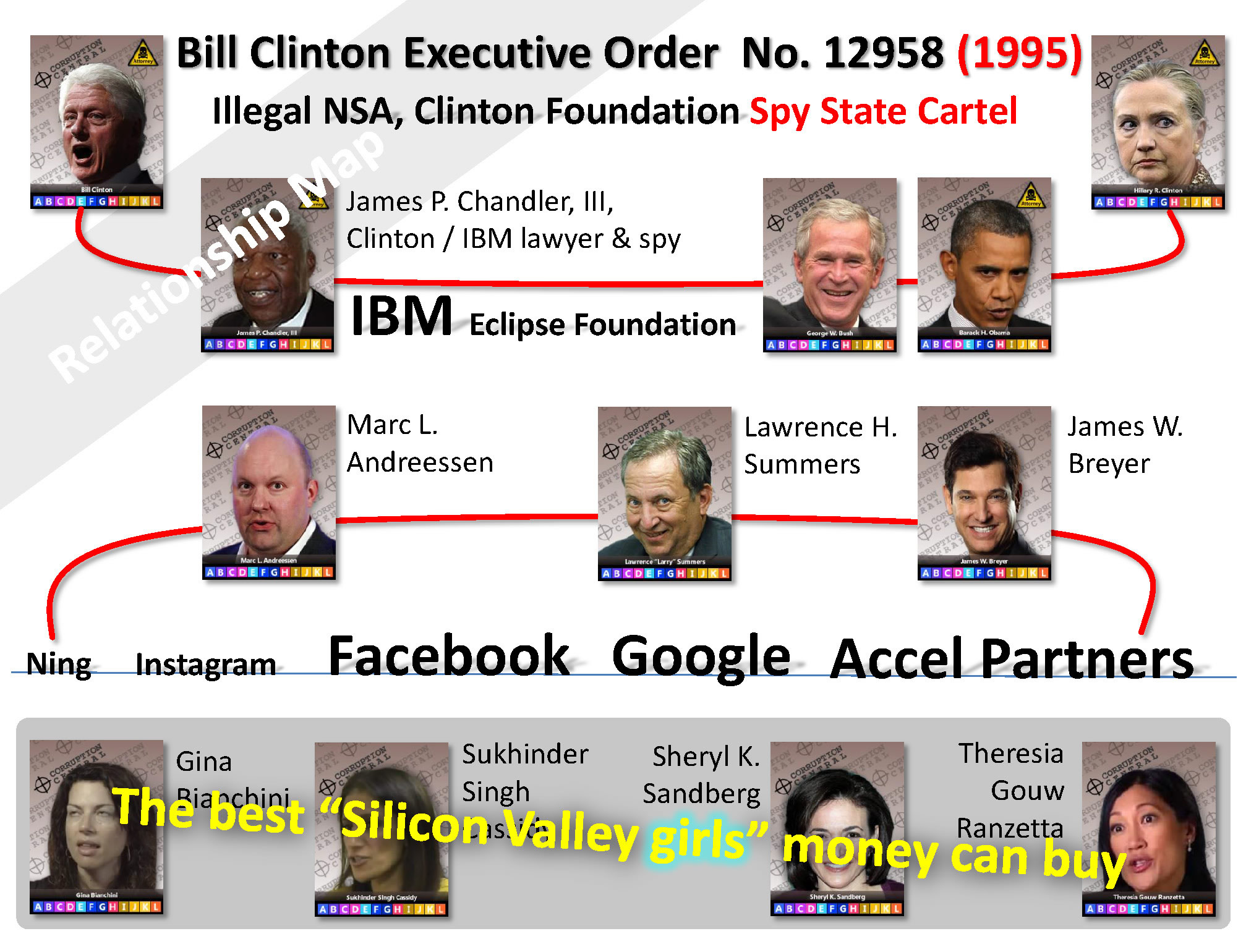 The best faked Silicon Valley gender diversity that spy state money can buy
Truth is these women are mere props for the NSA spy state Cartel. None of them is distinguished by anything other than their ability to follow the orders of their male handlers. None have created anything.
What they are good at is sucking up to their male handlers, cashing their checks, dying their hair black and wearing black power suits. In short, they clean up well.
The attractive ones didn't earn that either. They got that from their parents. Nonetheless, they are well known in the Valley for throwing around their cuteness with aplomb in order to divert attention from questions about their actual accomplishments.
The clear message of this CNN-Fortune article is: It is just too bad that you poor, unattractive female sods are not as successful as us [hair dutifully thrown over the left shoulder on cue].
The Kept Girls of Silicon Valley
Far from liberating women, these women reinforce the negative stereotypes of the kept woman. In their cases, they are kept in Silicon Valley to give the world the illusion of gender diversity in technology, when in fact, they are female slaves to a spy state organized crime racket that pays them well.
It is worth noting that Sheryl Sandberg's husband, David Goldberg, died recently under dubious circumstances while on vacation in Mexico with the kids. The official story is that he fell off a jogging machine in the hotel next to where he was staying, hit his head and died of a brain aneurysm. He was only 47. Yeh, right. Goldberg's death joins an epidemic of JPMorgan and Deutsche Bank alleged "suicides" that are never fully investigated. Curiously, both banks are Facebook/Sandberg underwriters.
At Goldberg's funeral, Sandberg delivered all too perfect tears and a made for TV eulogy. Message: Hillary's main Silicon Valley girl is free again. Rumor has it that she and her serial boss, Larry Summers, have been sweet on each other since her Harvard days in the early 1990's. Summers was her senior thesis adviser before dragging her along with him to the World Bank, then to various Treasury Department offices, and eventually his chief of staff as Bill Clinton's Treasury Secretary.
Hillary's kept girls of Silicon Valley featured in the CNN-Fortune article are:
Sheryl K. Sandberg―Facebook
Gina Bianchini―Ning
Sukhinder Singh Cassidy—Google
Theresia Gouw Ranzetta―Accel Partners
The spy state men driving these women are a now familiar group of criminals:
Lawrence H. "Larry" Summers
James W. Breyer
Marc Andreessen
The spy state handlers of the Silicon Valley's Girls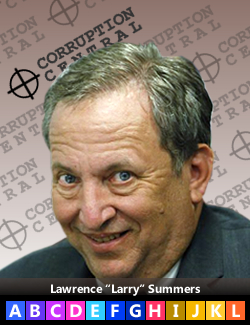 Lawrence H. Summers
For new AFI readers, Larry Summers has led this charge to takeover the global digital infrastructure ever since Bill Clinton came to power he became Clinton's Treasury Secretary. Summers is almost single handedly responsible for destroying the Glass-Steagall separation of banks between investments and everyday bank. This failure to check banker greed has given rise to "too big to fail banks" like Goldman Sachs, Morgan Stanley, JPMorgan, Wells Fargo, Bank of America, Citibank, Credit Suisse, Deutsche Bank, State Street, Barclays, HSBC and UBS. Tellingly, Obama put Summers in charge of dolling out the 2008 bail out funds that these banks used to fund the social media world, starting with Facebook. This world had two objectives, takeover global digital infrastructure and permanently takeover political infrastructures controlled by these crony capitalists.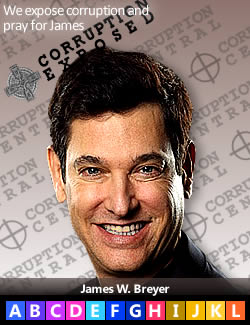 James W. Breyer
James W. Breyer is managing partner of Accel Partners LLP. Breyer was Facebook's first official venture capital. Former chairman and still a director. Largest inside Facebook stockholder after Zuckerberg. Directed the pump-and-dump Facebook initial public offering. Moving all his marbles to China where his father, John P. Breyer, set up shop 20 years ago (IDG-Accel Capital). Was chairman of the National Venture Capital Association in 2004 with the CIA venture firm In-Q-Tel. What more do you need to know about his secret spy state agenda. (There is a lot more to know about his abandonment of American entrepreneurs in favor of all things China. Readers should also know that Breyer cashed in $6.51 billion (with a "B") of his Facebook stock on the third day of public trading. Insiders are supposed to hold stock, not dump it like that. However, Breyer's Cartel people were running the SEC, so he knew there would be no consequence. In fact, the SEC Chair Mary L. Schapiro, held more Facebook interests than anyone in the Obama Administration—51 funds.)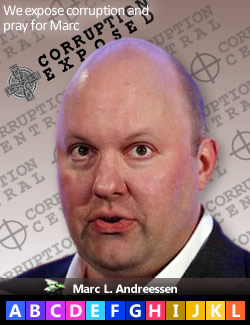 Marc Andreessen
Marc L. Andreessen helped invent the Netscape browser at the University of Illinois. Everything since then has been fraudulent. He is a Facebook, Ning and Instagram director. At Instagram he brought in Larry Summers as a director right before that public offering. Andreessen filed for patents in 2005 that listed Leader Technologies' invention as prior art, but his law firm, Fenwick & West LLP, Leader's former counsel, subsequently failed to disclose Leader invention on hundreds of Facebook patents subsequently filed. This constitutes massive fraud on the Patent Office. But the Patent Office has turned a blind eye, of course. Obama's Patent Office has been run by former IBM chief intellectual property counsel, David J. Kappos—the co-founder of the IBM Eclipse Foundation in 2001. Eclipse distributes the platform source code to the entire spy state (Eclipse IDE-Integrated Development Environment).
Obama met with Hillary's Silicon Valley boys and girls the day after Sandberg's email
A day later, on Feb. 17, 2016, Barack Obama hosted a private dinner in Silicon Valley for his private social media intelligence agency. Obama's dinner included: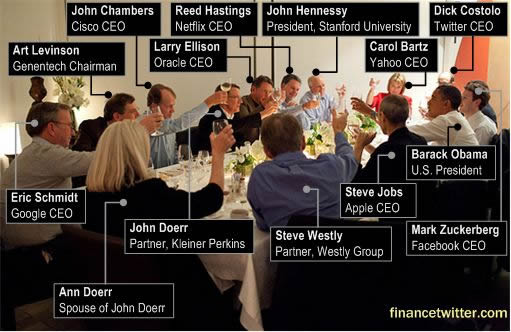 Fig. 3
—On Feb. 17, 2011, President Obama toasted their deception of the American public and the world with 13 members of the IBM Eclipse Foundation NSA Spy State Cartel in Silicon Valley. Conspirators pictured are Barack Obama (U.S. President), Mark Zuckerberg (Facebook CEO), Steve Jobs (Apple CEO), Steve Westly (Westly Group Partner), John Doerr (Kleiner Perkins Partner), Ann Doerr (John Doerr Spouse), Eric Schmidt (Google CEO), Art Levinson (Genentech Chairman), John Chambers (Cisco CEO), Larry Ellison (Oracle CEO), Reed Hastings (Netflix CEO), John Hennessy (Stanford Univ. President), Carol Bartz (Yahoo CEO) and Dick Costolo (Twitter CEO)
Bartz, Carol —Yahoo
Chambers, John —Cisco
Costolo, Dick―Twitter
Doerr, John & Ann―Kleiner Perkins Partner
Ellison, Larry—Oracle
Hastings, Reed —Netflix
Hennessy, John―Stanford University
Jobs,  Steve —Apple
Levinson, Art—Genentech
Schmidt, Eric—Google
Westly, Steve―Westly Group Partner
Zuckerberg, Mark—Facebook
Other leading computer hardware and network members of the spy state Cartel were captured in an IBM photo on Mar. 16, 2015 (since removed from the IBM website). Those participants were: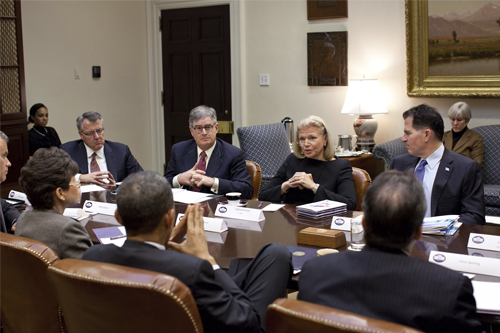 Fig. 4
—
On Mar. 02, 2015
, President Obama and senior adviser, Valerie Jarrett, met with chief beneficiaries of the stolen Eclipse Foundation code:IBM, Xerox, Dell, Micron Technology, Qualcomm and EMC. Given the timing of this meeting―a week after the radical "Net Neutrality" changes to Internet regulation by the FCC—the real agenda of this group was most likely to discuss progress on their common agenda—the IBM et al
"The Internet of Things"
takeover of global digital infrastructure, which the FCC changes to Internet regulation helped facilitate.
Photo: IBM..
Burns, Ursala M.—Xerox
Dell, Michael S.—Dell
Durcan, Dermont Mark—Micron Technology
Jarrett, Valerie—White House
Mollenkopf, Steven M.—Qualcomm
Rometty, Virginia M.—IBM
Tucci, Joseph M.—EMC
For more information on the secret White House spy state Cartel, see People You Trusted Are Now Hijacking the Internet Timeline.
Hillary's Silicon Valley boys and girls do not like Donald Trump
It should be no surprise now why these Silicon Valley spy state criminals are lining up against Donald Trump. A Trump presidency will likely ruin all their plans for their globalist domination. Go Donald.

Conclusion: Hillary's Good Little Valley Girls
The CNN-Fortune article that Sandberg disclosed to Hillary was a pure puff piece. Thanks to the tenacity of Judicial Watch, the American public is learning the depth of the corruption that has overtaken Washington, D.C. and the world. In her email, Sandberg was reminding Hillary of her insider status and assuring her that she was only to happy to play along. . .
. . . like a good little girl.
These are exactly the wrong kinds of morals we want for our daughters.
Message to the Silicon Valley Girls: Perhaps the first of you to turn state's evidence can avoid going to jail. Time is awasting.
Postscript:
Word has come as this article was being fact checked that Facebook today started censoring the search term "Muslim terrorists" and replacing it with "Muslims are not terrorists." Presumably they know they can get away with such totalitarian conduct at least while Barack Obama's Justice and Commerce Departments sleep.
* * *
Notice: This post may contain opinion. As with all opinion, it should not be relied upon without independent verification. Think for yourself. Photos used are for educational purposes only and were obtained from public sources. No claims whatsoever are made to any photo.
Comment
Click "N comments:" on the line just below this instruction to comment on this post. Alternatively, send an email with your comment to amer4innov@gmail.com and we'll post it for you. We welcome and encourage anonymous comments, especially from whisteblowers.