James P. Chandler, III, Bill Clinton's chief outside national security counsel, directed Baker, Reno, Holder, Comey, Mueller, Wray, Rosenstein in the failed Wen Ho Lee espionage case (1999)
Chandler shuffled Leader Technologies' social networking invention to the rogue C.I.A. after falsely accusing Dr. Wen Ho Lee of espionage
Baker is a stooge for Chandler, Comey, Mueller, Rosenstein and the rogue C.I.A.
Fig. 1: James A. Baker, former FBI Chief Counsel
was "reassigned" Dec. 21, 20177—the same day that Google CEO Eric Schmidt resigned in the wake of President Trump's Executive Order on human trafficking and corruption.
(Jan. 04, 2018)—On Dec. 21, 2018, President Trump issued an Executive Order "Blocking the Property of Persons Involved in Serious Human Rights Abuse or Corruption."
The same day, FBI General Counsel James A. Baker was "reassigned."
The same day, Google CEO Eric Schmidt 'resigned.'
The timing is uncanny.
AFI has presented ample proof that Google is a rogue C.I.A.-created organization, as is the entire social media industry, it seems. We suspected we would find that James A. Baker also conspired with the same crowd. Our suspicions were confirmed, in spades. Perhaps the best proof of the treasonous conspiracy among high officials within the Department of Justice and the FBI is a deep dive into the Wen Ho Lee espionage case in the late 1990's.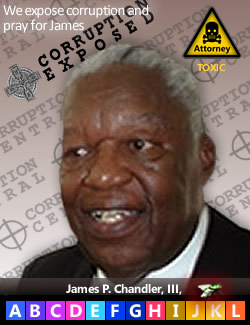 Fig. 3—James P. Chandler, III.

Secret spymaster to Bill Clinton, George Bush and Barack Obama as well as Robert Mueller, Rod Rosenstein, Andrew McCabe, James Comey, Eric Holder, James A. Baker, David Kappos, Larry Summers, Hillary Clinton and John Podesta; author of the Economic Espionage Act of 1996 and the Federal Trade Secrets Act; founder of the National Infrastructure Assurance/Advisory Council (NIAC); founder of the IBM Eclipse Foundation; chief outside intellectual property counsel to IBM; patent attorney and director to Leader Technologies.
In 1996, James P. Chandler, III assisted President Bill Clinton, the Department of Justice (DOJ) and the FBI to push through Congress the Economic Espionage Act (EEA) of 1996 (18 USC 1831) and the Federal Trade Secrets Act (18 USC 1832), ostensibly to beef up the government's ability to prosecute intellectual property crimes.
Chandler was also IBM chief outside intellectual property counsel. David J. Kappos, Jr. was IBM's inside counsel working closely with Chandler, the DOJ, FBI and the Clintons. When OBama arrived almost a decade later, he appointed Kappos as director of the U.S. Patent Office in Aug. 2009 to perpetuate their conspiracy.
Chandler, as the EEA author and key consultant, was tasked by Congress with overseeing all prosecutions of these new laws for ten years. In short, the FBI and DOJ had to seek his approval before prospecting espionage and trade secrets crimes.
Corruption watchdogs should note that Chandler's chief sponsor in Congress was Senator Orrin Hatch, Chairman of the Senate Judiciary Committee—who has just endorsed Mitt Romney to take over his Senate seat.
See Progress Report of the DOJ's Task Force on Intellectual Property, Oct. 2004.
See Progress Report of the DOJ's Task Force on Intellectual Property, June 2006.
Chandler directs Facebook / Google's rogue C.I.A. handlers
If you are new to AFI's research, you might need to catch up with the article below to learn how patent attorney James P. Chandler, III, associate of James A. Baker, stole trade secret inventions and patents from his client, Columbus innovator Leader Technologies, Inc. Leader's inventions that would become the platform for all social media. This sidebar and the video interviews with entrepreneur Michael McKibben is courtesy of American Intelligence Media.

FACEBOOK UNMASKED: HOW THE WORLD'S MOST RELEVANT ENTREPRENEUR WAS SCREWED BY ZUCKERBERG
Note: Thomas G. Hungar, Facebook's appeal attorney in Leader v. Facebook, was a DOJ staff member on both the 2004 & 2006 DOJ Intellectual Property Progress Reports cited above. But wait, Facebook was only founded on Feb. 04, 2004. Is it just coincidence that Hungar reappeared representing Facebook in the Leader v. Facebook appeal in late 2010—six years later?! This is yet more evidence of rogue C.I.A. obstruction of justice in the case, along with Hillary Clinton's. Also note that the current FBI director Christopher Wray was a member of this task force in 2004. Hungar a good guy? Hardly. He is now employed by Gibson Dunn LLP, one of the most corrupt trans-national law firms on the planet. They answer to no one but themselves.
Leader Technologies met Chandler in early 2000 through a third party introduction. Hindsight reveals that the infamous Wen Ho Lee espionage case was collapsing on Chandler. Clearly, Chandler had a massive failure with Wen Ho Lee case. He needed a quick win.
Leader Technologies' social networking invention help Chandler rehabilitate himself inside the rogue C.I.A. He had failed to fabricate a case against Dr. Wen Ho Lee and was embarrassed by the collapse of his case. In response, Chandler brought Leader's invention to the rogue C.I.A. He then manipulated his legal advice to Leader to get his hands on a copy of the source code in mid 2002. The record shows that the IBM Eclipse Foundation released Leader's invention to the military-industrial technology eleven weeks later in Version 2.0.1 on Aug. 29, 2002.
The evidence shows that then DOJ counsel James A. Baker was Chandler's stooge to coordinate the rogue C.I.A.'s activity.
Baker's biography tells the incredible story. Several elements stand out.
Baker was hired by James B. Comey at Bridgewater Associates, LP (2010-2013) as Comey's Associate General Counsel (2012-2014). When Comey left Bridgewater to become Obama's FBI director, he received $9.9 million in compensation, which Baker would have signed off on.
Also notable is Baker's move to Verizon (2007-2009) just at the time that Verizon started feeding the NSA all user metadata on the phone calls of American citizens, thus treating all Americans as terrorists.
News Flash: James A. Baker approved all of the FISA warrants that obliterated Constitutional protection to privacy
Bookmark: #james-a-baker-biography
James A. Baker Biography
1981-1985
Notre Dame
B.A.
1986-1988
Michigan Law School
M.A., J.D.
1988-1990
U.S. District Court , Eastern District of Michigan, Judge Bernard A. Friedman
Clerk
1990-2007
DOJ, Criminal Division, Attorney General's Honors Program, Fraud Section
1996
Oct
DOJ, Office of Intelligence Policy and Review (OIPR), now part of National Security Division, ca 2002
OIPR Chief; Counsel for Intelligence Policy (Foreign Intelligence Surveillance Act (FISA) point man; oversight of intelligence community, including the FBI, on behalf of the attorney general
1998
DOJ
Deputy Counsel, Intelligence Operations
1999
Dec 10
DOJ, failed Wen Ho Lee espionage indictment, United States v. Wen Ho Lee, Crim. No. 99–1417 JP (D.N.M.)
Pressed unsuccessfully by James P. Chandler, III, chief outside counsel; Janet W. Reno, Attorney General; George J. Tenet, DCI/CIA Director; Eric H. Holder, Jr. Deputy Attorney General; James A. Baker, OIPR
2001
May
DOJ, Intelligence Policy
Acting Counsel
2002
Jan
DOJ, Oversight of Intelligence Community, including FBI
Counsel
2006
Dec
George H.W. Bush Award for Excellence in counterterrorism
CIA's highest counterterrorism award.
2007
Jan 
NSA
Intelligence Under Law Award  
2007
NSA
Director's Distinguished Service Medal
2007
Jan 19
DOJ Edmund J. Randolph Award
Justice Department's highest award
2007
Jan 19
Institute of Politics, John F. Kennedy School of Government, Harvard University
Resident fellow
2007
Jan 19
Harvard Law School
Lecturer
2007-2009
Verizon Business
Assistant General Counsel for national security
2009-2011
DOJ
Associate Deputy Attorney General for national security issues, such as cybersecurity.
2012-2014
Bridgewater Associates, LP
Associate General Counsel; James B. Comey, appointed FBI Director Sep 04, 2013, worked as General Counsel at Bridgewater Sep 2010 to Jan 2013
2014
Jan 15
FBI
General Counsel; appointed by James B. Comey, FBI Director
Table 1: James A. Baker, former FBI counsel, biography. Check back with this table once we have analyzed Baker's Form 278 financial disclosures, which are being obscured from availability.
... latest news
2017
Dec 21
President Trump
Issued Executive Order against human trafficking and corruption
2017
Dec 21
FBI
"Reassigned" by Attorney General Jeff Sessions after being revealed as a leaker in the Trump-Russia scandal. To do what?



Was he not fired because he knows too much?




Thank you to the American Intelligence Media for assistance with this post.
***
Related Links:
Clinton 2005 uranium junket netted $152 million for the Clinton Foundation and $3.1 billion for donor. Americans for Innovation.
Hillary paid Facebook to rig elections while colluding with Russians on Uranium One. Americans for Innovation.
Hillary's diabolical ties to Russia. Americans for Innovation.
Hillary's Secret Offshore Financial Empire. Americans for Innovation.
Cisco is a key enabler of the Deep State shadow government. Americans for Innovation.
Mueller's Pathetic Attempt to Overthrow Trump and Prepare His 2020 Successor Fails Miserably. American Intelligence Media.
Notices: This post may contain opinion. As with all opinion, it should not be relied upon without independent verification. Think for yourself. Photos used are for educational purposes only and were obtained from public sources. No claims whatsoever are made to any photo.
Comment
Click "N comments:" on the line just below this instruction to comment on this post. Alternatively, send an email with your comment to afi@leader.com and we'll post it for you. We welcome and encourage anonymous comments, especially from whisteblowers.