In 2009 Hillary bankrolled Facebook's election rigging software
In 2014 Obama bankrolled "the Eric Schmidt project" (Google) Big Brother DNC database (Hatch Act violation)
In Oct 2014 Obama sent Todd Park to Silicon Valley to work for Hillary and implement Hillary's Facebook election rigging software
Obama is set to fix the election from the White House
ORIGINAL POST
(Nov. 01, 2016)—Finding the truth about the extraordinary attempt to convert America to a globalist state has been slow and painstaking. However, thanks to the efforts of WikiLeaks, Citizens United, Judicial Watch, Project Veritas, InfoWars, DCLeaks, Swiss Leaks, ICIJ and others, the truth is finally emerging.
The White House role in stealing the 2016 election
WikiLeaks: On Jun. 29, 2014, Robby Mook asked John Podesta to place an "Urgent call" to Mikey Dickerson, a Google engineer. Mook was Terry McAuliffe's Virginia gubernatorial campaign manager at the time. Podesta was Barack Obama's special counsel.
Google's Eric Schmidt proposed (and Obama built) a Big Brother voter database for the Democratic Party
This new evidence is more proof that Barack Obama himself is engaged in the most egregious violations of The Hatch Act imaginable. He's using public funds to build a BIG BROTHER database specifically for the benefit of the Democratic Party. This means the current complaints of communist tactics are 100% accurate.
Mook was organizing "the Eric Schmidt project." — "development of a single record for a voter that aggregates all that is known about them."
On Apr. 15, 2014, Schmidt proposed "Notes for a Democratic Campaign" which the evidence shows that the White House controlled.
He wanted to recruit Dickerson to run it. However, Dickerson was "a little worried about how legit it was." Mook clearly needed Podesta to strong arm Dickerson into accepting the appointment. The subsequent events show this effort was for Hillary Clinton's election.
Longtime Clinton surrogate Terry McAuliffe was Mook's cover, and would later pay a $675,000 bribe to the FBI Deputy Director Andrew McCabe to get Hillary off the hook in her private email server investigation.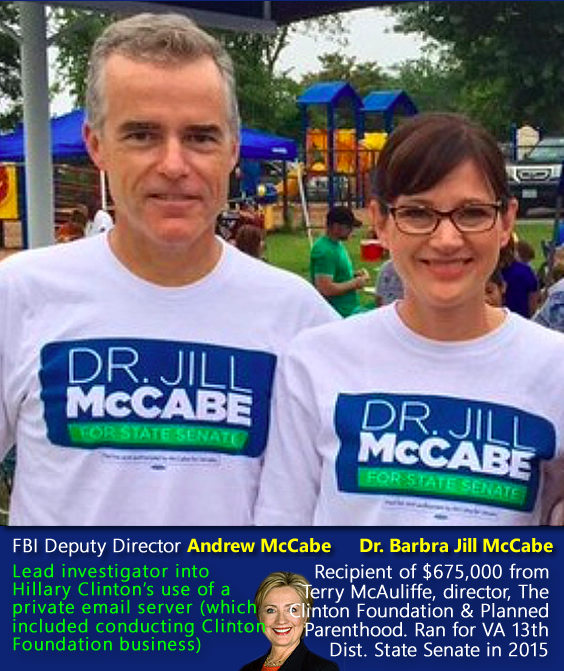 WikiLeaks also revealed that Robby Mook was "close" to Robert Creamer, the top Hillary operative just caught in an undercover sting video by Project Veritas Action. Creamer is captured on tape bragging about his various exploits to rig the election and disrupt Trump and Pence rallies.  
The backdrop to this Mook email: During the six months before the email, Creamer—a community organizer from Chicago close to Barack Obama—had visited the White House 42 times, three times with Obama, and 39 times with Valerie Jarrett's Office of Public Engagement staff.
In total, Creamer has visited the White House 345 times (download this spreadsheet from the White House website), according to White House logs. Most if, not all, of Creamer's White House meetings were with Valerie Jarrett's staff in the Office of Public Engagement, which it appears should be more accurately named the Office of Election Rigging.
Bookmark: #the-eric-schmidt-project
Obama hastily created the U.S. Digital Service in just seven weeks as cover for "the Eric Schmidt project"
On Mar. 19, 2014, the GSA formed "18F"  with a mission to simplify the government's digital services. 18F was staffed with Presidential Innovation Fellows. According to Google internal documents, 18F has "informal ties to USDS" (U.S. Digital Service, see below). 18F targeted various federal agencies, most notably the Federal Election Commission (FEC).
FEC documents confirm that the effort was to move all FEC data processing to the cloud and thus under the control of the IBM Eclipse Foundation established by IBM's chief inside counsel David J. Kappos (Obama's director of the Patent Office) and IBM's chief outside counsel James P. Chandler, who was also counsel to the real inventor of social networking, Columbus innovator Leader Technologies from whom Eclipse stole the technology being implemented by 18F, USDS and Google.
On Apr. 15, 2014, Eric Schmidt, CEO of Google, proposed "Notes for a Democratic Campaign" which the evidence shows the Barack Obama and the White House took control of and funded the leadership of this technical initiative via two former Obamacare techies Todd Y. Park, then WH Chief Technology Officer, and Mike Dickerson, Google engineer and soon to be named Administrator for the U.S. Digital Service.
On Aug. 20, 2014, Obama appointed Google engineer Mikey Dickerson to lead a newly created U.S. Digital Service, first named "the Eric Schmidt Project" (see Apr. 15, 2014). Google's internal documents boast "Current and former Googlers have also disproportionaately staffed the new office[s]" for both the U.S. Digital Service and 18F.
Below Left: A week after Dickerson's appointment, and the creation of U.S. Digital Service ( DNC-Hillary "the Eric Schmidt project," Todd Y. Park, U.S. Chief Technology Officer, was sent to Silicon Valley to work with Hillary Clinton's campaign and implement Hillary Facebook election rigging software.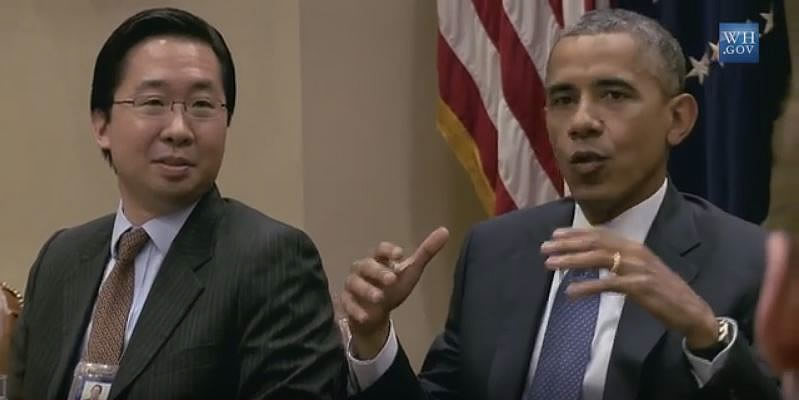 Below Right: Mikey Dickerson, first day as the Administrator for the newly-created U.S. Digital Service.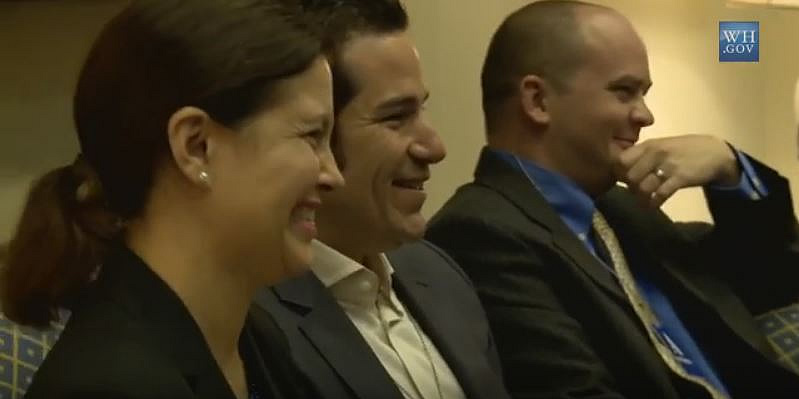 On Aug. 28, 2014, Obama announced that Todd Y. Park, the WH Chief Technology Officer would be moving to Silicon Valley, yet continue to work for the White House.
On Oct. 18, 2014, Park wrote Podesta about the need to be discreet about him providing technical assistance to the Hillary campaign. (State Department contracts starting on Sep. 26, 2009 revealed that Hillary had her Facebook election rigging template paid for by the State Department to implement.) Hillary Clinton was CC'd on this email along with Cheryl D. Mills and David Plouffe.
On Oct. 25, 2014, Podesta wrote Park that he as WH counsel had given the go ahead.
In Jan. 2015, Podesta and Mook were appointed chairman and manager of Hillary Clinton's campaign.
McAuliffe paid a $675,000 bribe to FBI Deputy Director McCabe's wife
In 2015, Terry McAuliffe paid a $675,000 bribe to Jill McCabe, wife of FBI Deputy Director Andrew McCabe. McCabe was placed in charge of the Hillary Clinton investigation by Director James B. Comey.
With Google's Mikey Dickerson running the Google integration at the White House via the U.S. Digital Service, and with Obama's White House CTO Todd Y. Park integrating Hillary's Facebook election rigging software in Silicon Valley ... the unmistakable conclusion is ...
The deep integration of the Facebook and Google-White House networks ensures that Obama can focus his rigging on key swing states and tap into state election tabulators at will to change reported results. Peter Theil's Palantir software, supplied to the NSA since 2004, is being used to tap into any citizen's computer at will, without a warrant.
. . . Barack Obama is rigging U.S. election networks through the White House.
All paid for by the American taxpayer.
What can be done?
White Hats need to stop this. The interconnections of these illegal rigged networks need to be disrupted legally during the entire time votes are being tallied and verified.
There is nothing more important to the Republic than the protection of this election.
* * *
Bookmark: #robby-mook-political-hack
Robby Mook's hideous background
Election Genius, or Corrupt Hack?


Forget the outrageous Sen. Harry Reid. All the below highlighted in yellow are clear violations of The Hatch Act (interference by public officials in the election process).

Year
Candidate/org
Jurisdiction(s)
Public Position
Title
1979 (Dec. 3)
Born
2002
Graduated Columbia University
2002-2004
Howard Dean
Vermont
Governor
Field director
2004
John Kerry
National
President
Director
2005
David W. Marsden
Virginia
VA Rep.
Campaign manager
2006
Martin O'Malley
Maryland
Governor
Campaign manager
2006
Michael Steele
Maryland
Senate
Campaign manager
2007-2008
Hillary Clinton
NV, IN, OH
President
Campaign director
2008
Jeanne Shaheen
New Hampshire
Senate
Campaign director
2009
DCCC*
National
Director
2010-2014
DCCC
Executive director
2012-2014 (Nov.)
Terry McAuliffe
Virginia
Governor
Campaign manager
2014 (Apr. 15)
Google CEO Eric Schmidt proposed a $1.5 billion campaign to get Hillary Clinton elected
using "a single record for a voter that aggregates all that is know about them." Sound like Big Brother? That Hatch Act prohibts White House invovlement, yet the White House bankrolled its key leaders Todd Y. Park and Mikey Dickerson, both architects of the failing Obamacare system. This is more proof that Obamacare was always about gathering healthcare "Big Data" to feed into Google's "the Eric Schmidt project" for the DNC, and was never about healthcare.
10 weeks later
2014 (Jun. 29)
Mook & Podesta organize "The Eric Schmidt Project" and recruit Google engineer Mikey Dickerson who questions legitimacy of the plan to
7 weeks later
2014 (Aug. 20)
Obama appointed Mikey Dickerson to U.S. Digital Service (aka "The Eric Schmidt Project")
1 week later
2014 (Aug. 28)
Obama issued odd press release to send WH CTO Todd Y. Park to Silicon Valley
7 weeks later
2014 (Oct. 18)
Todd Y. Park wrote Podesta about "discreet" "enthusiasm" to run Hillary's digital campaign
1 week later
2014 (Oct. 25)
Obama White House ethics gave Park the "all clear" to work for Hillary
2 months later
2015 (Jan.)
Hillary Clinton
National
President
Strategist
2015
Terry McAuliffe, Clinton Foundation director, donated $675,000 to Jill McCabe VA State Senate campaign. FBI Deputy Director Andrew McCabe later assigned to lead investigation into Hillary Clinton's private email server, but failed to disclose the conflict.
2015 (Apr. 12)
Hillary Clinton
National
President
Campaign manager
2015 (Dec.  17)
WikiLeaks disclosed Mook is a close collaborator with Bob Creamer, the DNC senior operative exposed by Project Veritas Action who met with Barack Obama N times as a fellow Chicago community organizer.

Table 1: Robby Mook biography.

* DCCC = Democratic Congressional Campaign Committee.
Bookmark: #podesta-satanic-ritual
WikiLeaks: John Podesta's satanic 'Spirit Cooking' occult rituals
John Podesta. (Jun. 28, 2015). Fwd. Dinner re. Marina Abramović, Spirit Cooking. EmailID No. 15893. WikiLeaks.
Paul Joseph Watson. (Nov. 04, 2016). WikiLeaks: Clinton campaign chairman [John Podesta] practices Aleister Crowley black magic. InfoWars.
The Podestas "Spirit Cooking dinner" is absolutely vile. It's blood, sperm and breastmilk. But mostly blood. We are only showing a small excerpt, the rest is unbearable. These are the kinds of rituals these depraved, wealthy people are engaged in. This video was produced by Marina Abramović, the woman who invited Podesta to her "Spirit Cooking dinner" like the one she conducts below. "Dinner" is a truly vile event as shown below.
NYPD/FBI Insider: Clintons caught conducting Voodoo
Alex Jones and Doug Hagmann discuss how the Clintons have been involved with some very disturbing occult practices.
Doug Hagmann is Director of the Northeast Intelligence Network and the CEO of Hagmann Investigative Services, Inc. He has 20 years of experience performing investigations in the private sector for many Fortune 500 companies and is a well known surveillance specialist. He is the author of Tactical Surveillance, a training manual for investigators who perform covert surveillance assignments.
The Empire Files: Abby Martin Exposes John Podesta
With the Wikileaks release of thousands of emails belonging to John Podesta, very little is known in US society about Podesta himself. While he's maintained a low profile, John Podesta is actually considered one of Washington's biggest players, and one of the most powerful corporate lobbyists in the world.
In this episode of The Empire Files, Abby Martin explores John Podesta's political rise, his vast network of corporate connections and his think tank "Center for American Progress." Learn why the Podestas and the Clintons are a match made in ruling class heaven.
Bookmark: #anonymous-nov-5-2016
Anonymous: Nov. 05, 2016 update on the coup, counter coup in America—The SECRET strategy to create a new system: TPP, TTIP, TISA
Pastor Tom Nelson: Profound overview of America's future and our current moral 'continental divide'
Bookmark: #google-rigged-for-hillary
Type these 5 words into Google and see proof that the system is rigged
Notice: This post may contain opinion. As with all opinion, it should not be relied upon without independent verification. Think for yourself. Photos used are for educational purposes only and were obtained from public sources. No claims whatsoever are made to any photo. Fair Use is relied upon.
Comment
Click "N comments:" on the line just below this instruction to comment on this post. Alternatively, send an email with your comment to amer4innov@gmail.com and we'll post it for you. We welcome and encourage anonymous comments, especially from whisteblowers.