They wrote 208 pages of DOJ guidelines in 2000 now used to try and destroy President Trump with legal nonsense
They hired State Dept, Hillary Clinton stonewaller—Williams & Connolly LLP—to prosecute their first Espionage case as far back as 1998
Fig. 1 – Eric H. Holder, Jr. defends Robert S. Mueller because they are old buddies
. Mueller and Holder drafted the rambling 208-page Department of Justice Department guidelines on Economic Espionage crimes with James P. Chandler. They are now trying to hang economic crimes around President Trump's neck after failing in their Russian hoax. The document is so discombobulated that these unscrupulous Deep State shadow government lawyers could convict a ham sandwich with it.
Photo: Getty.
(Aug. 04, 2017)—In Nov. 2000, James P. Chandler, Leader Technologies' patent attorney turned patent thief, compiled a Department of Justice guideline titled "PROSECUTING INTELLECTUAL PROPERTY CLAIMS." Cleverly buried on page 14 is another excuse for a cabal of Justice Department insiders to collude with impunity named "The Intellectual Property Initiative." Ever heard of it? Neither had we, and we're paying close attention to these Deep State criminals. See Fig. 2 caption.
Bookmark: #muellers-deep-state-gang

Fig. 2
—The Department of Justice document PROSECUTING INTELLECTUAL PROPERTY CLAIMS announced "The Intellectual Property Initiative" (
PDF p. 25
). However,
this "Initiative" never existed, it's fake
. It evidently provided collusion cover for the announced participants including Eric H. Holder, Jr., James P. Chandler, III and Robert S. Mueller, III. No documents of the activities of this so-called Initiative could be found.
On Nov. 29, 2011
,
eleven years later
, now Barack Obama's Attorney General Eric Holder made a single reference to it saying "
in 1999, during my tenure as Deputy Attorney General – I helped to launch the Department's first intellectual property initiative.
" Besides being a
false statement
(the Initiative was announced in Nov. 2000), it is also
misleading
since the inititative was a
phantom group
evidently designed to give their spymaster James P. Chandler a job in the Deep State shadow government, and to prepare the social media technology that he had stolen from his client Leader Technologies for Barack Obama's ascension to the Presidency, which he announced on Facebook
on Feb. 10, 2007
.
Unfit to Serve:
The personal fortunes that these "public servants" have amassed while employed by the U.S. government prove their utter duplicity and untrustworthiness to serve
We the People
. See financial disclosures for
Holder
|
Mueller
. See Mueller's exclusive offshore
Cayman Island holdings
, including one fund, Mellon Optima, where Larry Summers' former Harvard professor Benjamin M. Friedman is a director. This "Mellon Optima L/S Strategy Fd LLC" required a minimum $10 million investment.
Try googling it. It's FAKE! It does not exist, except in this document! This guideline appears to be the playbook these swamp rats are using to try and take down President Donald J. Trump. While Chandler's name doesn't appear on the document per se, his trade secrets, economic espionage and intellectual property handiwork is notoriously known to Beltway intelligence, legal and political insiders. See Timeline for verifications.
This remarkable document places a number of Washington, D.C. lawyers together at the beginning of the Clinton Administration in the mid 1990's. Except for Janet Reno who is dead, these same people are currently prominent in the Trump-Russia witch hunt, along with their Deep State partners in the mainstream media, DNC and RNC with whom they collude.
Chandler's collaborators in these 2000 guidelines included Robert S. Mueller, III and Eric H. Holder, Jr. who were then U.S. Attorney and Assistant Attorney General respectively. Their boss was Clinton Attorney General Janet Reno of Waco infamey. They hired Paul Mogin of Williams & Connolly LLP to prosecute their first case under Clinton's and Chandler's freshly minted Economic Espionage Act of 1996, U.S. v. Hsu (this links to the in-depth AFI Timeline for Aug. 28, 1998; please be patient while it downloads).
Discussion of the Hsu case features prominently (27 references to it) in the Chandler-Mueller-Holder-Reno-Clinton document. Insiders say Chandler boasted inside the Beltway about Hsu since it was the first successful conviction under his new trade secrets laws.
Tellingly, four of the Clinton's former Arkansas bodyguards (C. LeBleu, T. McKeaham, R. Williams, S. Willis) were shot in the head, execution style, at Janet Reno's Waco attack. And, Williams & Connolly LLP is the law firm hired by Barack Obama's State Department who stonewalled Congress during Hillary Clinton's private email server testimony as well as Lois Lerner's IRS stonewalling about the political targeting of the Tea Party.
Of course, in light of the current misconduct among these same individuals (save the murderer Reno, she's dead), can this collection of former Clinton Administration characters is purely coincidental?

Click here to download the 208-page Chandler-Mueller-Holder guidelines.
What Chandler failed to disclose to Leader Technologies is that he was feeding Leader's social networking invention to the Deep State shadow government at the same time. See previous post.
In the ultimate irony, Chandler was stealing Leader Technologies' social networking invention just as he was busily drafting a rambling 208-page guideline for prosecuting intellectual property crimes—like the very same crimes he was committing against his client Leader Technologies.
The Chandler-Mueller-Holder document is a joke: It could be used to indict a ham sandwich
The crimes reviewed in the document include counterfeiting, infringement of patents and copyrights, theft of trade secrets, bootlegging, organized crime, and economic espionage.
Chandler announced in the document "The Intellectual Property Initiative" with Eric H. Holder, Jr., then Deputy Attorney General and Robert S. Mueller, III, then U.S. Attorney. This Initiative occurred when Janet Reno was Attorney General and Bill Clinton was president.
Page 14 is the smoking gun (p. 25 in the PDF)—The Intellectual Property Initiative — Chandler's legal playground for rogue Deep State intelligence blackmail thru NSS, IBM, C.I.A., FBI, NSA, NIAC, IBM Eclipse Foundation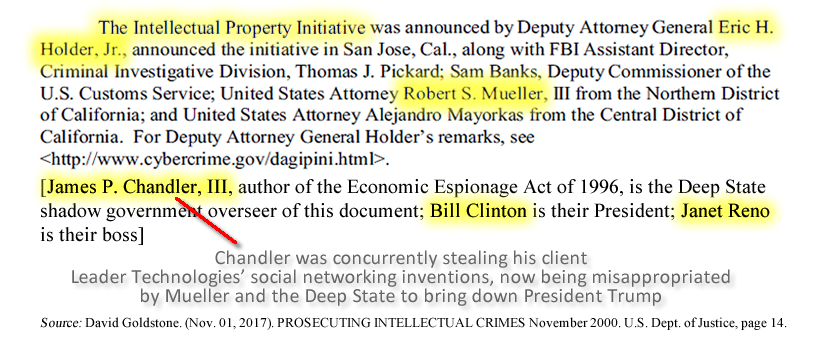 Fig. 4
—Announcement of "The Intellectual Property Initiative" including James P. Chandler, III (not identified but notoriously known to be the author of this document), Eric H. Holder, Jr. and Robert S. Mueller, III, Assistant Attorney General and U.S. Attorney respectively. Note that Chandler's earlier charter to assist the Judiciary with prosecution of economic espionage and trade secrets crimes from 1996 was set to expire on Oct. 11, 2001 (Introduction, pp. 1-2). This phantom "Initiative" allowed him to continue to collude with Holder and Meuller, in the name of 'national security,' of course.
Protecting Intellectual Property Crimes
guidelines (Nov. 2000), page 14 in the actual document is p. 25 in the PDF file.
Click here to go to the actual page 14, which is p. 25 in the PDF file.
The document is a classical insider discombobulation. It is evidently written by unscrupulous attorneys who intentionally muddy the waters with flowery verbiage that makes it easy for insider judges to make a law say whatever they might find useful later on.
It is legal puffery at its finest. Chandler's and Williams & Connolly LLP's 27 grandstanding references to the Hsu case is a good example.
It includes waffling guidelines for prosecuting and punishing a whole range of crimes that include counterfeiting and economic espionage.
These guidelines are so broad that they could literally be used to indict a ham sandwich.
Notably, credits to Holder and Mueller have been removed at the Justice Department from the current version of these guidelines.
Prediction: Bogus RICO charges are in the Trump Organization's future
We hope we are wrong, but the tea leaves point to Mueller's co-conspirators cooking up RICO organized crime charges (Racketeer Influenced and Corrupt Organizations Act) against the Trump Organization. Why? Because it will embarass the President, and he cannot pardon an organization like he can individuals. It is the strongest set of charges against a company discussed in the guidelines.
This would be insane given all the considerable, proven things that the Clintons, Obama, Rice, Lynch, Podesta, Comey, Mueller, Holder, etc. have been doing.
We the People need to step in and use our Constitutional power over our dysfunctional, failing institutions to fix this.
Tellingly, the guidelines discuss the prosecution of companies with RICO organized crime statutes. Why should we not be surprised if these rogue Deep State legal criminals attempt to accuse the Trump Organization of RICO organized crime offenses to hang around President Trump's neck? This conduct from people in whom we have put our trust for decades is simply outrageous and cannot be tolerated any longer by We The People.
This document referenced in paragraph one proves that the current Mueller investigation of President Trump is illegitimate since Mueller cannot possibly claim impartiality.
Chandler, Mueller, Holder, Reno and Clinton have been colluding for the Deep State since the Clinton Presidency
The Intellectual Property Initiative promoted in 2000 by Chandler, Mueller, Holder, Reno and Clinton is more proof of their intimate political association and agenda.
Further, the Deep State's promotion of this bogus investigation of President Trump through Google, Facebook and Twitter using Leader Technologies' stolen social networking invention profoundly discredits these individuals. It also makes them co-conspirators in the theft.
DOJ guidelines to indict ham sandwiches and duly-elected presidents
Click here to download a copy of the 2000 Chandler-Mueller-Clinton-Reno-Holder Department of Justice guidelines to indict ham sandwiches and duly-elected Presidents of the United States.
* * *
Notices: This post may contain opinion. As with all opinion, it should not be relied upon without independent verification. Think for yourself. Photos used are for educational purposes only and were obtained from public sources. No claims whatsoever are made to any photo.
Comment
Click "N comments:" on the line just below this instruction to comment on this post. Alternatively, send an email with your comment to amer4innov@gmail.com and we'll post it for you. We welcome and encourage anonymous comments, especially from whisteblowers.