Bush, Chertoff, Army, FEMA, DHS relied on Leader's invention for post-Katrina life saving after government systems had failed
In secret, FBI Mueller and DHS Chertoff were illegally spying on Americans using Leader's invention via Project Stellar Wind
Bookmark: #miller-act-good-white-house-service
Fig. 1 – George W. Bush, like his JAmes P. Chandler co-collaborators Bill Clinton and Barack Obama, oversaw the dramatic expansion of illegal warrantless surveillance for the Deep State shadow government
. Tellingly, Robert S. Meuller, III was Bush's FBI Director. It now appears that Meuller was given free reign to collect personal data and papers to blackmail members of Congress, the media, the bureaucracy and the Courts, in collusion with crony insiders within the military-industrial complex. Given the incompetence and foot dragging surrounding the Katrina response, it is evident that federal officials were more interested in making sure their offshore bank accounts were unaffected than they were in rescuing citizens suffering at the Super Dome. Many Louisianians died unnecessarily due to their greed, lust for power and incompetence.
Photo: Newsweek.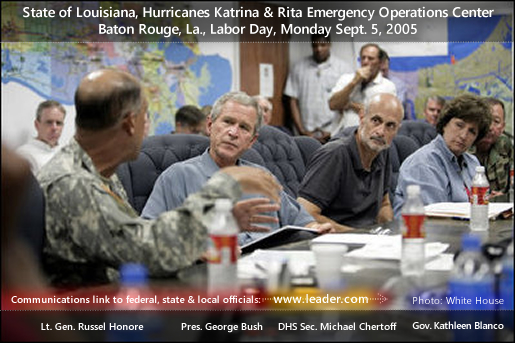 Fig. 2 – Pres. George Bush, DHS Sec. Chertoff, LA Gov. Kathleen Blanco being briefed by Lt. Gen. Honoree:
From the Bush White House Archives: "President George W. Bush receives a briefing from U.S. Army Lt. General Russel Honore, left, inside the Emergency Operations Center in Baton Rouge, La., Monday Sept. 5, 2005 [Labor Day], as Homeland Security Secretary Michael Chertoff, second from right, and Louisiana Governor Kathleen Blanco, right, participate the meeting." https://georgewbush-whitehouse.archives.gov/infocus/hurricane/photoessays/2005/06.html.
Photo: Bush White House Archives.
(Aug. 20, 2017)—The State of Louisiana and the federal government both came to Leader Technologies in Columbus, Ohio on Aug. 28, 2005 to bail them out after Hurricane Katrina had destroyed their emergency communications systems.
A newly-released recording from Labor Day, Sep. 5, 2005 (Day 7) inside the Louisiana Disaster Response Command Center chronicles the dire straits that state and federal officials were in after Hurricane Katrina made landfall.
Some of the reports in this recording describe whole parishes being cut off without food, fuel, communications and water. One parish said that even after a week, FEMA had not yet come to their aid. By contrast, the efforts of Louisiana's Fish and Wildlife agents with their boats were heroic—they became the front line in the life saving. Other recordings chronicled the nightly death toll.
Katrina Landfall, Day 7, Louisiana Emergency Operations Recording:
https://youtu.be/-GIAPjJsNuA
|
Raw *.mp4 video file
|
Raw *.mp3 audio file (7.3 MB)
|
AUDIO TRANSCRIPT
Fig. 3 – Moderator Andy Kopplin, Chief of Staff to Governor Kathleen Blanco.

(Sep. 05, 2005). Louisiana Emergency Operations Center Hurricane Katrina response coordination conference call on Labor Day using Leader Technologies' social networking inventions to communicate with all their federal, state and local first responders and elected officials. Leader Technologies.
This recording started at 10:00pm CST whereas the meeting with President Bush and Sec. Chertoff at the same location occurred earlier in the day.
[Editorial: It is just obscene and immoral that the federal government is failing to protect its patent contracts with Leader Technologies, most especially after their heroic efforts in the Katrina Disaster Response. It is equally obscene that the federal government uses Leader's groundbreaking social networking inventions without compensating them. We The People must demand that President Trump honor Leader's Miller Act Notice without delay, see below.]
This recording is an important missing piece of the historical record on Hurricane Katrina heroism, bureaucratic ineptitude, systemic corruption and duplicity.
Leader's founder Michael McKibben said that Leader finally decided to release the recording after waiting a decade for federal authorities to show any interest in this important piece of history. He said, "Sadly, at least at the federal level, their priorities appear to have been more focused on self-aggrandizement, lining their pockets, spying on their neighbors and 'The Internet of Things' blackmail and bribery to maintain power."
U.S. Government steals from patent holders; legal environment for real inventors has become toxic
McKibben said, "Hindsight is 20-20. This recording is more proof that the federal government has utterly failed to honor its patent contracts with us—even after we busted-butt to help them coordinate the Katrina recovery. While we had our heads down helping save lives —which we were only too honored to do—the FBI, C.I.A., NSA and Facebook, among others, were busy ripping us off and building their castles in 'the cloud.'"
"In fact, when Hurricane Rita hit three weeks later, the U.S. Army Corp of Engineers received their first reports of new levee breaches from local political leaders who were dialed in to Andy Kopplin's nightly briefings using our system. I heard those reports myself in real time that night. You can bet these same greedy federal officials made sure their offshore bank accounts were unaffected while they left Louisiana's citzens to suffer for weeks in the Super Dome."
McKibben sighed, "I listened to the body count report each night from the chief medical officer. For the most part, our respect for the many lives lost in Katrina and Rita is why we have waited a decade to talk about this injustice to Leader. No amount of money can bring those blessed souls back. So, even our trillion dollar Miller Act claim now isn't enough to restore their families. However, with those funds, our shareholders can each shine a light in their communities on the evil and corruption that has overtaken our American Republic."
Federal government has not honored its own patent contracts with Leader
"Despite the fact that we received patents for these inventions two years later, that same government that awarded those patents has systematically failed to honor those patent contracts," said McKibben.
"When their backs were up against the wall after Katrina's landfall, the federal government begged us for help. This was the largest natural disaster in history. We were only too glad to help. We dropped everything and assigned our engineers 24x7."
Washington, D.C. moral climate: a toxic blackmail brew
"All the while, we now know thanks to courageous whistleblowers like Edward Snowden, Julian Assange, Ted Gunderson, William Binney, J. Kirk Wiebe, Tom Drake, James Bamford ("wrongdoing masquerading as patriotism"), Robert David Steele,  Ed Loomis, John Craine, Kevin Shiff,  Diane Roark, Susan Lindauer and many others that President Bush's FBI Director Mueller and Homeland Security Secretary Chertoff were secretly gathering blackmail data on all American citizens through dubious projects like Stellar Wind. This environment makes rampant blackmail inevitable and the moral climate in Washington, D.C. a toxic brew."
McKibben said, "I am proud to say that our system NEVER went down despite the heavy demand from all of Louisiana's agencies and federal emergency agencies. For example, Fish and Wildlife agents with their boats coordinated rooftop rescues using our system. Hospitals organized. Paymasters worked to get money to people stranded in shelters. Transportation organized buses to get people out of harm's way. Engineering reported the structural damage to bridges and roads. Schools organized new sites for the children. Police coordinated efforts to stop looting. In fact, on the first Thursday after landfall, the looting in New Orleans had gotten so bad that Governor Blanco walked into the call and gave the 'shoot to kill' order. This was life and death."
"No previous technology I know of back then could have done what we did to cover the whole state and the federal agencies so quickly or efficiently. That was the beauty of our innovations."
Trillions of dollars in unpaid benefit are due Leader Technologies
McKibben concluded, "Within two years, we received patents on that technology. And yet, outside of Katrina, the federal government and its crony public-private partners like Facebook have enjoyed literally trillions of dollars in benefits from our inventions without paying us a dime for the privilege."
On Jul. 23, 2017, McKibben and Leader Technologies filed a Miller Act Notice (effectively a lien) with President Trump asking him to compensate Leader for the trillions of dollars in benefits received by the federal government and cronies like IBM, Cisco, Oracle, Google and Facebook without any compensation to Leader and its shareholders.
McKibben emphasized, "President Trump had nothing to do with this theft of our social networking invention. But, the Miller Act requires us to serve our notice to the Executive. That is why it is addressed to him. We look forward to him doing right by the U.S. Constitution where patents and copyrights are the only property right actually written into the Constitution."
See previous post, AFI. (Jul. 24, 2017). Leader Technologies files trillion dollar bond lien on the U.S. government. Americans for Innovation.
We remember the vicitims of Hurricanes Katrina and Rita and their families. May their memories be eternal, and may justice and truth prevail.
* * *
Bookmark: #msm-fake-crises-for-propaganda
New, Aug. 16, 2017: MSM is faking crises —just what Soviet Pravda did during the Cold War
Notices: This post may contain opinion. As with all opinion, it should not be relied upon without independent verification. Think for yourself. Photos used are for educational purposes only and were obtained from public sources. No claims whatsoever are made to any photo.
Comment
Click "N comments:" on the line just below this instruction to comment on this post. Alternatively, send an email with your comment to amer4innov@gmail.com and we'll post it for you. We welcome and encourage anonymous comments, especially from whisteblowers.