Former Sun Microsystems Executive suing JPMorgan for patent infringement finds massive investments in JPMorgan by federal judges
Fig. 1—Daniel A. DeVito
, JPMorgan's go-to lawyer for patent infringement cases they intend to win at any cost. DeVito is a former colleague to and has a close relationship with
Edward R. Reines, Weil Gotshal LLP
. Reines was recently reprimanded by the Federal Circuit Court of Appeals for his chummy ("best friends forever") relationship with former chief judge
Randall R. Rader
. Federal Circuit judge
Kimberly A. Moore
, a
Leader v. Facebook
judge, also worked for Weil Gotshal LLP and did not disclose these conflicts, nor her investments in
Facebook—JPMorgan's
underwriting client. This conflation of chummy relationships paints a picture of unbridled judicial and lawyer corruption masquerading as justice.
Photo: Skadden Arps LLP.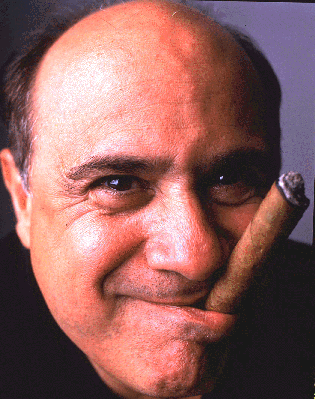 Actor Danny DeVito
(Nov. 18, 2014)—Actor Danny DeVito played a mobster who ran a New York money laundering operation in The Big Heist (2001). JPMorgan Chase employs another Danny DeVito as its go-to Manhattan lawyer for patent infringement cases. Is life imitating art? We'll give you the facts. You decide.
On Nov. 14, 2014, JPMorgan's Manhattan attorney Daniel A. Devito opposed Internet pioneer Dr. Lakshmi Arunachalam's request to represent herself in Pi-Net International, Inc. v. JPMorgan at the Federal Circuit Court of Appeals in Washington, D.C. (across from the White House).
The Federal Circuit court handles all appeals of patent cases. [Editorial: This singular avenue of appeal for patent cases, established by Congress in 1982, is proving to have been a bad idea considering the corruption now emanating from this court. Seventh Circuit Judge Diane P. Wood agrees.]
Three days later on Nov. 17, 2014 (yesterday), Dr. Arunachalam ("DrA") filed a stinging Sixth Amendment rebuttal to DeVito's opposition.  See Table 1 below.
DeVito is chummy with the Delaware and Washington, D.C. court judges & clerks
DrA shows that DeVito himself is embroiled in this judicial conflict of interest. These same relationships spill over into the Leader v. Facebook case where the trial judge, Leonard P. Stark, is now the chief judge in Delaware who is overseeing DrA's case against JPMorgan which has been appealed.
Judge Stark holds 5,526 conflicting JPMorgan interests
DrA also shows that chief judge Stark holds a massive 5,526 conflicting investments in JPMorgan and the other litigants in her case, including Wells Fargo, Citigroup, Bank of America. DrA's trial judge, Richard G. Andrews, holds 334 conflicting JPMorgan holdings in just 12 of the 73 funds she analyzed.
In an earlier filing posted on this site, DeVito criticized DrA for filing amicus curiae briefs in Leader v. Facebook. He called them "frivolous." In reply, DrA pointed out that the guilty always call the truth frivolous. She pointed out that her concerns were justified, as evidenced by the recent resignation of Federal Circuit chief judge Randall R. Rader.
New!
Gruber spoke some truth when he called Americans "stupid" for sleeping at the wheel of our participatory Republic in the face of boldface lies
Fig. 2—Jonathan Gruber
, Professor, MIT, one of Obamacare's chief architects calls American citizens "stupid" for allowing the tortured wording of the Affordable Care Act to become law.
Click here
to see a good Greta Van Susteren interview with South Carolina Congressman Trey Gowdy about Gruber's confessions, which he called "dangerous for a participatory Republic."
Photo: Newsbusters.
The "successful" Massachusetts model relied upon a $400 million infusion from a Ted Kennedy glad hand. Congressman Gowdy speculates that President Obama doesn't have such public money for Obamacare.
Yes he does
, Obama's Facebook Cartel cronies have been stashing it away from various public fleeces, including: (1) "green" energy
stimuli
, (2)
Facebook IPO
money laundering, (3)
athenahealth
and
Castlight Health
IPO money laundering (WH CTO
Todd Y. Park's
companies), and (4) astronomically fake prices paid for crony tech firms like
WhatsApp
($19 billion—more money laundering). We believe they had a plan to make it work by stealth through their crony bankers, like
JPMorgan Chase
. Part of the banks' reward is guaranteed "insider" deal flow from that support Obamacare. As they have proven from the mutual fund scam, once you give bureaucrats, judges and politicians corrupt gains, they are your slaves for life.
Rader resigned in disgrace over his chummy "best friends forever" relationship to attorney Edward R. Reines, a partner at the law firm of Weil Gotshal LLP. Reines had made an appearance in the Leader v. Facebook in attempting to absolve the judges of their financial holdings conflicts for which DrA had filed a motion to compel disclosure (which the court ignored). DrA filed a stinging rebuttal of Reines' arguments, but Judge Moore was totally silent about her relationship to Reines and Weil Gotshal LLP, as well as her substantial Facebook financial holdings.
In DrA's filing yesterday, we learn that JPMorgan's attorney, Danny DeVito, is mixed up with Edward R. Reines as well. DeVito's and Reines' Weil Gotshal LLP firm appears to have substantial influence over Federal Circuit proceedings. Federal Circuit judge Kimberly A. Moore. Moore has large JPMorgan holdings and sat on the Leader v. Facebook panel.
Is Gruber right? Are Americans too stupid to stop this corruption?
Last week, Obamacare chief architect, MIT professor Dr. Jonathan Gruber, said that Americans were too stupid to figure out that Obama's healthcare promise were a lie to fool voters.
In similar vein, JPMorgan CEO Jamie Dimon had a private meeting with Attorney General Eric H. Holder, after which he came away with a $13 billion slap on the hand for JPMorgan's central role in the 2008 mortgage meltdown.  Never mind that JPMorgan turned $100's of billions on that money. Not a single banker has been prosecuted.
U.S. courts appear to be greased by mutual fund bribes and insider tips.
DrA's filing yesterday included summaries of U.S. Securities & Exchange Commission disclosures of the funds held by Judges Stark and Andrews. Here is the filing: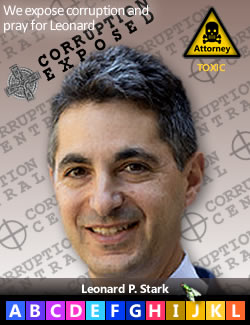 Click here
to see more complete analysis of
Leonard P. Stark

's T. Rowe Price PRGFX holding, Exhibit H
, incl. an analysis of the so-called "safe harbor" mutual fund scam game these judges are playing to hide the rampant bribery and undue influence of deep-pocketed litigants.
JPMorgan + Wall Street + Harvard Law + Silicon Valley tech = a "progressive" takeover
The proof of JPMorgan's central role in a planned effort to remake America in its image are everywhere now, for example:
JPMorgan's influence over the "progressive elite" takeover plan
Leader Technologies/Michael McKibben:

JPMorgan helped Facebook steal Leader Technologies' social networking patent thru judge bribes hiding behind mutual funds, not to mention OSU Trustee President Jeffrey Wadsworth's key role.

Pi-Net/Dr. Lakshmi Arunachalam:

JPMorgan is working to steal Dr. Lakshmi Arunachalam Internet transactions patents thru judge bribes hiding behind mutual funds.

Ohio State/Jon Waters:

JPMorgan fuels the corruption and M.O.O.C. takeover at Ohio State, the third largest research university in the country, whose trustees sacrificed their famous band to the racist Title IX gods in Washington thru bribes of OSU officials hiding behind mutual funds. Notably, new president Michael V. Drake has failed to disclose his mutual fund holdings in violation of Ohio ethics laws.

Facebook Cartel/Lapdog Mainstream Media:

JPMorgan fuels social media cronies at Facebook, LinkedIn, Instagram, Dropbox, Workday, Castlight Health (Obama's CTO Todd Y. Park), athenahealth (Obama's CTO Todd Y. Park), Baidu (CHINA), Mail.ru (RUSSIA), ABC, NBC, CBS, Time Warner, etc. thru carefully timed insider tips hiding behind mutual funds.

Lapdog Justice Department:

JPMorgan dictates a window-dressing penalty levied by U.S. Attorney General Eric H. Holder who hides his own substantial JPMorgan mutual fund interests.
JPMorgan's end game—"progressive elite" takeover of American culture
We believe the emergence of Leader Technologies' and Dr. Arunachalam's Internet platform inventions appear to have sped up plans by "progressives" to remake American culture in their image. Once Leader's attorneys learned of Michael McKibben's invention, they secretly siphoned it off to IBM who then funded its exploitation via a specially-formed organization they named "The Eclipse Foundation." Eclipse appears to have become JPMorgan's version of DeVito's money laundering scam from The Big Heist (2001).
Leader Technologies' social networking invention was targeted as a unifying communication platform through which this cartel could secretly organize their Harvard Law, Wall Street and Silicon Valley cronies. Tellingly, Barack Obama announced his candidacy for president in January 2007 on Facebook—Leader's stolen invention.
Facebook was a lie, just like Obamacare
The Social Network movie floated a complete lie about the Mark Zuckerberg origins of Facebook. A gullible public, advertisers and uncritical mainstream media took the bait. Gruber is the first full admission that this cartel uses such boldface lies and stealth to achieve their objectives.
"By their fruit you will recognize them"
Jesus Christ said "By their fruit you will recognize them" when teaching how to distinguish someone who is outwardly charming, but is in reality a ravenous wolf. (Matt. 7:15-16).
What is the Cartel's fruit? Are these really the kinds of people that we want setting our cultural, political, spiritual, education and economic agendas? They have failed everything they have touched... except their hidden agenda.
Bank Crisis:

2008 banking crisis (likely created by this mutual fund scam)

Bailout:

$10's of billions of taxpayer bailout funds flow to Cartel crony banks

Benghazi:

rescuers ordered to stand down by the White House

Fast and Furious:

gun running by the U.S. government

IRS Political Enemies:

targeting of conservative groups

Election-rigging:

demographic data to the Democrats in 2008, 2012

Datapalooza:

the giving away of privacy data by the U.S. government

NSA Snooping:

privacy violations of US citizens (see ObamaA debating ObamaB)

"Green" Energy Stimulus:

$10's of billions in frauds and failures

VA Scandal:

fake reports and abuse of veterans

AP Bugging:

free press journalists targeted by Eric Holder

Obamacare:

now admitted lies to get it approved

HealthCare.gov:

roll out debacle; in confusion there is profit

FOIA Requests:

Administration stonewalls public disclosures

Immigration:

Allow indiscriminant entry and release of detainees

Mutual Fund Scam:

Judges, regulators and politicians hide bribes behind a so-called "safe harbor" opinion that's neither a policy or a law.
The preceding is the fruit of a poisoned tree
JPMorgan's Danny DeVito is bullying a real American Internet innovator in Dr. Lakshmi Arunachalam.
If JPMorgan is allowed to succeed, American ingenuity will fizzle to a whimper. JPMorgan and their unscrupulous lawyers' (sorry for the redundancy) voracious appetite for new patents and new ideas to feed to the Cartel is sucking the air out of the room. Entrepreneurship and innovation will be killed as a result. Then what? New ideas slow. Fewer ideas, mean fewer new jobs. Fewer jobs mean lower taxes and less social services. The nation becomes vulnerable to predators. Nothing good can come out of what JPMorgan and the Cartel are attempting to foist upon the world through the likes of Danny DeVito.
JPMorgan and the Cartel—the real Wolves of Wall Street—must be dismantled.
Kuddos to Dr. Arunachalam for standing up for our constitutional rights.
* * *
Comment
Click "N comments:" on the line just below this instruction to comment on this post. Alternatively, send an email with your comment to amer4innov@gmail.com and we'll post it for you. We welcome and encourage anonymous comments, especially from whisteblowers.