Patent Office filings are shuffled out the USPTO backdoor to crony lawyers, banks and deep-pocket clients
Fig. 1 – Chief Justice John G. Roberts, Jr.
Justice Roberts in Leader Technologies' Petition for Writ of Certiorari in
Leader v. Facebook
failed to disclosue his massive holdings in Facebook financial interests, and he declined to hear Leader's appeal In addition, Justice Roberts failed to disclose his mentoring relationship with Facebook's Gibson Dunn LLP attorney Thomas G. Hungar.
Photo: Unknown.
News Update Dec. 6, 2014:
Dead fish are washing up everywhere
(this is a metaphor folks). Two days ago, patent judge
Brian J. McNamara
was caught
Pi-Net v. JPMorgan/SAP
cases. Yes that's right, a patent property right is a joke in this post "America Invents Act" era. Deep-pockets can tie your patent up for decades with new AIA legal harassment tricks. Dr. Arunachalam's filing (
click here
) exposed McNamara's financial holdings in JPMorgan, SAP, Citigroup, Bank of America, etc.—the banks Dr. Arunachalam is suing. Earlier she showed that Delaware district court judges
Leonard P. Stark
(
click here
) and
Richard G. Andrews
have substantial holdings in the same banks, as do many Supreme Court and Federal Circuit appeals court judges who are embroiled in the corruption scandal involving former chief judge
Randall R. Rader
.
Rader was a law student of Professor
James P. Chandler
, the attorney now implicated in the theft of Leader Technologies' patent in
Leader v. Facebook
. Chandler was IBM's chief outside counsel. He worked directly with
David J. Kappos
at
IBM
in the founding of
The Eclipse Foundation
on Nov. 29, 2001, just as Leader Technologies' social networking innovations were coming off the drawing board. Chandler was ostensibly protecting Leader's intellectual property and introduced Leader to Battelle Labs, Livermore Labs, Boston Scientific, Wright Patterson Air Force Base, and
Fenwick & West LLP
. Magically, Facebook hatched 18 months later and Leader, Chandler's and Fenwick's client, was iced out of the market. Fenwick started filing patents for
Facebook
in 2007 (without disclosing Leader's prior art).
Barack Obama
announced his candidacy on Facebook in 2007. Kappos was appointed director of the Patent office in 2009. IBM sold 750 patents to Facebook a month before the public offering, a month after Kappos ordered the 3rd Leader reexamination. Fenwick took Facebook public in 2012. The smell of dead fish is pronounced.
Stephen C. Siu
(
click here
) who was assigned by Kappos, in an unprecedented move for a Patent Office director, to invalidated Leader's patent in a secret Patent Office court. Not surprisingly, Siu holds the telltale insider darling fund Fidelity Contrafund and worked for IBM with Kappos. Siu staffed his Kappos-directed kangaroo court with other IBM cronies.
Click here
for a new analysis of Stark's 6,869 holdings in Facebook interests.
You do the math. 78% are lawyers.
"De minimus! Safe Harbor!"
We're hearing these two excuses repeated by judges who have millions and tens of millions of dollars in net worth when they are asked why they did not diclose their stock holdings in litigants like JPMorgan and Facebook.
Memo to Judges:

Your duty is to disclose your mutual fund portfolio holdings to the parties if there is even the hint of a potential conflict—"even one share." The parties (not you) will decide whether those holdings are de minimus or not.
Judicial Ethics Stealth:
de minimus
" holding (of no consequence)—even though he will benefit personally by decisions favorable to JPMorgan. Of course, compared to the whole fund its only 0.0017% of the fund. However, ask the investor who invested $500,000 in the patent that the judge just helped JPMorgan steal if its "of no consequence." That's ignoring that the judge tripled his investment after the insider tip; but of course, that is also
de minimus
according this convoluted definition.
Memo to Judges:
Even the so-called "safe harbor" exemption says it does not apply when you get regular portfolio reports from your mutual funds, which you do
twice a year, by law
.
Using these excuses, no judge would have to disclose any holding in any company stock held by a mutual fund—the ultimate scam.
This makes Bernie Madoff look like a gradeschooler, and this time, our supposed watchdogs are in on it! For example, SEC Chair Mary L. Schapiro holds over 50 Facebook "dark pools" mutual funds. Quoting the game hunter in
Jurassic Park
: "Clever girl."
* The other mutual funds of choice in this Mutual Fund Scam are Fidelity, T. Rowe Price, Vanguard, BlackRock, Baillie Gifford, Goldman Sachs, Citigroup, Bank of America, JPMorgan, Barclays, Credit Suisse, Wells Fargo, Morgan Stanley, UBS and Deutsche Bank and TIAA-CREF.
These are the same people we have entrusted with guarding our justice system and the rule of law.
ORIGINAL POST
(Nov. 26, 2014)—AFI investigators have wondered how certain judges, bureaucrats and politicians acquire sudden wealth after attaining high office. It's either pure genius, or fraud. Turns out it's mostly fraud, at least in the cases we have investigated: Leader v. Facebook and Pi-Net v. JPMorgan.
Fig. 2—U.S. Patent Office & Federal Circuit Court have devolved into a den of thieves controlled by big law firms & their deep pocket clients.
Promising ideas are backdoored before the patents are even issued, giving the deep-pockets a jump on all the best business opportunities. The idea that the Patent Office treats small inventors fairly is a carrot and stick to lure unsuspecting innovators into the lair. The Patent Office has become a system highly biased to big infringers. Internet pioneer Dr. Lakshmi Arunachalam is having to fight just to get her judge off the
Pi-Net v. JPMorgan/SAP
case after discovering that the judge holds substantial JPMorgan interests.
Graphic: Unknown.
We see the same patterns in Ceglia v. Zuckerberg and Rembrandt v. Facebook. The list of go to-attorneys for this Cartel is a tight little group associated with their adviser, Professor James P. Chandler. Chandler appears to be running the show from his perch on the Potomac. Tom Clancy couldn't make this up.
First we'll describe how we believe they did it, then we'll give hard data retrieved from the government's archives to prove it. Thanks to librarians from a prominent law school for their assistance. Since a picture is worth a 1000 words, Fig. 2 is an illustration of how Leader Technologies' attorneys Professor James P. Chandler and Fenwick & West LLP (Gordon K. Davidson) led the heist.
Fig. 3—The Representative Government Zeitgeist
—Zeitgeist means the defining spirit or mood of a particular period of history as shown by the ideas and beliefs of the time.
Source
:
Wiley Inc, GoComics, Non Sequitur
.
The Scene of the Crime:
Click the image to enlarge. Click here to download a PDF.
Fig. 4—The Great Mutual Fund Scam.
Illustrates how ethics officials from the Department of Justice, Office of Government Ethics and Judicial Conference schemed to create Gruberesque ethics policies so tortured that no one could understand them. The result has been that few judges report their holdings in deep-pocket litigants hidden behind mutual funds. They cite the "safe harbor" exemption incorrectly. That has been especially true in
Leader v. Facebook
and
Pi-Net v. JPMorgan et al
. We have noticed the same undisclosed judicial conflicts in
Ceglia v. Zuckerberg
and
Rembrandt v. Facebook
also.
Click here to download a PDF of this image with accompanying documents cited
.
Several documents that were generated at the scene of this crime were available in plain sight, once we knew where to look.
OGE Acting Director F. Gary Davis introduced a tortured 13-page Gruberesque advisory on mutual funds that opened the floodgates
On Aug. 25, 2000, F. Gary Davis, 21-year veteran and acting director of the Office of Government Ethics (OGE) issued a tortured 13-page advisory opinion on mutual fund reporting. This advisory introduced the ludicrous notion that fund manager writings in prospectuses (and not actual fund holdings) would govern decisions about disclosing potentially conflicting stocks in a mutual fund. Given the notoriously known penchant for brokers to lie, surely Davis' 21-years of experience told him this was a bad idea. Was David lining his retirement pockets with Cartel favors?
Following on Davis' heals seven months later, on Mar. 14, 2001, the U.S. Judicial Conference introduced sweeping changes to the Code of Conduct for Judicial Employees. These changes cleared the way for federal employees in the justice system to use Davis' ethics advisory to hide their stock in litigants under a euphemistically defined "safe harbor" exemption.
Here's when senior administration lawyers started fleecing America:
Aug. 25, 2000—Tortured 13-page Mutual Fund OGE Advisory, Memorandum re. Mutual Funds by F. Gary Davis, Acting Director, U.S. Office of Government Ethics opened the floodgates for what has become widespread non-reporting of holdings.
4 months later . . .
Jan. 18, 2001—Bill Clinton appointed Professor James P. Chandler to the National Infrastructure Assurance Council (NIAC), White House Press Release, Jan. 18, 2001; gave Chandler the platform to argue that stealing Leader Technologies' invention was for the national good (as well as good for his other client, IBM).
2 months later . . .
Mar. 14, 2001--Sweeping Judicial Conference Code of Conduct for Judicial Employees changes, Report of Proceedings of the U.S. Judicial Conference. Approving these changes were Eric H. Holder, Judge Sue L. Robinson (Pi-Net v. JPMorgan judge), and Federal Circuit Clerk of Court Jan Horbaly (managed docket censorship of Pi-Net filings in Leader v. Facebook)
2 weeks later . . .
On Mar. 28, 2001—Washington, D.C. Conference on Intellectual Property, sponsored by Professor James P. Chandler, supported by David J. Kappos, IBM, Eric H. Holder, Deputy Attorney General, U.S. Justice Department and Boston Scientific.
During the next 6 months, Chandler recommended Leader Technologies relationships with Wright Patterson Air Force Base (WPAFB), Lawrence Livermore National Laboratory (LLNL), Battelle Laboratory, Fenwick & West LLP. Source: US Courts, Leader v. Facebook.
On Aug. 7, 2001, Chandler joined the board of Eurotech, Ltd. comprised of former senior government Energy Department officials looking to exploit homeland security opportunities. According to sources, Chandler said nothing to Leader nor sought a conflicts waiver on this relationship, even though he was engaged in Energy Dept. projects with Leader at WPAFB, LLNL and Battelle regarding Leader's inventions.
On Aug. 20, 2001, we have verified that Leader entered a legal services agreement with Fenwick & West LLP at Chandler's recommendation. No conflicts waivers have been sought by Fenwick, especially before they began representing Facebook.
On Nov. 29, 2001, Chandler assisted David Kappos and IBM to form The Eclipse Foundation; said nothing to Leader about the conflict. Source: Eclipse press announcement.
Table 1: The Great Mutual Fund Scam Timeline and supporting documents.
Hard evidence of this collusion between deep-pocket patent infringers and patent judges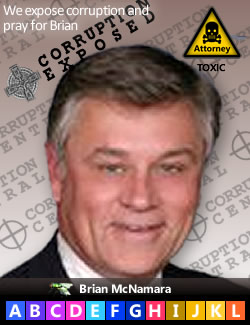 Fig. 5—Brian J. McNamara
, Patent Judge who is being belligerent in refusing to recuse himself from
Pi-Net v. JPMorgan
even though he holds large amounts of JPMorgan financial interests.
Click here for Dr. Arunachalam's protest
.
Graphic: Yahoo/LinkedIn .
For example, Patent Judge Brian J. McNamara holds up to $3 million in mutual fund stocks. He currently presides over a series of "patent reexaminations" triggered by mega patent infringers JPMorgan and SAP against Internet pioneer Dr. Lakshmi Arunachalam's. Judge McNamara makes $150,000 per year in salary. Clearly he suffers from sudden-onset investing genius. Click here to read her latest request for an impartial tribunal.
Click here to jump to previous post revealing Judge Leonard P. Stark's holdings and conflicts of interest in Leader and Pi-Net litigants.
Longtime Federal Circuit Judge Alan D. Lourie in the Leader v. Facebook judicial corruption scandal is worth up to $15 million. How do they do it? Are they that much smarter?
The Great Mutual Fund Scam
Dr. Arunachalam writes about this Great Mutual Fund Scam in her  latest patent office complaints about Judge Brian J. McNamara bias. Or, click here for that filing.
In Fig. 4 we include the related timeline for Leader v. Facebook events. The koinky dinks are off the charts now that the modus operandi is evident.
Cartel Objectives: IBM's "The Internet of Things" (monitor everything including toasters) and extend NSA snooping capabilities using Leader's and Pi-Net's inventions
Fig. 6
—IBM / The Internet of Things. IBM is facilitating embedding surveillance technologies in hardware and software of all kinds to enable the stealth monitoring of everything. He who controls this digital infrastructure controls the messages and can manipulate the outcomes by pandering to targeted predilictions. It's a dangerous power in the hands of greedy banks who are generally distinguished by their moral turpitude.
Graphic: Beecham.
IBM and Microsoft figure prominently in this heist. The judges in Leader's unprecedented 3rd patent reexam ordered by Kappos are all IBM and Microsoft cronies. In fact the chief judge, Stephen C. Siu, worked for both IBM and Microsoft, according to Siu's newly acquired financial disclosures. The patent judges between them have issued almost 100 patents to IBM, Microsoft and Xerox. Judge Siu's failed to disclose his newly discovered holdings in Fidelity Contrafund (his largest single holding).
Judge McNamara holds Fidelity Contrafund as does Eric H. Holder, John G. Roberts, Jr. and three of the four Leader v. Facebook judges, Kimberly A. Moore (she sold it after the IPO, but held it during the Leader v. Facebook proceedings), Evan J. Wallach and Leonard P. Stark (though his Fidelity funds of funds).
Educated Bandits
America appears to be run by people who are little more than educated bandits.
Stay tuned.
* * *
Comment
Click "N comments:" on the line just below this instruction to comment on this post. Alternatively, send an email with your comment to afi@leader.com and we'll post it for you. We welcome and encourage anonymous comments, especially from whisteblowers.