Fig. 1—William Joseph "Wild Bill" Donovan (1883-1959). British Pilgrims Society, MI6, MI5, GCHQ, "Five Eyes," C.I.A., Traitor.
Urban legend says William J. "Wild Bill" Donovan (1883-1959) was the "father of the C.I.A." that was founded in 1947 after the Office of Strategic Services (OSS) disbanded
That is a boldfaced lie. We shall prove it.
The true originator of the C.I.A. is British (Pilgrims Society) intelligence—Foreign Office, MI6, MI5 and GC&CS, now GCHQ
The much ballyhooed "special relationship" is a fraud created in secret on Mar. 05, 1946 by Donovan & Co.—its all about Pilgrims Society spies and their corporate cronies lining each other's pockets
Editor's note: We have all the supporting evidence for the information discussed in this article. It is being processed by the AFI team and will be available shortly, so please return to download it.
May 21, 2021—William Joseph Donovan graduated in 1905 from Columbia Law School with Franklin Delano Roosevelt, the future assistant secretary of the Navy (1913-20) and President (1933-45).
Pilgrim Society member Roosevelt ordered the creation of Radio Corporation of America (RCA) in 1919 using British Marconi Wireless America assets. RCA later created NBC with Pilgrim David Sarnoff.
Donovan was under Rockefeller (Pilgrims) Foundation control
On Mar. 07, 1916, Donovan was funded by "in the service of the War Relief Commission of the Rockefeller Foundation" (Pilgrims Society co-founder) on a junket to Switzerland, Bulgaria, Holland, Sweden, Britain, Denmark, Germany, France, Austria, Turkey, Russia, Italy, Norway and two redacted countries, according the his U.S. passport application.
William J. Donovan, Rockefeller Foundation Agent, 1916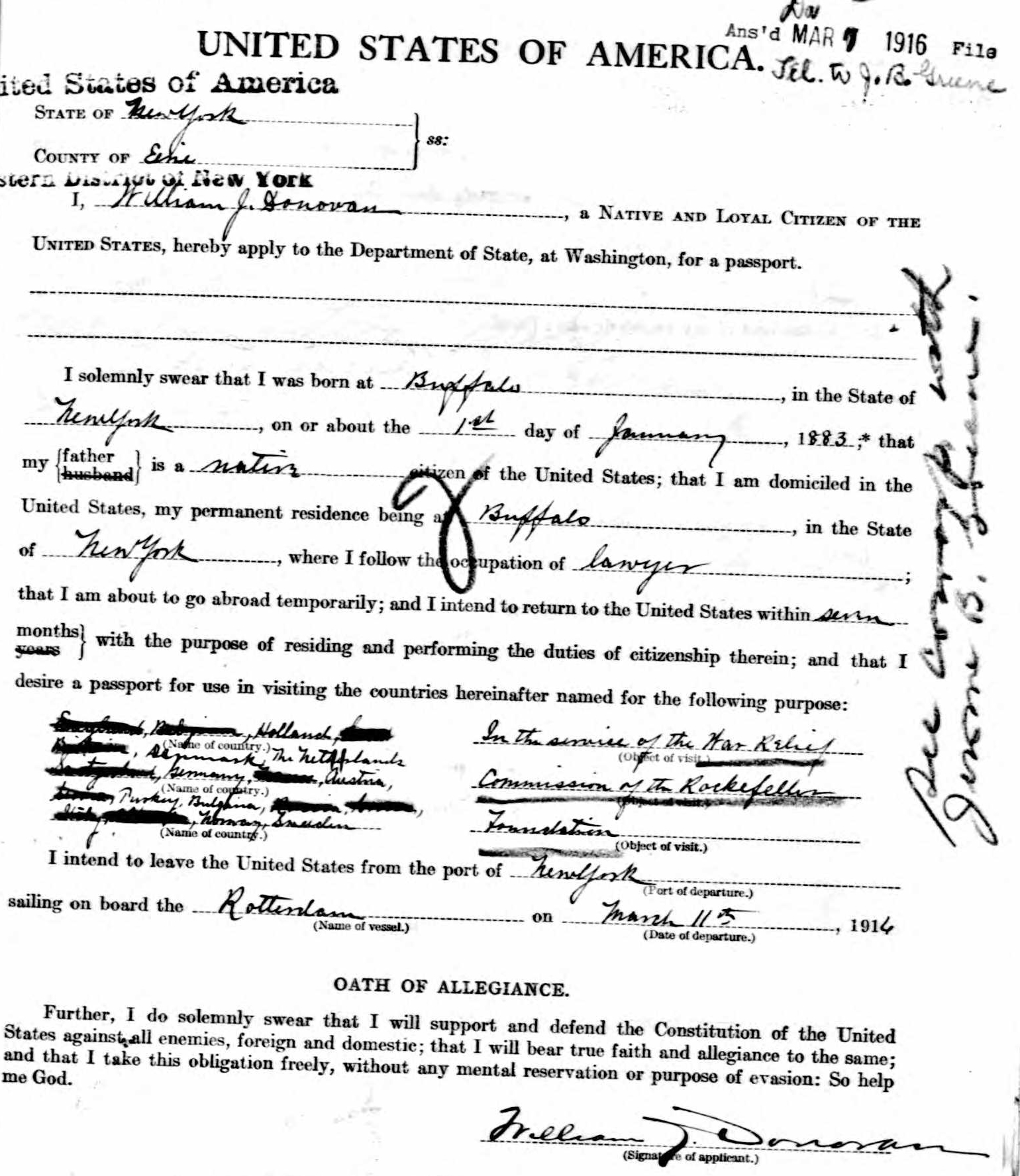 Donovan was under J.P. Morgan (Pilgrims) control
On Feb. 12, 1920, Donovan was funded by J.P. Morgan (Pilgrims Society co-founder) on another junket to Great Britain, France, Italy, Spain, Switzerland, Bulgaria, Holland, Denmark, Norway, Sweden, Poland and Czecho-Slovakia for the newly-formed J.P. Morgan Foreign Commerce Corporation of America, 15 Broad Street, New York.
William J. Donovan, Agent of J. P. Morgan, 1919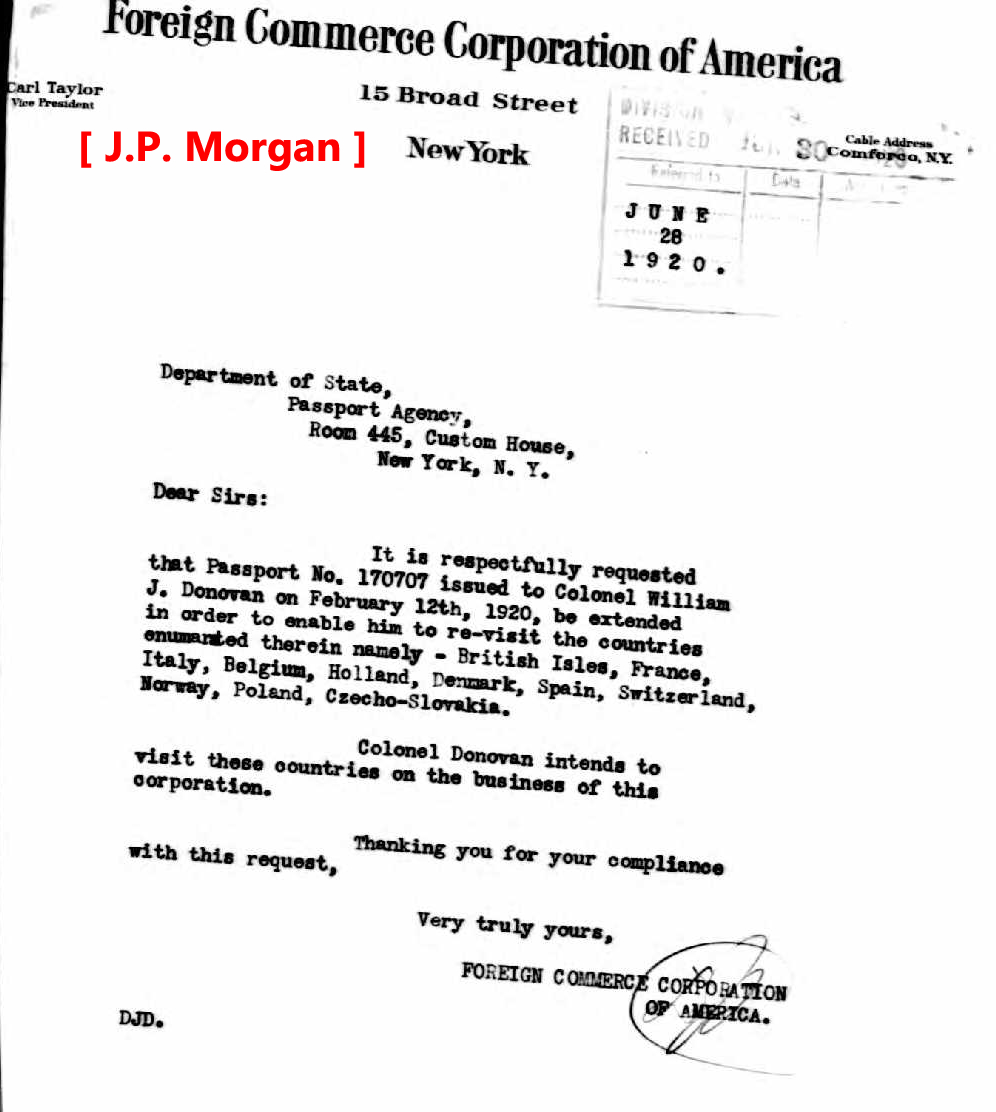 Fig. 3—
William J. Donovan. (Issued Feb. 12, 1920)
. U.S. Passport Application, Cert No. 170707. National Archives, Washington, D.C.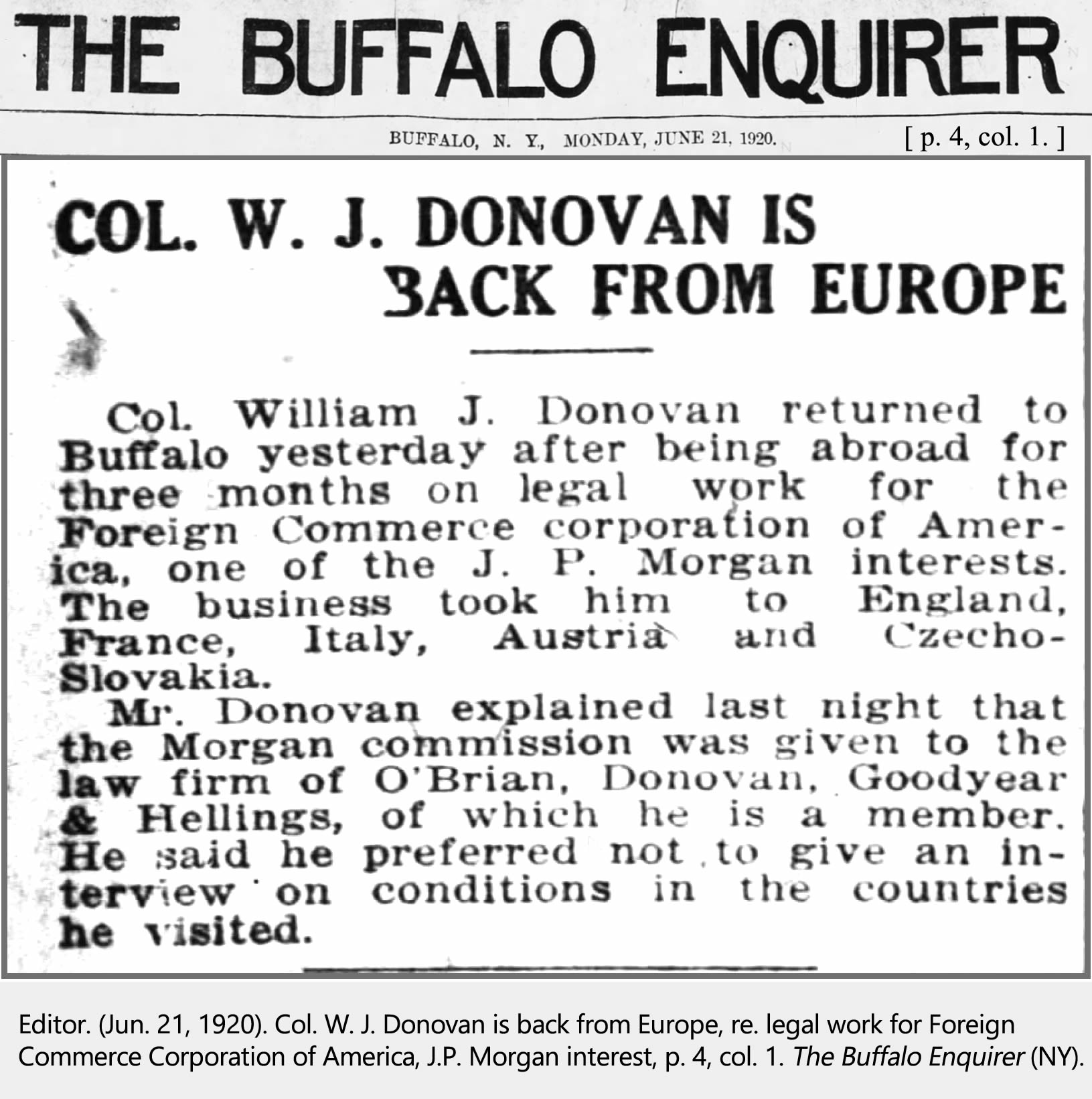 Fig. 4
—
Editor. (Jun. 21, 1920)
. Col. W. J. Donovan is back from Europe, re. legal work for Foreign Commerce Corporation of America, J.P. Morgan interest.
The Buffalo Enquirer
(NY).
During WWII, while commanding the Office of Strategic Services (OSS) for the U.S. military, Donovan also conspired with the Pilgrims Society—in which he was a member—to organize a parallel top secret British intelligence operation in 1946 now called "Five Eyes."
The very existence of this agreement has been buried in the intermingling of its operation with the C.I.A. It was only first revealed to the world in 2010 (65 years later) when declassified British and American intelligence records first surfaced.
"Five Eyes" = The Pilgrims Society Intelligence Agency
Certain selected U.S. leaders conspired with the British on Five Eyes.
These conspirators included President Franklin D. Roosevelt, Allen W. Dulles (the man who assassinated President Kennedy to stop him from dismantling the C.I.A.), John Foster Dulles and General George C. Marshall among them—all Pilgrim anglophiles.
Researchers strongly suspect that Gen. Dwight Eisenhower knew about the Five Eyes agreement, but later despaired about its creation, and issued his now infamous warning about the rise of a military-industrial complex on Jan. 17, 1961 with which the world is now suffering today.
"Five Eyes:" The British Pilgrims Society's private global army
The Mar. 05, 1946 "Five Eyes" secret agreement gave British and American Pilgrims the dubious legal justification to combine themselves into an intelligence commonwealth the combined intelligence activities of American, Britain, the Commonwealth, and Israel.
Five Eyes is controlled by the British, and funded by American "black ops" funding.
Proof of this can be readily seen by consulting the GSA records on contracts with British SERCO and QinetiQ (the British version of In-Q-Tel), as well as the Crown Agents, British Aerospace (BAE), ICI, Rio Tinto, Oxford University, Cambridge University, NIH, CDC, Prince's Trust, Rothschild Biotechnology Investments Limited, British Telecom, U.S. State Department, U.S. Patent & Trademark Office (Outrageous!: SERCO runs the U.S. Patent Office), FEMA, OMB, FEC, FTC, DoC, DoS, USAID, OPIC (renamed U.S. International Development Finance Corporation in 2020 following exposé's on OPIC emerged recently).
British Pilgrims (and their stooges like Fauci, Gates, Schwab and Obama) are deluded, satanic elitist warmongers
Fourteen years after founding the Pilgrims Society (Jul. 16, 1902)—on Dec. 11, 1916—the British Empire invested all its power into just five founders of the Pilgrims Society: Lloyd George, Lord Alfred Milner, Bonar Law, Arthur Henderson and Lord Curzon. They called it "The War Cabinet."
"It is framed to secure the concentration of power in the hands of five statesmen who shall be free to devote all their energies and all their time to the prosecution of the one supreme aim to which the Empire stands committed." London Evening Mail, p. 4, Dec. 11, 1916.
Three months earlier, on Sep. 01, 1916, Charles F.G. Masterman, a Winston Churchill relative, presented a report on the activities of the British War Propaganda Bureau ("Wellington House") which he had founded in Sep. 1914 (the first German transatlantic cable to America was cut by the Admiralty on Aug. 05, 1914; see also How the British pioneered cable-cutting. BBC News).
Masterman was also in charge of negotiating the consolidation of Marconi Wireless (UK) contracts into a monopoly controlled by the Post Office (domestically) and the Admiralty (internationally).
Notably, in 1914 at age 23, David Sarnoff (later RCA/NBC) was contract manager for Marconi Wireless' American operation. American military telegraphy was controlled by the British then… and still today. They never let those Marconi assets become American property, even though they pretended to.
Also note, in 1913 future prime minister David Lloyd George was prosecuted for insider trading after he and Sir Rufus Isaacs secretly purchased shares via Isaacs' brother of Marconi Wireless America before it went public.
Long suppressed facts about Donovan stitch together the current British treachery to take over AMeriKa with the help of plenty of American traitors
The long-suppressed facts reveal that Donovan is another turn-of-the century Anglophile corporatist stooge of the British Pilgrims Society and their American "Robber baron" co-conspirators, including John D. Rockefeller, J.P. Morgan and Andrew Carnegie.
Rockefeller, Morgan and Carnegie were and still are protégés and beneficiaries of the many Lords Rothschild—another co-founders of the British Pilgrims Society in 1902, and co-sponsor of the First Imperial Press Conference, 1909.
Donovan swirls in the same British Pilgrims Society witches' brew
We can dump William J. Donovan into the same witches' brew of media communications corruption with the likes of Guglielmo Marconi and David Sarnoff (RCA/NBC)—who both stole the wireless telegraphy inventions of Nikola Tesla. (In like manner, their demonic successors stole and weaponized the social networking inventions of Columbus, OH inventor, engineer and innovator Michael McKibben and Leader Technologies in 2000.)
Donovan and Roosevelt exploited Tesla's technologies to help the British seize permanent control of planetary communications through their globalist corporations and the United Nations.
Law school classmates Donovan (1883-1959) and Franklin D. Roosevelt (1882-1945) became Columbia University undergrads in 1902—ages 19 and 20 respectively—the year the Pilgrims Society was founded following the deaths of Cecil J. Rhodes and Queen Victoria.
British Pilgrims founders, notably Lord Pirbright, Lord Rosebery and Lord Rothschild, with Privy Councilor Cecil J. Rhodes, had earlier founded the Knights of Malta, English Priory in 1889, with the approbation of its patron, the then Albert Edward, Prince of Wales, the future King Edward VII (Jan. 22, 1901).
One of Edward's first acts after coronation on Aug. 09, 1902 was to give Andrew Carnegie a "dukedom"—believed to be a Knights of Malta, English Priory award.
Chief Justice John G. Roberts, Jr. has a similar award despite the clear Constitutional prohibitions to such foreign titles.
On Jun. 05-28, 1909, the Pilgrims Society organized the First Imperial Press Conference, 1909. It is highly likely that Donovan was a shadow attendee at age 26, probably reporting the proceedings to his law classmate, Pilgrim FDR.
Modern-day propaganda and spying were hatched during the 1909 Imperial Press Conference by the 650 participants from all over the Commonwealth.
American newspapermen were there too. Oracle Larry Ellison's baby daddy, First Church of Psycho-Science spiritualist Rev. Dr. Hugh "Sinclair" Moore, was there as secretary to one of the organizers and spiritual leaders, William T. Stead, Cecil Rhodes' biographer.
Lord Rothschild, Marconi, Winston Churchill, Lord Burnham (Daily Telegraph) and Lord Northcliffe (Daily Mail) participated. This was a all-hands-on-deck Pilgrims Society event in the Summer of 1909 to seize firm control over global communications, editorial content and the use of propaganda for the kinetic and vaccine wars to come.
The delegates formed the Empire Press Union (later named Commonwealth Press Union, and now CPU Media), Reuters, Associated Press, MI6, MI5 and GC&CS (now GCHQ) use this confederation to push their propaganda globally.
Donovan's untold WWI mission was his world trade and banking work for the Rockefeller Foundation and J.P. Morgan.
War hero propaganda—J.P. Morgan & J.D. Rockefeller would not have put their groomed Donovan in harm's way
A favorite tale about Donovan is that he was the most decorated U.S. solider in WWI. These stories have the odor of untruthfulness. They include Donovan being given the nickname of "Wild Bill" by soldiers that he was training. This was not even a battle story. The story is also told that he was wounded in action three times. Also dubious.
END OF PART 1
In PART 2 we will trace Donovan's career as he solidified his traitorous British grooming to make for himself a permanent fixture in U.S. intelligence policy from the inception of WWII—with the help of his long-time Pilgrims Society colleagues, President Franklin D. Roosevelt with the Rockefellers, Fords, Carnegies and J.P. Morgans.
Return next week to pick up more links to all the supporting evidence for this post, and to read PART II.
* * *
Described above is abject immorality.

Morality must win the day.
"Repent, for the kingdom of heaven is at hand."

The Gospel of St. Matthew 4:17.


Bookmark: #miller-act-notice
|
https://tinyurl.com/3dtwt7t3
Footnote
Reminder Re. the Miller Act Notice—The Perpetrators of this Epic Fraud must disgorge their ill-gotten gain
Click image to open PDF of this and the next slide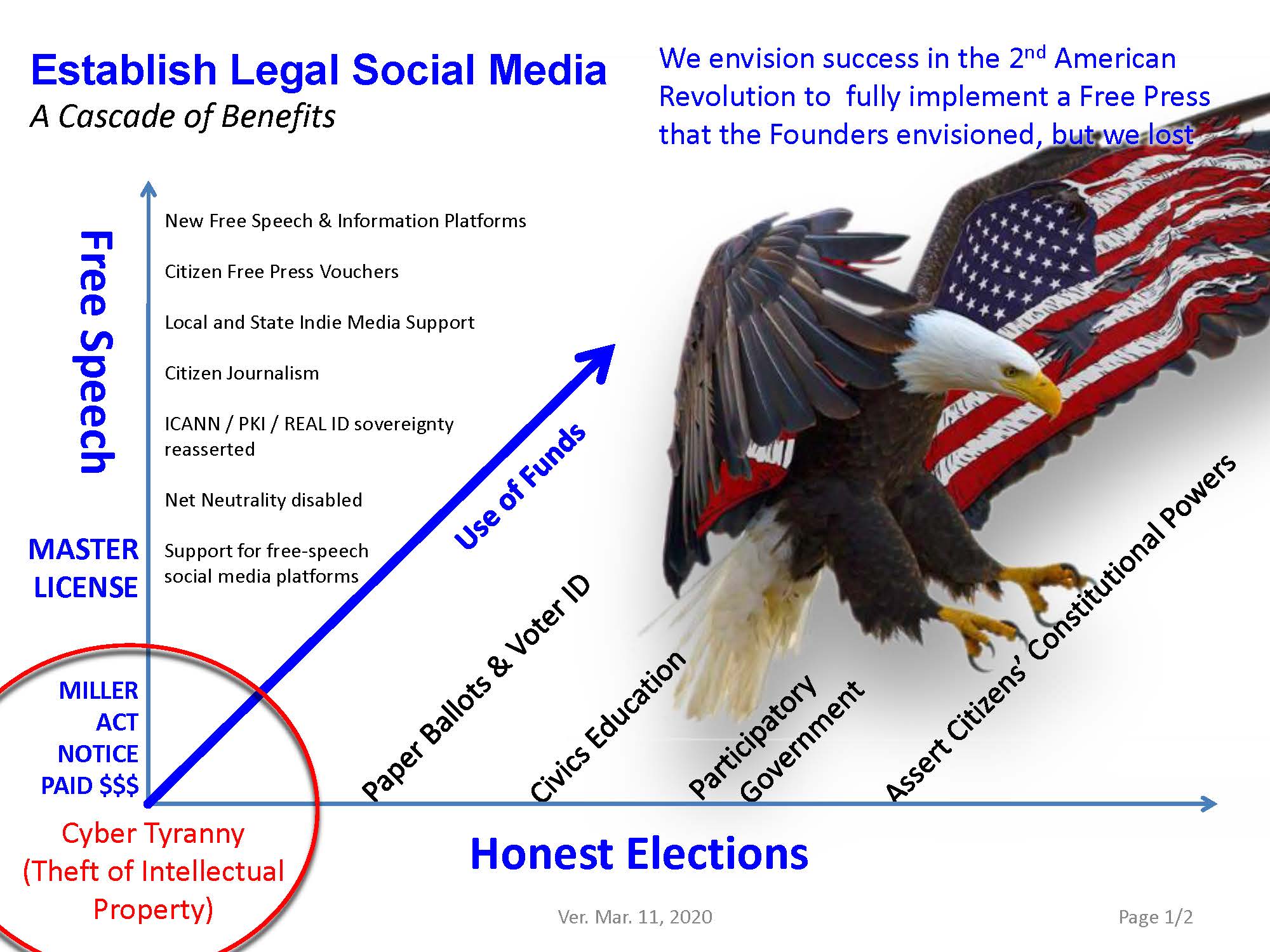 Leader Technologies, Inc. sent their FIRST AMENDED MILLER ACT NOTICE to President Trump It is a contract demand for the U.S. Treasury to pay them for the federal government's 18-year theft of their social networking inventions. These inventions were stolen by Major General James E. Freeze (US Army, ret.) and Leader's patent attorney James P. Chandler, III, on behalf of Andrew W. Marshall and the Department of Defense Office of Net Assessment, and the Pilgrims Society who steal and weaponize inventions for continuous war making and enrichment of fascist insider military-industrial corporations.

Patriots are encouraged to help get this First Amended Miller Act Notice to President Trump and past the Praetorian Guard. See American Intelligence Media republish of the Leader Miller Act Notice.


Bookmark: #trump-jfk-v-cia
|
https://tinyurl.com/4zjpe66v
War Between The White House and CIA? President Trump finally implementing JFK's Executive Order dismantling the out-of-control C.I.A. who were conspiring with the British Pilgrims Society
Video: The New American Video.
Bookmark: #fight-for-our-republic
|
https://tinyurl.com/5hk4r6dt
U-T just censored this:
Our Republic is fighting the same battle now as we did 245 years ago!
Click image to play video.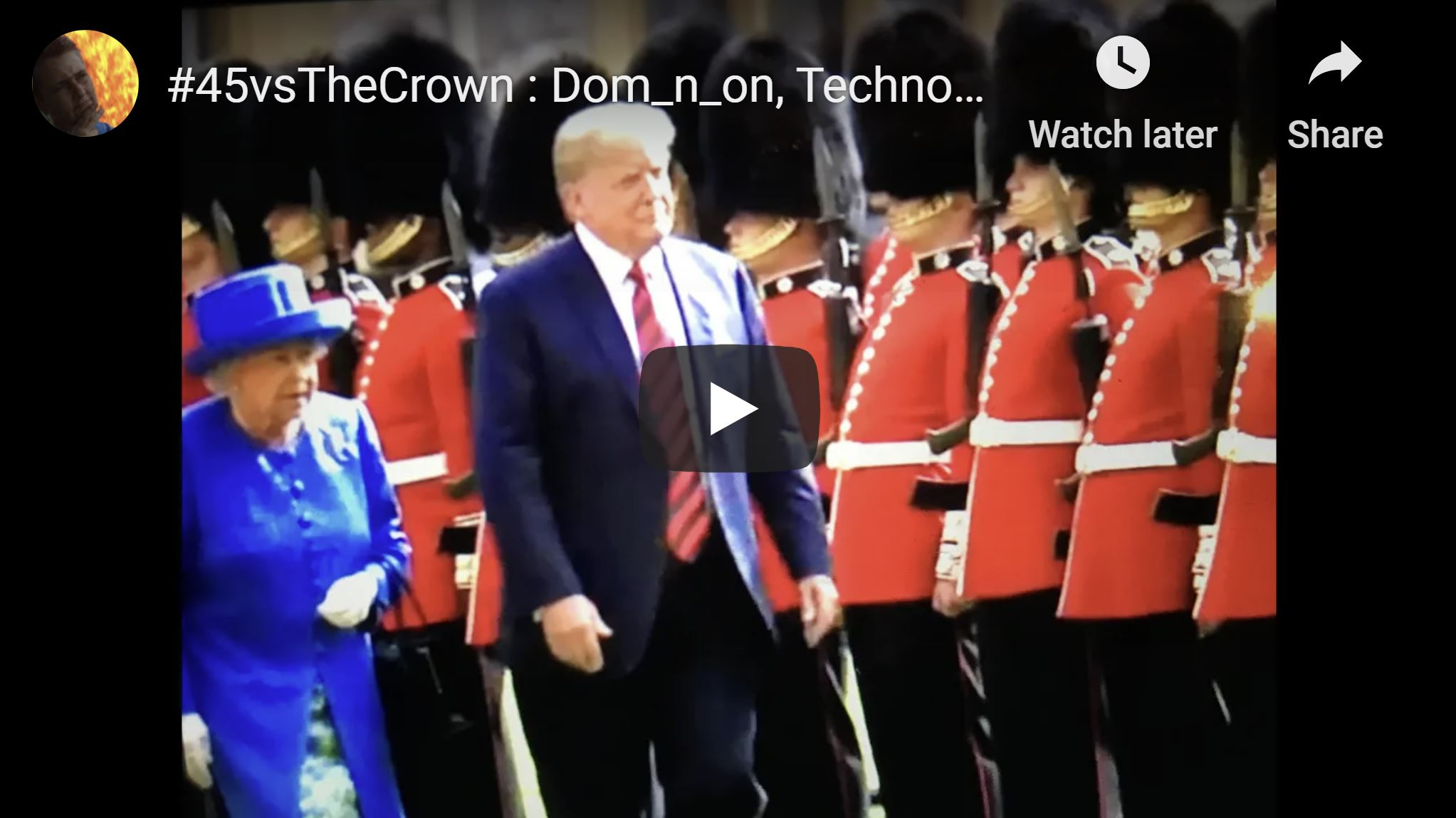 Fig. 16
—
Free. (Dec. 09, 2020)
. Our Republic is fighting the same battle now as we did 245 years ago! You Are Free TV. ***HAS BEEN CENSORED***@https://youtu.be/Lu6nsMHZAdI*** No worries, view it here:|
Raw *.mp4 video file
.
Video: You Are Free TV.
Return to return to the beginning of this post.
Notices: This post may contain opinion. As with all opinion, it should not be relied upon without independent verification. Think for yourself. Photos used are for educational purposes only and were obtained from public sources. No claims whatsoever are made to any photo.
Comment
Click "N comments:" on the line just below this instruction to comment on this post. Alternatively, send an email with your comment to afi@leader.com and we'll post it for you. We welcome and encourage anonymous comments, especially from whisteblowers.