Fig. 1—Xi Jinping and his British-Chinese-American minions. (Sep. 23, 2015). The 8th US-China Internet Industry Forum, Seattle, WA.
Front Row, L/R (Obama's Technology Council): Mark Zuckerberg (Facebook), unknown, John Chambers (Cisco), Jack Ma (Alibaba), Virginia Marie "Ginni" Rometty (IBM), Xi Jinping (Chinese Communist Party boss), Satya Nadella (Microsoft), unknown, Tim Cook (Apple), unknown, Jeff Bezos (Amazon); Second Row, 2nd from right: Reid Hoffman (LinkedIn, Facebook, Instagram, PayPal); 4th from right, Bob Swan (Intel). (Missing: Eric Schmidt [Google/Alphabet]).
Full size photo (*.png, 5MB)
.
Check your Downloads folder. Photo: Unknown.
All of these actors are well-groomed imposters planted at their companies by the British Pilgrims Society and their bankers
They are the new Mongol Horde working to take down the Christian American Republic
Their glowing resumes and bank accounts are all fake
They all "care for your safety" and want you to take the untested, permanent DNA-altering vaccine and keep wearing your masks like good little sheeple
Resistance is NOT futile.
Be bold. Have courage. Act now!
See you in Washington, D.C. on Jan. 05-06, 2020; We The People must seize back control of our Republic from these British-Chinese interlopers
Dec. 31, 2020—Thanks to Chinese Communist Party Boss Xi Jinping's official photographer, the world has a record of the primary American and Chinese criminals who are currently attempting to subdue the world inside a digital prison, directed by the British Pilgrims Society.
Xi Jinping's Chinese economy and culture was taken over by its British controllers in the Pilgrims Society's MI6 in 1948.
That same year (1948), British MI6 took charge of a newly-forming American C.I.A. to manage the stolen Nazi and Japanese gold through the Bank for International Settlements in Basel, Switzerland.
Later, IBM and the newly-minted C.I.A. formed Intel-Silicon Valley to replace RCA/NBC as the primary manufacturers of mass surveillance technologies for their new world order.
Two years later in 2017, these groomed tech impostors joined groomed banking impostors in Beijing for another group shot exposing the financiers of their plans for global tyranny. See Fig. 2 below.
The Great Treason at the People's Hall (Beijing)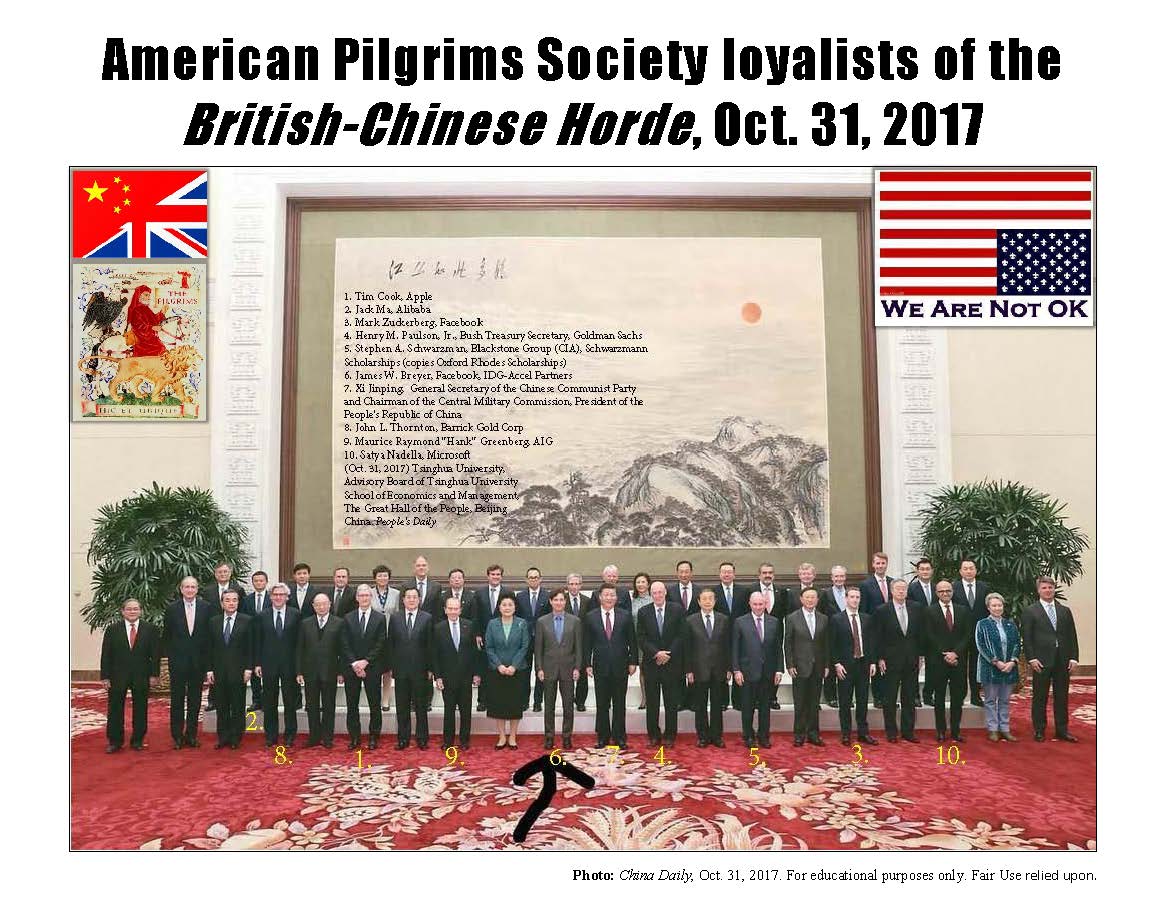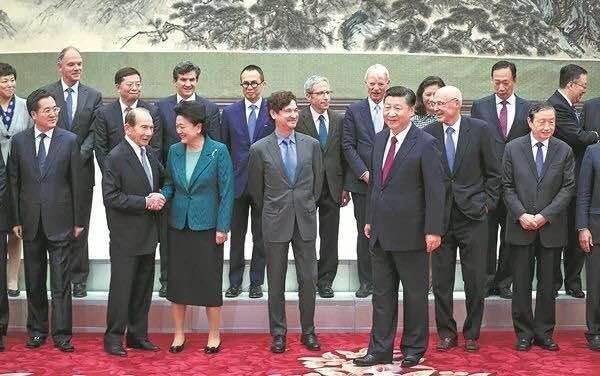 Fig. 2
—
James W. Breyer, Xi Jinping. (Oct. 31, 2017)
. Opening up of China means win-win cooperation for world: Premier Xi Jinping at Tsinghua University, including James W. Breyer, IDG-Accel Partners China, Mark Zuckerberg, Facebook, Henry M. Paulson, Jr., Goldman Sachs, U.S. Treasury, Blackstone Group, Stephen Schwarzman, Tim Cook, Apple, David M. Rubenstein, Carlyle Group, John L. Thornton, Barrick Gold Corp, Satya Nadella, Microsoft, PDF, p. 15. China People's Daily.
Xi Jinping provided incontrovertible evidence that he conspires with treasonous American banks, technology and pharmaceutical companies to destroy the American Republic and its duly-elected President Donald J. Trump.
The American Republic is standing at a cliff. If we step forward, we will fall into a new form of communist digital tyranny. This tyranny failed under Lenin and Stalin, then under Hitler and Mussolini. And yet, these British Pilgrims Society self-anointed criminals are trying again.
It is imperative that we start taking steps back from this cliff's edge.
America's Founders left us with the tools to defeat this tyranny, but those tools must be used. These are times for tough, decisive decisions from our elected Commander in Chief.
The endemic MSM censorship, judicial conspiracies and the 2020 Election Steal prove that America's institutions have broken and cannot fix themselves. This is exactly the situation where a decisive president must step in with all the tools in his tool box to identify the infiltrators, jail them, and re-implement the Principles of our Founding Documents.
American courts are controlled by the British Inns of Court and the Inner Temple
American banks are controlled by London Banks and a foreign-owned Federal Reserve, including Lord Rothschild
American government bureaucracies are controlled by the British Crown Agent surrogates in the Senior Executive Service (SES)
American pharma is controlled by the British Wellcome Trust including the founder of biotechnology, Lord Rothschild
American media is controlled by British Reuters and BBC propagandists via Pilgrims owners including J.P. Morgan and Lord Rothschild
American education and publishing are controlled by Anglophiles Carnegie, Rockefeller and Ford Foundations
American surveillance intelligence is controlled by British MI6, MI5 and GC
American telecommunications is controlled by British QintetiQ
American Patent Office, FEMA regions (at least 2 & 9), Navy SPAWAR and 63 air traffic controllers are controlled by British SERCO
American Army global inventory system controlled by British QinetiQ... in Britain!
Conclusion
Any reasonable person can see the British Pilgrims Society's deliberate, incremental plan to reincorporate America into the British Empire, and that it is still in play.
Fig. 4—Lillian Scott Troy
was a courageous American suffragette and investigative journalist living in London ca. 1900-1918.
On Nov. 13, 1919
, Ms. Troy was deported from the United Kingdom—two days after WWI ended—because she dug too deeply into the corruption of British and American Pilgrims Society. Ms. Troy was the perennial target of Pilgrims propaganda attacks and smeaars in both the U.S. and British press. By 1912, J.P. Morgan, had already bought editorial control of the top 25 newspapers in the United States in order to "create public opinion." Ms. Troy had focused her investigations on the evident corruption and treason of Andrew Carnegie, J. P. Morgan and the Anglo-American (British) Pilgrims Society, which she (and many at the time) saw as undermining the sovereignty of the American Republic. Their voices have largely been silenced by the mockingbird Pilgrims Society-controlled world press, until now.
American Patriots, like spunky suffragette Lillian Scot Troy, smelled this rotting communist plan back in London in 1912 and discovered, then published their 24-step strategy in the San Francisco Leader on Feb. 17, 24, 1912.
The California Hearst newspapers have deleted Ms. Troy's revelations from the historical archive record, but thankfully, Rep. Dr. Lt. Commander Jacob Thorkelson (MN 1st) Thorkelson preserved her revelations in Aug. 21, 1940 in the Congressional Record.
We have been warned about this insidious British Pilgrims Society plan being carried out with their profoundly traitorous American members, including Henry Kissinger, Paul Volcker and James W. Breyer.
Why haven't I heard of the Pilgrims Society before? It is hiding in plain sight.
If the sources of your "news" are owned by them then of course they are not going to expose themselves. The full seizure of global surveillance and propaganda was formally organized by the British Pilgrims Society Jun. 05-28, 1909 whose meeting records have been suppressed for 120 years until a copy was discovered miraculously this year in a midwestern university library offsite storage barn.
The spiritual heritage of the Pilgrims Society is steeped in satanic cultism of W.T. Stead (the "father of tabloid journalism"), Cecil Rhodes' archive and spiritism coach of Queen Victoria, Lord Rothschild and Viscount Alfred Milner the Burroughs Wellcome vaccine experimentation butcher of the 2nd Boer War. Burroughs Wellcome is now called GSK GlaxoSmithKline that funds The Pirbright Institute, owner of the Coronavirus patent.
Until you start naming the enemy, you cannot fight him with courage and truth.
Spread the truth.
(See 18 U.S. Code § 2381. Treason and 10 U.S. Code § 894 - Art. 94. Mutiny or sedition.)
While Americans trusted their elected officials to watch their backs, those officials cashed in on British-Chinese communism via their tech stocks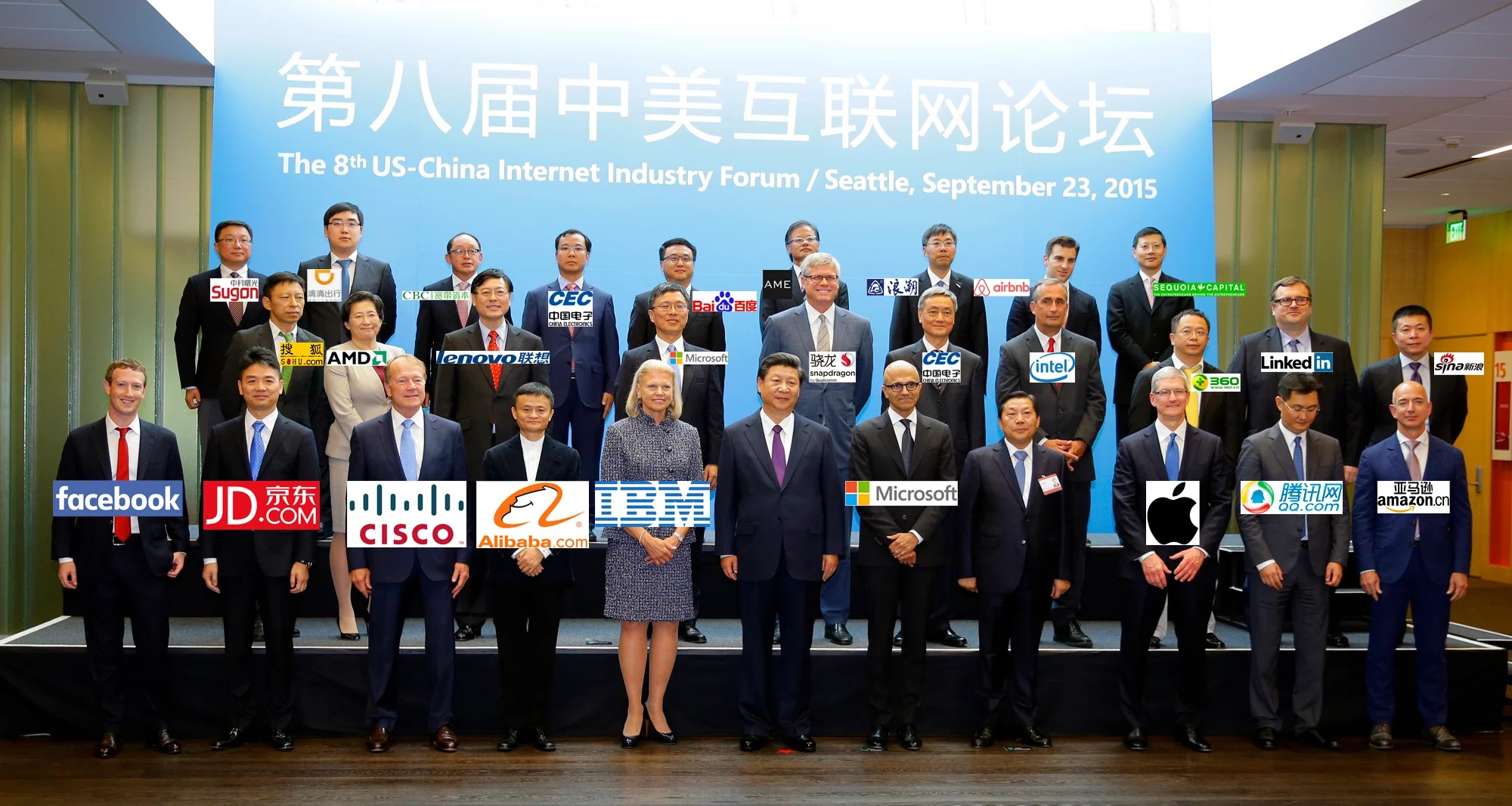 Fig. 5
—Front Row, L/R (
Obama's Technology Council—Pilgrims Society
): Mark Zuckerberg (Facebook-James W. Breyer surrogate), unknown, John Chambers (Cisco), Jack Ma (Alibaba-Pilgrim), Virginia Marie 'Ginni' Rometty (IBM), Xi Jinping (Chinese Communist Party boss), Satya Nadella (Microsoft), unknown, Tim Cook (Apple), unknown, Jeff Bezos (Amazon); Second Row: 2nd from right: Reid Hoffman (LinkedIn, Facebook); 4th from right: Bob Swan (Intel).
* * *
Described above is abject immorality.

Morality must win the day.
"Repent, for the kingdom of heaven is at hand."

The Gospel of St. Matthew 4:17.


Bookmark: #miller-act-notice
|
https://tinyurl.com/y9d8bqan
Footnote
Reminder Re. the Miller Act Notice—The Perpetrators of this Epic Fraud must disgorge their ill-gotten gain
Click image to open PDF of this and the next slide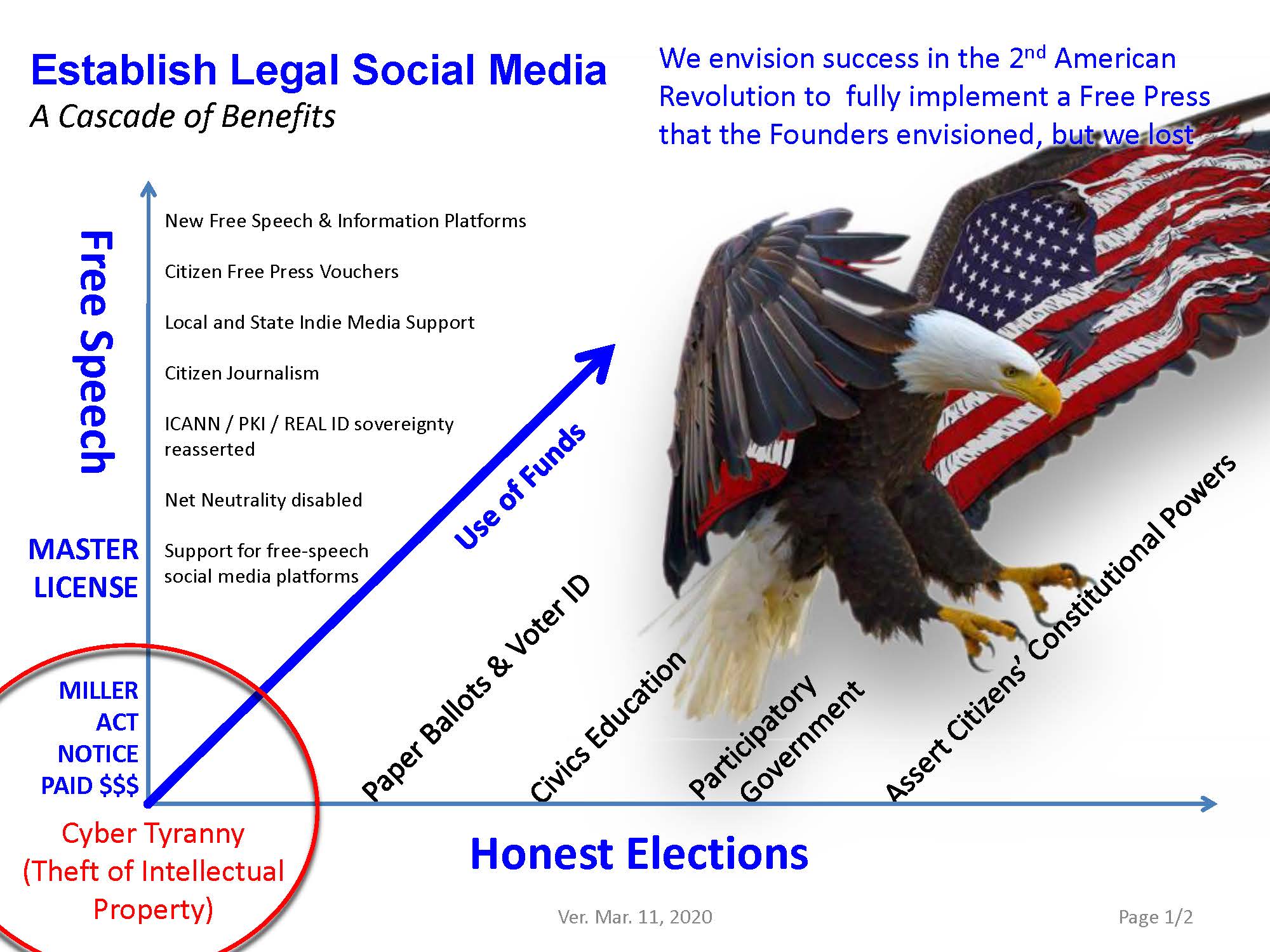 Fig. 6—Mr. President: Turn the Tables on Censorship; Write the Miller Act Notice check immediately!
By writing the check for the Leader Technologies' Miller Act, and acquiring a global master license on social networking, President Trump, with the stroke of a pen, can turn the tables all Big Tech, Media, Bank and Pharma censorship and propaganda. It will initiate a second American Revolution to give the citizen control of the media for the first time since the early days of the American Republic, before the Rothschild Bank of England hooked its claws back in to the fledgling Republic.
Click here to download the PDF
(check your Downloads folder after clicking).
Leader Technologies, Inc. sent their FIRST AMENDED MILLER ACT NOTICE to President Trump It is a contract demand for the U.S. Treasury to pay them for the federal government's 18-year theft of their social networking inventions. These inventions were stolen by Major General James E. Freeze (US Army, ret.) and Leader's patent attorney James P. Chandler, III, on behalf of Andrew W. Marshall and the Department of Defense Office of Net Assessment, and the Pilgrims Society who steal and weaponize inventions for continuous war making and enrichment of fascist insider military-industrial corporations.

Patriots are encouraged to help get this First Amended Miller Act Notice to President Trump and past the Praetorian Guard. See American Intelligence Media republish of the Leader Miller Act Notice.


Bookmark: #trump-jfk-v-cia
|
https://tinyurl.com/y88js5kc
War Between The White House and CIA? President Trump finally implementing JFK's Executive Order dismantling the out-of-control C.I.A. who were conspiring with the British Pilgrims Society
Video: The New American Video.
Bookmark: #fight-for-our-republic
|
https://tinyurl.com/y9vxbksy
U-T just censored this:
Our Republic is fighting the same battle now as we did 245 years ago!
Click image to play video.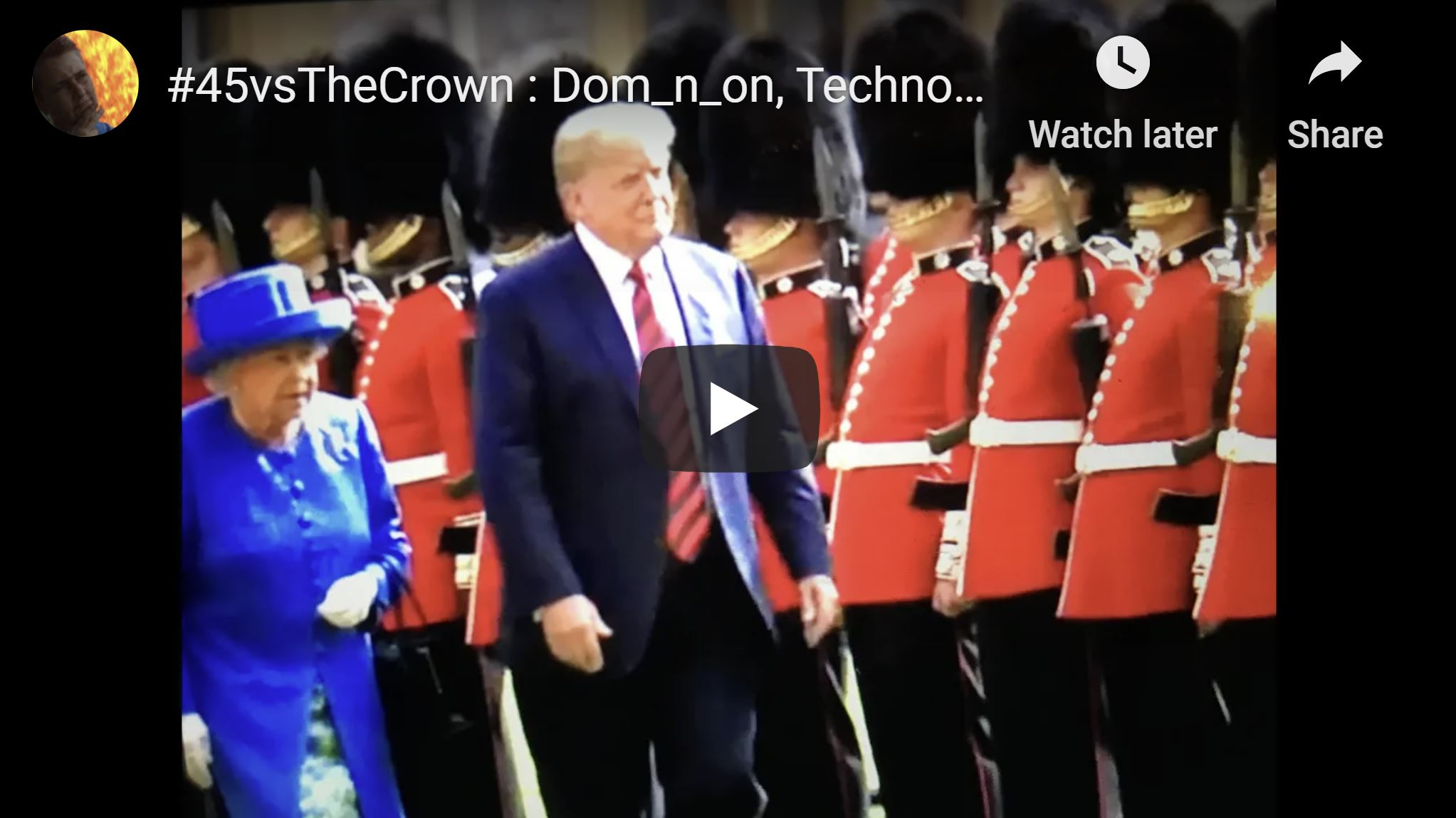 Fig. 10
—
Free. (Dec. 09, 2020)
. Our Republic is fighting the same battle now as we did 245 years ago! You Are Free TV. ***HAS BEEN CENSORED***@https://youtu.be/Lu6nsMHZAdI*** No worries, view it here:|
Raw *.mp4 video file
.
Video: You Are Free TV.
Return to return to the beginning of this post.
Notices: This post may contain opinion. As with all opinion, it should not be relied upon without independent verification. Think for yourself. Photos used are for educational purposes only and were obtained from public sources. No claims whatsoever are made to any photo.
Comment
Click "N comments:" on the line just below this instruction to comment on this post. Alternatively, send an email with your comment to afi@leader.com and we'll post it for you. We welcome and encourage anonymous comments, especially from whisteblowers.