Deep State must renew Executive Order No. 13708 by Sep. 30, 2017 (***three days expired***) to continue funding the rogue NSA, IBM, C.I.A. "Internet of Things" spy state
Fig. 1 – Globalist General H.R. McMaster & President DonalD Trump at McMaster's appointment as National security Advisor.
McMaster is a disciple of George Soros and the Deep State shadow government. He despises President Trump's America First priority. The Deep State shadow government has a hard stop requirement for the President to renew Executive Order No. 13708 by Sep. 30, 2017. This executive order perpetuates a string of executive orders that have authorized the warrantless surveillance of Americans since 9/11 and the passage of the Patriot Act. These orders have sacrificed fundamental civil liberties and established the NSA / C.I.A. surveillance state.
Photo: Breitbart.
Bookmark: #social-networks-now-spies
|
https://tinyurl.com/yac39vzs
Breaking! Oct. 03, 2017
social networking companies are C.I.A./NSA rogue spies too
GOVERNMENT SPYING ALERT:
As of this update, the
National Infrastructure Assurance Council (NIAC)
at the U. S. Department of Homeland Security has
failed to notify the public
that their charter to operate expired on Sep. 30, 2017. Curiously, this order was not posted on the NIAC website under "
NIAC Authorities
" like the ones for 2013 and before are.
BREAKING:
We just learned from an AFI reader that
President Trump
did
renew the NIAC over the weekend and was just posted on the White House website. The renewal was in a list of 34 renewals from remodeling the White House to HIV/AIDS. The Deep State shadow goverment evidently screwed us again.
Mr. Trump needs to be briefed about the threat to our civil liberties posed by the continued NIAC rogue operations. The dubious legitimacy of the rogue C.I.A. spy state continues, sadly.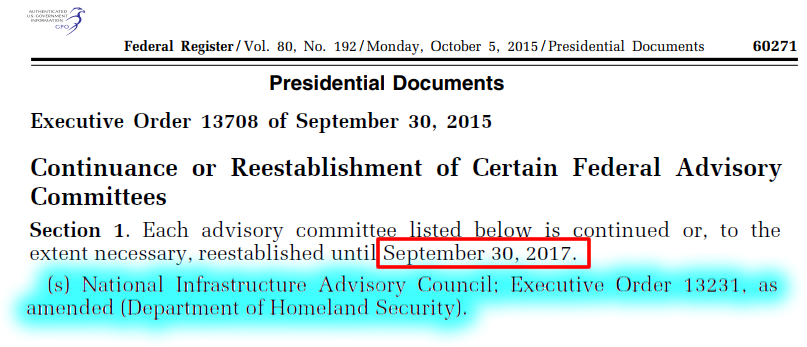 Technology companies across the board (e.g., IBM, Apple, Google, YouTube, Twitter, Facebook, Palantir (Peter Thiel), AT&T, Microsoft, Skype, Yahoo, Verizon, Oracle, WhatsApp, Instagram, Pinterest, Symantec, Juniper Networks, Goldman Sachs, HP, Dell, Lenovo, you name it) have just had their dubious "public-private partnership" authorization continued. The main executive order authority for the "National Infrastructure Advisory Council" was just renewed by President Trump, unfortunately. NIAC is nothing short of a Clintonista, fascist, crony-capitalist, monopolistic military-industrial complex insider deal making cabal since 1999 . . . in the name of national security and counter terrorism, of course. President Eisenhower warned about this corruption in 1961,
The greater scandal:
[
Editorial:
Despite the $1 trillion a year that these anti-terror experts spend, the shooter(s) in the tragic Las Vegas mass murder of concert-goers were able to amass at last count 42 sophisticated weapons and munitions without being detected by our bloated spy agencies. This should tell us that "antiterrorism" has been nothing but a cruel hoax ("false flag") by the Deep State shadow government to scare citizens into giving up their civil liberties. (For example, we learned just yesterday from whisteblowers that FEMA was conducting a simulated school shooting drill just 18 miles from Sandy Hook on Dec. 14, 2012. Just coincidence?). We must realize that their real motive is, and always has been, to take down the American Republic and replace it with a New World Order globalism run by unelected banks, corporations and bureaucrats.
]
ORIGINAL POST
(Sep. 14, 2017)—Roger Stone, President Trump's former campaign manager, New York Times best seller, and Infowars contributor, indicated several days ago that President Trump has serious troubles. He reinforced this same alert 24 hours later. He said that multiple White House sources have told him that President Trump may be being drugged gradually with psychotropic drugs in preparation for an imminent Deep State takeover.
Such drugging of a President would not be a new tactic for the rogue C.I.A. which is widely known to use such mind control drugs for "regime change" around the world. See previous post; Google: "CIA mind control drugs".
The American Republic is under attack by rogue C.I.A. Deep State operatives who are actively working to nullify the 2016 election.
End of September 30, 2017 is a Deep State drop dead date
September 30, 2017 is a critical date looming for the Deep State shadow government. The executive orders which have given them the dubious legal authority they have secretly awarded to themselves must be renewed. It appears they are willing to depose President Trump and/or destroy the country to get those renewals.
The facts are now well-established that the Deep State confiscated the invention of social networking from Columbus innovator Leader Technologies. Then, they reconfigured Leader's invention into a rogue global spying and profit-making apparatus that is violating our Fourth Amendment privacy rights of every American, our Fifth Amendment property rights, our Second Amendment right to bear arms, and our First Amendment rights to free speech.
Leader proved in federal court that Facebook, for example, relies on Leader's invention for 100% of its revenue. The rest of the social networking world also relies on Leader's invention for essentially 100% of their revenues as well. Such a theft of technology is unprecedented.
Bookmark: #miller-act
|
https://tinyurl.com/y8ugeoro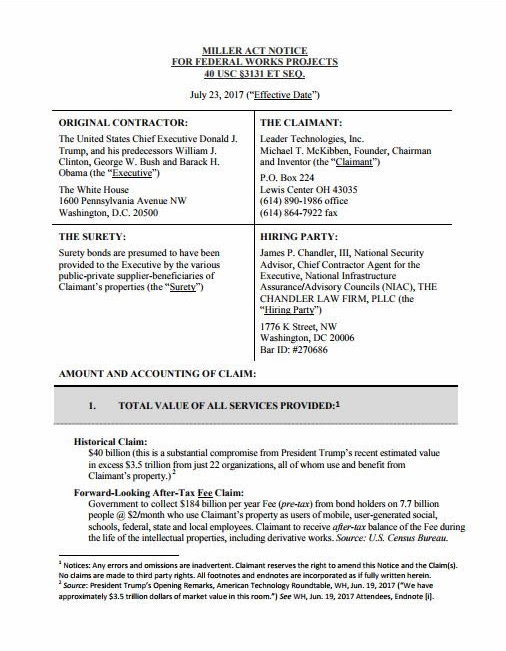 Fig. 2
—Miller Act Notice of Leader Technologies and inventor Michael McKibben filed at the White House on Jul. 23, 2017. They demand full compensation for the federal government's wholesale theft of their social networking inventions thru a broad, "free" distribution to its military-industrial spying and profit-making insiders using the freshly-minted
IBM Eclipse Foundation
formed with a $40 million IBM "donation" just four (4) weeks after The Patriot Act was signed into law.
See
previous post
AFI. (Jul. 24, 2017)
. Leader Technologies files trillion dollar bond lien on the U.S. government.
Americans for Innovation
.
See also
Miller Act Notice
.
This lawless spy network was created from executive orders reaching back to Bill Clinton in 1993. These orders give the President sole authority to authorize, fund and control the C.I.A., NSA and any of the other 15 intelligence agencies through his National Security Staff (NSS).
This operation is funded by an intertwined cluster of open-ended (and therefore indecipherable) Executive Branch budgets. Presidents Clinton, Bush and Obama secretly operated a vast military-industrial infrastructure largely without Congressional or Judicial oversight.
President Dwight D. Eisenhower warned us about this "military-industrial complex" in his Jan. 17, 1961 farewell address.
We believe that the Deep State's extensive activity to destroy President Trump is now focused on creating a pretext to take over the White House, or at least suspend lawmaking, by Sep. 30, 2017.
Sep. 30 , 2017 is the date that Executive Order 13708 expires.
This order gives the White House near dictatorial control over the Internet. In Deep State's mind, without getting that control back, they will lose the information war, and thus their dream of a UN-controlled "new world order."
Deep State's Control: The Executive Orders that empower the Deep State
Among these greater and lesser orders, two are seminal:
Executive Order 13130. (Jul. 14, 1999). National Infrastructure Assurance Council. Bill Clinton. Federal Register, Vol. 64, No. 137, Jul. 14, 1999. GPO.


Executive Order 13228/31. (Oct. 08/16, 2001). Establishing the Office of Homeland Security and the Homeland Security Council. George Bush. Federal Register, Weekly Compilation of Presidential Documents Vol. 37, Iss. 41, October 15, 2001. GPO.
These two orders form a continuity of orders (EO 13130 Jul. 14, 1999, EO13228/31 Oct. 08/16, 2001, EO13286 Feb. 28, 2003, EO 13385 Sep. 29, 2005, EO13446 Sep, 28, 2007, EO13511 Sep. 29, 2009, EO 13585 Sep. 2011, EO1352 Sep. 30, 2013.) Not included is EO 13708 Sep. 30, 2015 (expired Sep. 30, 2017) that extend NIAC operations from 1999 to the present day, and their current authority was extended and is governed by EO 13708 (Sep. 30, 2015).
Executive Order 13708 terminates on Sep. 30, 2017, unless is is renewed by the President (or his replacement).
NIAC forms the basis for the dubious "public-private" partnerships which secretly bind the commercial and intelligence technology worlds. It is the embodiment of the military-industrial complex that President Dwight D. Eisenhower warned us about.
In short, the NIAC benefits of universal government spying:
NIAC commercial "public" partner benefits received (the benefits of this crony capitalism):
Government contracts
Regulatory favoritism
Banking favoritism
Financing favoritism
Unfettered access to user data for profit-making
Judicial protection
Pay-to-plan financial information as bribes
For example, on Feb. 09, 2016 Barack Obama signed Executive Order 13718 in which he actually used the commercial name for this NIAC takeover of the Internet, "The Internet of Things." See previous post.
New! Sep. 18, 2017
Bookmark: #cia-whistleblower-kevin-shipp-infowars
|
https://tinyurl.com/y772c45a
The time is now for real American citizens to storm the gates and shine a light directly on White House globalists who: (1) we did not elect, (2) who rely on massive frauds to sustain their power and that of their friends, and (3) who appear to have turned on their boss, the President we did elect.
* * *
Notices: This post may contain opinion. As with all opinion, it should not be relied upon without independent verification. Think for yourself. Photos used are for educational purposes only and were obtained from public sources. No claims whatsoever are made to any photo.
Comment
Click "N comments:" on the line just below this instruction to comment on this post. Alternatively, send an email with your comment to amer4innov@gmail.com and we'll post it for you. We welcome and encourage anonymous comments, especially from whisteblowers.