Alt-media unites to distribute indictable evidence proving globalist Deep State shadow government crimes
Download, study and share this "Crimeline" widely
Video: American Intelligence Media, Americans for Innovation, Leader Technologies, Inc.
(Mar. 05, 2018)—Americans who work for a living have been screwed by a cadre of people with nothing better to do than lie, steal and cheat decent people.
Law abiding citizens, by nature, want to believe that their elected and appointed officials support the U.S. Constitution. The Americans for Innovation timeline proves that many of our officials are committing heinous crimes, while the others are silent, thus enabling the sins in their silence.
The timeline of facts—first called a "crimeline" in this video interview with social networking inventor Michael McKibben (above)—proves that a surprisingly large group of our public officials, bureaucrats, bankers, judges and their private company partners have conspired to destroy our Republic.
These seditious criminals want to replace our Republic with a globalist, fascist police state where corporate friends profit permanently from their monopolies. This is a similar model to that used by the Nazis before and during World War II. Their companies like Mercedes, BMW, Krupp, IBM and Bayer were permitted to operate and profit as long as they cooperated with Adolf Hitler's war plans, including the Holocaust mass murder of Jews, homosexuals, gypsies, Poles and Russians.
The timeline indicates that these people have been working on this plan for more than a century. It appears that they have been the financiers of every major war and terror event in our lifetime.
Bookmark: #abolish-the-fed
|
https://tinyurl.com/ycebpt8k
American Republic was turned over to Fascist oligarchs starting in 1910
Here are several of their key conspiratorial events:
Nov. 20-30, 1910 - J.P. Morgan's  Meeting at Jekyll Island  ("The Duck Hunt")


Jul. 1944 - International Monetary Fund & World Bank Group (Bretton Woods System)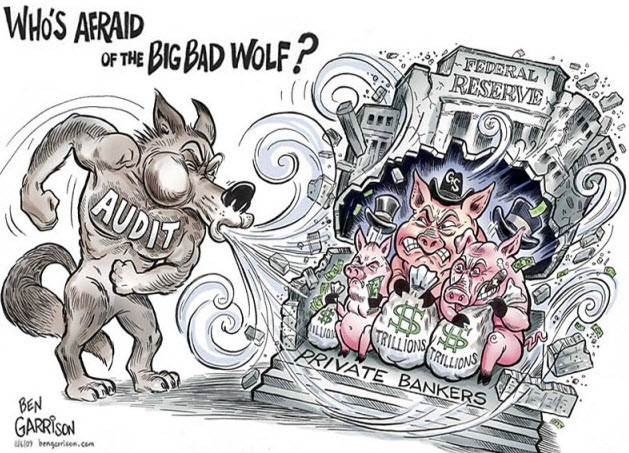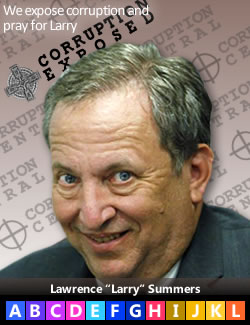 In short, American public monetary policy was turned over to private institutions, including JPMorgan, Morgan Stanley, Goldman Sachs, Wells Fargo, BNY Mellon, Bank of America, AIG, GMAC, GM, PNC, US Bancorp, Chrysler, Capitol One, State Street, Discover, AMEX, RFC, etc.—all of the institutions that received the taxpayer "bailout" in 2008, led by the chief among these thieves: rogue C.I.A., Clinton, Bush, Obama, Harvard, World Bank, IMF, Fed, 2008 Bailout, Google, Facebook, LinkedIn, Palantir, HarvardX & Instagram economist, Lawrence H. "Larry" Summers.
Bookmark: #deep-state-bullies
These oligarchs and institutions have become utterly evil in their pursuit of the seven deadly sins: pride, greed, lust, envy, gluttony, wrath and sloth. We the People must disempower them. Their houses are built on sinking sand. They are incapable of doing the People's work.
Bankers conspire with the FBI, C.I.A., Judiciary, media & dirty politicians to bully & scare citizens, continuously
Ask yourself, is it coincidence that after these bankers gained control over international finance starting in 1910, that history suffered almost continuous catastrophes—all funded by these criminals? The moral is that perpetual conflict is good for business of these corruptocrats: (See also 53 Admitted False Flag Attacks.)
The Bolshevik Revolution (1971) to takedown Christian Russia
The Nazi Takedown of Christian Germany (1933-1945)
Pearl Harbor (1941)
The Korean War for anti-Communism (1950-1953)
The Vietnam War (Gulf of Tonkin) for anti-Communism (1955-1975)
Then, they morphed conflicts from anti-Communism to "global terror"...
The Soros UK currency threat (1992)
Somalia (1992-2018)
The World Trade Center bombing (1993)
Waco ATF slaughter (1993)
Rwanda (1994)
Oklahoma City bombing (1995)
Iraq (1996-2011)
The globalist takedown of Christian Kosovo (1998)
Syria, Al-Qaeda, ISIS (1999-2018)
9/11 (2001)
Fast & Furious (2006-2011)
Fort Hood shooting (2009)
Arab Spring uprisings (2010)
Iran (2011-2018)
Yemen (2011-2018)
Libya (2012)
Sandy Hook (2013)
Boston Marathom bombing (2013)
San Bernardino attack (2015)
Nigerian conflict (2015-2018)
Charlottesville (2016)
Las Vegas shooting (2016)
Parkland shooting (2018)
etc.
Scared yet? Are you ready to give up your freedoms for the false promise of security? The fact is, we have been willing to the point where we have almost given our Republic over to these evil people.
Benjamin Franklin: "Those who would give up essential liberty to purchase a little temporary safety, deserve neither liberty nor safety."
Bookmark: #why-does-deep-state-choose-evil
Why do these people choose evil?
It is because of their nature is stunted and two-dimensional. They lack a moral compass—a third dimension of spirit and morality. As a result, they try to destroy spiritual people.
These corruptocrats have learned that good people do not assume that they (the corruptocrats) violate the law intentionally.
Bookmark: #saul-alinsky
Saul Alinsky teaches these evil people well
Hillary Clinton's political mentor was Saul Alinsky, the author of 12-Step Rules for Radicals (Random House 1971). Alinsky is/was one of the most evil people, ever. So evil, in fact, that he dedicated Rules to Lucifer. One of Alinsky's Rules is:
"Make the enemy live by its own book of rules."
One of those rules is forgiveness and non-judgmentalism. Sincere religious people by contrast believe in forgiveness. They also strive to give one's fellow man the benefit of the doubt.  This fundamental moral value is exploited by evil people. It is their cover for abject criminality.
How?
Evil person lie and deceive by nature, so when confronted with their conduct, they tell the good person that they didn't do it, or they are sorry. The good person will then feel obliged, by nature, to give that evil person the benefit of the doubt. This gives the evil person time to continue the misconduct or change the approach and thus stay ahead of the scrutiny. This is the evil person's natural advantage in our Republic.
The Constitution was written to check this kind of evil. However, this timeline reveals that the very American institutions charged with policing this misconduct, are all too often aligned with the evil doers.
Bookmark: #rebuild-the-judiciary
|
https://tinyurl.com/ybxkr9jy
Reconstruct the Judicial System
This Crimeline proves that the American judicial system is utterly corrupt from top to bottom.
Bookmark: #wetware
|
https://tinyurl.com/y89kkgug
Dismantle the Internet of Things mass surveillance
Digital privacy and security cannot be an option in a Constitutional Republic. The current dominance of this realm by immoral spies, bankers, judges and fascist company must stop immediately.
Bookmark: #wetware-bibliography
See also previous posts on The Internet of Things Wet-ware:
AFI. (Jan. 11, 2018). Meet The Person Who Can Remotely Crash Planes And Can Control Your Mind. Americans for Innovation.
Thomas Paine. (Jan. 16, 2018). Meet Big Brother. American Intelligence Media.
AFI. (Jan. 19, 2018). Uranium One Judge Tied to Mueller 'Wet-Ware' Surveillance Patent and Theft of Social Networking. Americans for Innovation.
Lionel Nation, Thomas Paine. (Jan. 21, 2018). You Will Be Completely Controlled — You Are Wetware — Implanted Devices and Mind Control Hijack You. Lionel Nation.
AFI. (Feb. 01, 2018). The Internet of Things was Fascist from Inception. Americans for Innovation.
Lionel Nation, Thomas Paine. (Feb. 02, 2018). Prepare to Get Freaked Out: Wetware, 5G Radiation Death, Panopticon Surveillance and Sex Trafficking. Lionel Nation.
Bookmark: #fund-miller-act
|
https://tinyurl.com/y8yah973
President Trump: write the Miller Act check; fund a new, free press
AFI. (Jul. 24, 2017). Leader Technologies files trillion dollar bond lien on the U.S. government. Americans for Innovation.
AFI. (Sep. 29, 2017). Leader proposes trillion dollar fed revenue while lowering taxes. Americans for Innovation.
AFI. (Feb. 22, 2018). The Miller Act Notice is a HUGE pitchfork against the Globalists. Americans for Innovation.
NEW AFI TIMELINE ENTRY and BIBLIOGRAPHY: http://www.fbcoverup.com/docs/cyberhijack/cyber-hijack-findings.html#miller-act-interview
With the PROVEN CORRUPT CENSORING ACTS of Google, Twitter, YouTube and Facebook, it is vital that President Trump release the Miller Act funds to Leader Technologies NOW.
* * *
Notices: This post may contain opinion. As with all opinion, it should not be relied upon without independent verification. Think for yourself. Photos used are for educational purposes only and were obtained from public sources. No claims whatsoever are made to any photo.
Comment
Click "N comments:" on the line just below this instruction to comment on this post. Alternatively, send an email with your comment to afi@leader.com and we'll post it for you. We welcome and encourage anonymous comments, especially from whisteblowers.