Judge Michelle Friedland's nomination was backed by Facebook, Cisco & Google, who gave $1.5 billion to Hillary's digital campaign
"The Eric Schmidt Project" was renamed the U.S. Digital Service and run for Hillary out of the White House—a Hatch Act violation
Friedland bias discredits decision and is grounds for her impeachment
Drain the Swap
Bookmark: #sedition
Vault 7


WikiLeaks Vault 7 release on the Deep State is imminent. The information comes from American patriots with knowledge of the rogue C.I.A. treachery, says Dr. Steve Pieczenik, not "the Russians." Pieczenik should know—he helped bring down the communist globalists in the U.S.S.R. (ca. 1979-89).
Breaking! Feb. 18, 2017:
Crisis Alert:

Open C.I.A. Sedition at the State Department
State Department whistleblower says coup against President Donald Trump is under way among rogue C.I.A. agents running the Deep State shadow government.
Veteran investigator Dave Hodges (among many)
encourages patriots to flood Congressional representatives and senators, in large numbers,
immediately
, and demand that they actively support our lawfully-elected President and protect our Republic from these
brainwashed
C.I.A.–Soros-funded
seditionists
.
See also
Alex Jones' Red Alert
.
https://youtu.be/ejTSkxaSMpY
|
Raw *.mp4 video file
. Barack Obama is setting up a seditionist 'shadow government' in Washington D.C. with 30,000 OFA soldiers (Obama for America, Organizing for Action). See also Paul Sperry's interview with Alex Jones.
Paul Sperry. (Feb. 12, 2017)
. How Obama is Scheming to Sabotage Trump's Presidency - Working behind scenes to set up shadow government to sabotage incoming administration's popular "America First" agenda.
Infowars
; also
LouDobbs. (Feb. 15, 2017)
. Obama creating a 'shadow government?' interview with Paul Sperry,
The New York Post
.
FoxBusiness
.
ORIGINAL POST
(Feb. 10, 2017)—Canon 2 of the Code of Conduct for U.S. Judges states that "A Judge Should Avoid Impropriety and the Appearance of Impropriety in All Activities." This means that a conflict does not have to actually exist, but even if there could be the public perception of a conflict, the judge should recuse.
Sounds good on paper, but our courts mostly ignore it, and our politicians and lawyers are afraid or unwilling to challenge judges who violate it (because the sad truth is, many of them are in on the same globalist scams to take down America). It appears that it is past time for the Court of Public Opinion to step up and hold our public officials accountable and liable for their corruption.
Too many of our judges, like Judge Michelle T. Friedland, curry favor and treats from globalist corporations. They hold stock directly in deep-pocket litigants. Alternatively, they have exempted their reporting of mutual fund holdings by declaring that mutual fund holdings are not "financial interests" for the purposes of financial disclosure!!!
Canon 3(C)3(c)(i) "ownership in a mutual or common investment fund that holds securities is not a 'financial interest' in such securities . . ." (even though the judge pays income taxes on those holdings and benefits FINANCIALLY!) One hears the Church Lady saying about this obvious sin of omission: "How conveeeeenient!"
Too many judges suddenly become wealthy investing geniuses once they don their robes from evident stock tips from their deep pocket crony law firms and their clients. Judges show favoritism to lawyer friends from law school and previous law firms. They take bribes held for them in blind offshore accounts. The list of corrupt practices is substantial.
Last night's 9th Circuit sham threatens America's safety & the President's constitutional authority to govern
Last night, Judge Michelle T. Friedland was one of a three judge 9th Circuit Court panel in San Francisco, CA, who refused to overturn Judge James Robart's lower court block of President Trumps temporary ban on immigration from seven high risk countries.
Oddly, the 29-page opinion did not contain even a single statute upon which the judges based their decision. Instead, it was a romp through past legal cases. The decision was cobbled together to look official, but it wholly lacked Constitutional credibility. It was a political statement dressed up like a legal opinion.
Epic Failed 9th Circuit Legal Arguments
As it should and did, President Trump's EXECUTIVE ORDER: PROTECTING THE NATION FROM FOREIGN TERRORIST ENTRY INTO THE UNITED STATES, Jan. 27, 2017, specifically claimed his statutory authorities as 8 U.S.C. 1101 et seq., and section 301 of title 3, United States Code; section 212(f) of the INA, 8 U.S.C. 1182(f); section 217(a)(12) of the INA, 8 U.S.C. 1187(a)(12); U.S.C. 1222; and sections 221(c) and 281 of the INA, 8 U.S.C. 1201(c) and 1351
Incompetence or Sedition?
The Ninth Circuit's job is to oversee the legal issues of a case. Therefore, their solemn duty was to evaluate the President's statutory claims in light of the statutes claimed, and therefore, to evaluate these specific LAWS. However, the Ninth Circuit Court did not evaluate even a single one of the President's statutes. This omission is either incompetence or sedition.
'Sedition' means 'incitement of resistance to or insurrection against lawful authority' (Merriam-Webster).
Leader researchers consulted with a leading senior New York City immigration attorney. He counseled that the law in question is very clear. The President has the authority to protect our country and our people. His Executive Order was written properly. The legal battle is clearly a political one and threatens the security of our citizens.
If the decision itself weren't inadequate enough, if she were an ethical person, Judge Friedland would have recused herself due to her conflicts of interest in this matter.
Friedland has close relationships with Silicon Valley companies including Google, Facebook and Cisco. She is clearly biased in fact. But even if not in fact, she has the appearance of bias. Either way, she should have recused.
These companies were/are notoriously-known contributors and backers of Hillary Clinton and The Clinton Foundation. They even wrote her letters of recommendation after her nomination on Aug. 1, 2013 by Barack Obama.
But this story of judicial corruption is much worse ...
On Mar. 19, 2014, the GSA formed "18F" with a mission to simplify the government's digital services. 18F was staffed with Presidential Innovation Fellows. According to Google internal documents, 18F has "informal ties to USDS" (U.S. Digital Service, see below). 18F targeted various federal agencies, most notably the Federal Election Commission (FEC).
FEC documents confirm that the effort was to move all FEC data processing to the cloud and thus under the control of the IBM Eclipse Foundation established by IBM's chief inside counsel David J. Kappos—Obama's director of the Patent Office—and IBM's chief outside counsel, James P. Chandler—who was also counsel to Columbus innovator Leader Technologies, from whom The IBM Eclipse Foundation—fronting for the C.I.A.—stole Leader's social networking invention that was being implemented by 18F, USDS and Google.
On Apr. 10, 2014, Friedland was confirmed by the Senate. Friedland had previously submitted her letters of recommendation from Google, Facebook and Cisco.
On Apr. 15, 2014, Google CEO Eric Schmidt proposed Notes for a Democratic Campaign" to Obama and Hillary.  The White House and Hillary campaign actually called it "The Eric Schmidt Project."
On Apr. 28, 2014, Friedland joined the 9th Circuit Court bench.
On Jun. 29, 2014, Robby Mook, Hillary's Chief of Staff, sent an urgent message to John Podesta asking for him to help recruit a Google executive to "The Eric Schmidt Project. Mook was organizing "the Eric Schmidt project." — "development of a single record for a voter that aggregates all that is known about them."
Mook wanted to recruit Dickerson to run it. However, Dickerson was "a little worried about how legit it was." Mook clearly needed Podesta to strong arm Dickerson into accepting the appointment. The subsequent events show this effort was for Hillary Clinton's election.
WikiLeaks revealed that Robby Mook was "close" to Robert Creamer, the top Hillary operative just caught in an undercover sting video by Project Veritas Action. Creamer is captured on tape bragging about his various exploits to rig the election and disrupt Trump and Pence rallies.
On Jul 21, 2014, WikiLeaks founder Julian Assange warns "Google is not what it seems."
Assange: "Google is not what it seems."
[It's a rogue C.I.A. front.]
On Aug. 20, 2014, Google loaned an executive Mikey Dickerson to the White House for "The Eric Schmidt Project" renamed the U.S. Digital Service. Dickerson's first reaction when learning about the project was "a little worried about how legit it is."
On Oct. 28, 2014, Barack Obama loaned the White House chief technology officer Todd Y. Park (who oversaw the botched Obamacare roll out) to San Francisco CA to help Hillary with her digital campaign.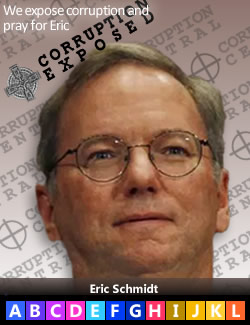 Eric Schmidt
Google, WH,
U.S. Digital Service, In-Q-Tel,
C.I.A., Pentagon

Julian Assange, WikiLeaks:
"Google is not what it seems."
Never mind that this activity is an egregious violation of The Hatch Act that prohibits public agencies from funding political campaigns, including loaning and paying personnel, as happened here involving Park and Dickerson.
On Mar. 02, 2016, Eric Schmidt was appointed to chair a Pentagon Defense Innovation Advisory Board. Google was also a member of the C.I.A. organized IBM Eclipse Foundation and technology backer of the C.I.A.'s so-called private venture capital arm In-Q-Tel. See previous post.
Friedland's failures dictate impeachment
Because Hillary's eventual opponent was Donald J. Trump, Friedland's relationship to Google, Facebook and Cisco clearly biases her rulings involving Donald Trump since Hillary's failed campaign was heavily supported by her friends at Google, Facebook and Cisco.
Friedland's financial disclosures are nowhere to be found
Does anyone have Friedland's financial disclosures? So far, they have eluded numerous experienced legal researchers. This is odd since such disclosures are normally readily available. One wonders what additional conflicts of interest they hide. Our guess is direct investments in backers of Hillary Clinton, C.I.A.-backed companies, and other globalists who are trying to put the United States under U.N. globalist corporate control.
CONCLUSION:
The Ninth Circuit decision is tainted by substantial undisclosed conflicts of interest, spying and election corruption.
The government lawyers should immediately file a 60B motion to undo the judgment for fraud on the court.
Judge Michelle T. Friedland should be impeached for her evident involvement in election corruption and the related misconduct surrounding this immigration case.
We need to find every way to resist these globalists
* * *
POSTSCRIPT:
Bookmark: #white-house-leaks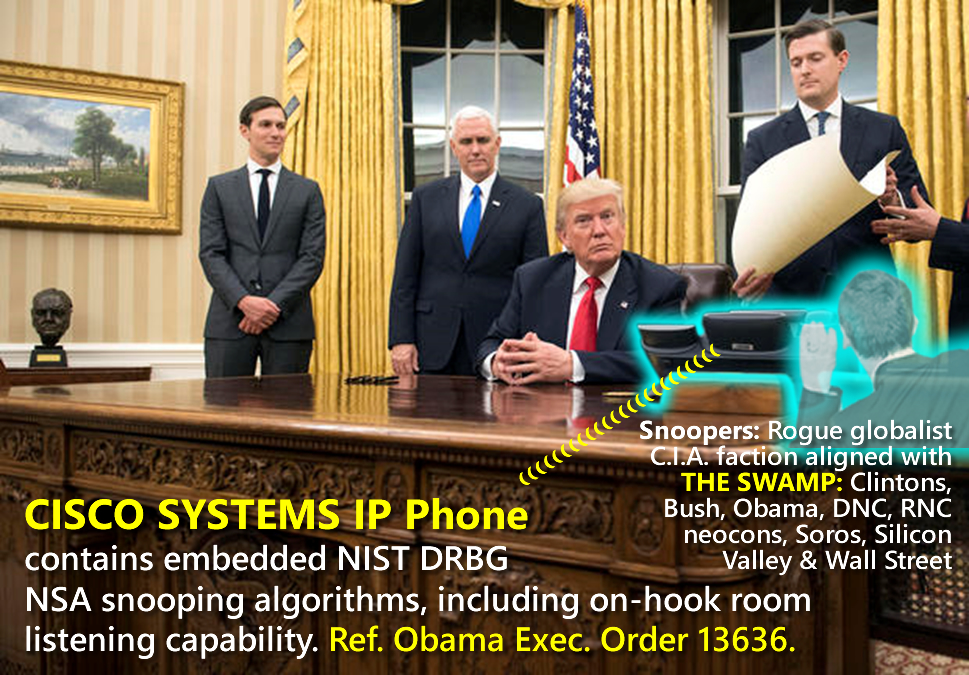 Fig. 2: NSA Backdoor Spy Key
—AFI posted an expose of the nearly universal NSA backdoor key in Cisco, Microsoft, IBM, Juniper Networks, Qualcomm, Intel, Xerox, Micron Technology, Oracle, Nokia, Samsung, EMC, Apple, Dell, etc. software and hardware:
AFI (Nov. 06, 2015)
. Complicit encryption geeks enable the American spy state.
Americans For Innovation
.
This Oval Office photo shows President Trump's CISCO IP Phone.
CISCO has registered over 40 different CISCO hardware and software technologies
that embed the DRBG spying algorithm—a backdoor key.
How is this abuse of privacy fixed? Order and certify the immediate removal of the DRBG algorithm and related backdoor encryption keys from all hardware, software and firmware across the board. Privacy is a Constitutional right not be be given away in exchange for some etherial promise by spies (liars by profession) of greater security.

Benjamin Franklin once said: "Those who would give up essential Liberty, to purchase a little temporary Safety, deserve neither Liberty nor Safety."
Notice: This post may contain opinion. As with all opinion, it should not be relied upon without independent verification. Think for yourself. Photos used are for educational purposes only and were obtained from public sources. No claims whatsoever are made to any photo. Fair Use is relied upon.
Comment
Click "N comments:" on the line just below this instruction to view comment on this post. On about Dec. 05, 2016, Google began blocking comments to this blog. However, if you email your comment to a secure email website we have established at:: afi@leader.com we'll post it for you. We welcome and encourage anonymous comments, especially from whisteblowers.