Judge T.S. Ellis III holds a mountain of Facebook interests; Fenwick & West LLP compromised Van der Meer by representing both sides and tainted Leader v. Facebook; Deep State duplicity abounds
Disgraced
Fig. 1—Randall R. Rader.
Former Federal Circuit Chief Judge resigned in disgrace on Jun. 13, 2014 amidst the YFFL email scandal with Edward R. Reines, Weil Gotshal LLP. Judge
Kimberly A. Moore
was a former consultant to Weil Gotshal, yet has never disclosed her conflicts either.
Breaking News! 10:24 pm EDT
Rader quits the bench amid corruption scandal
According to
The Wall Street Journal Law Blog
just hours ago, former Federal Circuit Chief
Judge Randall R. Rader
quit the bench today, in the wake of his YFFL e-mail scandal ("Your friend for life -rrr") with backroom Silicon Valley crony
Edward R. Reines, Weil Gotshal LLP
. This event further validates the misconduct this site began uncovering in the wake of the
Leader v. Facebook
judicial corruption. A
Leader v. Facebook
mistrial seems inevitable.
See our previous post
for more links among the Rader resignation,
David J. Kappos
, the
Patent Office
and
Leader v. Facebook
.
Note:
Judge Rader
and
Judge Ellis
are both faculty members of Professor
James P. Chandler's National Intellectual Property Law Institute
. Chandler and
Fenwick & West LLP
were both Leader Technologies' attorneys. The outlines of this white collar corruption are finally beginning to emerge.
Another Kangaroo Court?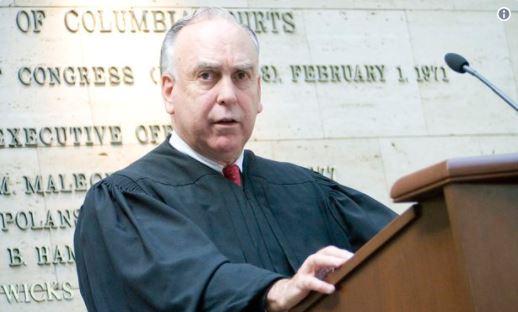 Fig. 2—Judge T.S. Ellis, III
presides over
Rembrandt Social Media, LP v. Facebook, Inc. et al
but failed to recuse himself due to his holdings of Facebook financial interests. An unbiased tribunal is impossible.
Canon 2 of the Code of Conduct for U.S. Judges tells them to "avoid impropriety and the appearance of impropriety." Here we see both. Is that Lady Justice over Judge Ellis' shoulder breaking her scales in frustration?
Ellis and Rader are close associates of Professor James P. Chandler III (along with the USPTO's David J. Kappos, IBM, Microsoft, Boston Scientific and Fenwick), Leader Technologies' former patent counsel.

Photo: Nolo.
(Jun. 13, 2014)—ABC News reports: "Facebook infringed on patents held by a Dutch computer programmer who tried to launch a similar site called 'Surfbook' more than a decade ago, according to a lawsuit heard by a federal jury Wednesday." Click here for the ABC News coverage.
ABC had earlier reported when this case was filed. See "Facebook Sued Over The "Like" Button, ABC News, on Feb. 13, 2013.
Rembrandt Social Media, LP v. Facebook, Inc. et al, 1:2013-cv-00158-TSE, filed Feb. 4, 2013.
More duplicity
Corruption #1: Judge T.S. Ellis III holds large amounts of stock in Facebook interests, including:
Goldman Sachs, Facebook underwriter
Morgan Stanley, Facebook underwriter
T.Rowe Price, holder of 5.2% of Facebook's insiders shares at the IPO
BlackRock, a top 10 Facebook IPO mutual fund winner
Thomas S. Ellis, III, Financial Disclosure Report, Eastern District of Virginia, Rembrandt Social Media, v. Facebook, for Reporting Year 2010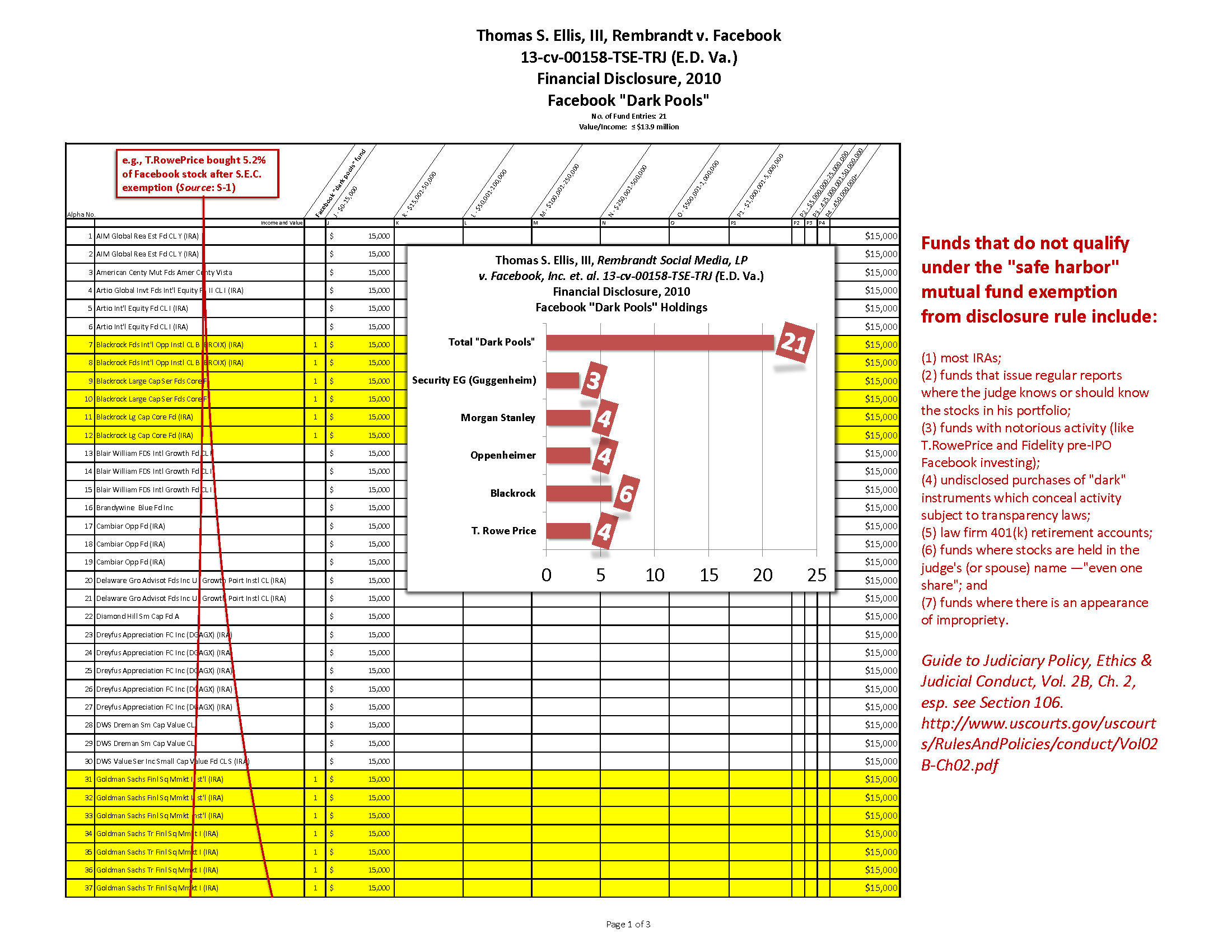 Fig. 3—Judge Thomas S. Ellis, III, 2010 Financial Disclosure
revealing large amounts of conflicting Facebook interests. The law is clear that there must be a presumption of bias when a judge holds stock in one of the litigants. The current charade being played in the Facebook Cartel to hide their holdings behind mutual funds is farcicle. In any event, Ellis doesn't even have that excuse since Goldman Sachs and Morgan Stanley are Facebook's underwriters, and T.Rowe Price holds more than 5% of Facebook's stock.
Click here to download this PDF
.
Bottom line: Judge Ellis had a duty to recuse himself in Rembrandt v. Facebook, and did not.
Curiously, Judge Ellis was a faculty member in Professor James P. Chandler, III's National Intellectual Property Law Institute ("NIPLI"). Professor Chandler was Leader Technologies' patent attorney who introduced Leader to Fenwick & West LLP. Suspicion is growing that Chandler and Fenwick played on both sides of the ball in the Leader v. Facebook... and Rembrandt v Facebook.
Also reminiscent of Leader v. Facebook, Judge Ellis blocked one of Rembrandt's damages expert witnesses from giving testimony at trial. In the Leader case, Judge Leonard P. Stark allowed Facebook to add the on-sale bar claim just one month before trial and prevented Leader from performing discovery, and simultaneously blocked Leader from getting expert testimony from Chandler. The Chandler testimony was blocked even though Chandler is a recognized expert on intellectual property law and had personal knowledge of the events that Facebook would raise. A Delaware U.S. Attorney's Office official told AFI investigators recently that Chandler and Stark worked together when Stark was an Assistant U.S. Attorney.
Corruption #2: Fenwick & West LLP
Fenwick & West LLP began officially representing Facebook in about 2006 in securities and patent matters. However, Fenwick was the attorney who filed the patent for Van der Meer back in 1998. Sound familiar? Fenwick represents one inventor whose patent magically emerges inside Facebook's portfolio, repackaged as a Facebook patent. Ellis ignored the obvious duplicity and attorney misconduct, probably since Fenwick was Chandler's compatriot in what appears now to have been an organized effort to kill all "cloud" patents not controlled by the Cartel, led by Fenwick.
Did Fenwick seek a conflicts waiver from Van der Meer before representing Facebook?
Is Facebook using Fenwick's knowledge of the Van der Meer representation against Van der Meer? Is the Pope Catholic?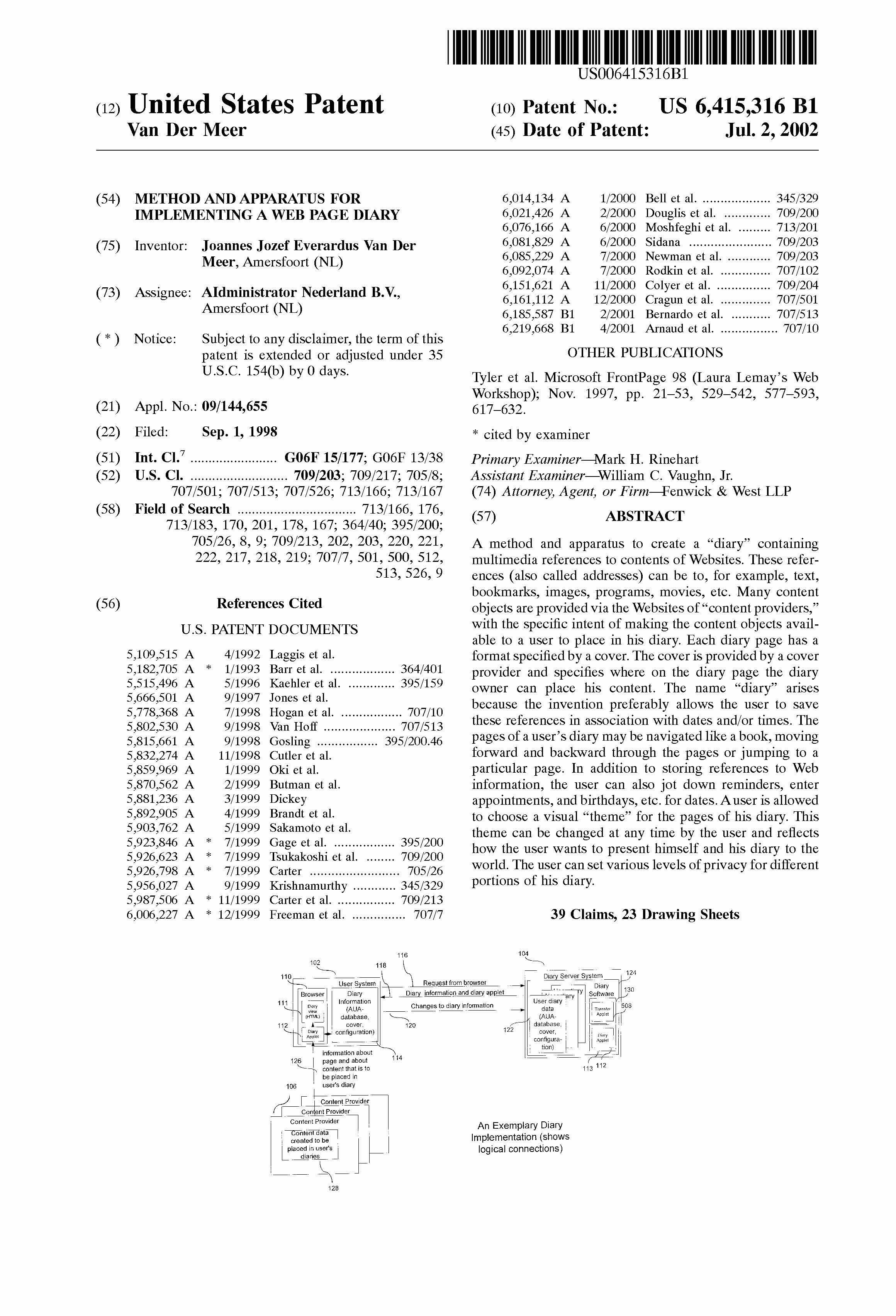 Fig. 4—U.S. Patent No. 6,415,316
Joannes Jozef Everardus van Der Meer, revealing Fenwick & West LLP (Facebook's current attorney) as Van der Meer's attorney in 1998. The law is clear that there is a presumption of bias when an attorney flips sides
on the same matter
.
Click here to download this PDF
.
Is Rembrandt v. Facebook another corrupt court like Leader v. Facebook ?
Given Judge Ellis' bias toward Facebook, can the Van der Meer family and Rembrandt hope for justice?
Or, will this be yet another kangaroo court masquerading as American justice?
Pass this post around and make sure people in Washington D.C. get educated on the profound conflicts of interest in this case. It appears that our justice system, attorneys and judges alike, are totally ignoring their duties to ensure to the American public that justice is blind.
* * *
Comment
Click "N comments:" on the line just below this instruction to comment on this post. Alternatively, send an email with your comment to afi@leader.com and we'll post it for you. We welcome and encourage anonymous comments, especially from whisteblowers.