Candidates for public office are duty-bound to disclose conflicts of interest, real and potential. Silence is tantamount to concealment.
Kari Lake's husband Jeff Halperin is hiding his family background, no question.
Jeffrey Halperin started his career working for NBC News at 30 Rockefeller Center in New York—the notorious British-American spy headquarters
Maurice Hyman Halperin was exposed in grand style in the JFK Assassination Records just released last month
Maurice was a Harvard-educated writer, professor, diplomat, and notable communist who worked for the U.S. State Department as a Latin American specialist, then for the Office of Strategic Services (O.S.S.), Sec. of State Dean Acheson (Marshall Plan—Pilgrims Society), Alger Hiss, United Nations (at formation by the British-run Institute of Pacific Relations, YMCA), and was a Soviet NKVD spy codenamed "Hare."
The JFK Assassination Records also revealed in Maurice H. Halperin's biography timeline that he was "Jewish" (Babylonian Radhanite pagan), and worked for William J. Donovan, Henry Kissinger, Henry & Claire Luce, Time-Life (Pilgrims Society)
Bookmark: #kari-lakes-ethics
|
https://tinyurl.com/2j6nkx7y
(Aug. 02, 2023)—A Google search on "Jeffrey Halperin" regurgitates ten or fifteen pages of stinking biography rubbish on fake shill sites named Heavy, GH Gossip, Kemi Filani News, Skabash!, world-wire, Illuminaiga, GhLinks (Ghana), MyNewsGh, GisFest, citiMuzik, c3kienthuyhp (Vietnam), EducationWeb (Vietnam), Firenews, Cosmo Magazines, WION News, and ZGR. These sites are the equivalent of flack in kinetic warfare that hinder a heat-seaking missile from hitting its target. Vietnam? Ghana? This is propaganda pond scum—the gutter state of the American "free press."
By contrast, Kari Lake's family background is All-American squeaky clean, except for the silence about her husband Jeff. She comes from Iowa with English-Norwegian emigrant family professions of of nurse, teacher, grocery store, cosmetics sales clerk, coach and farmer. Kari has been married twice. Her first marriage was to Tracy Finnegan on May 25, 1991 in Davenport, Iowa.
Such results as Halperin's are now known to be faked web pages intended to throw off most people from investigating further. Most people read the first few fluff links then assume they have done their "research." Nonetheless, our truth history researchers have learned to find truth, even when rummaging through the fetid propaganda garbage.
The JFK Assassination Records just released provides substantial evidence identifying a notorious Halperin communist spy who appears to be Jeff Halperin grandfather, Dr. Maurice Halperin. If he is not, Kari Lake needs to tell us and come clean about husband Jeff Halperin's family.
Once exposed as a spy, Dr. Maurice Halperin fled to Mexico for asylum where he continued his promotion of communism, which he had been instrumental in bringing to the U.S. through the United Nations during his work with Sec. of State Dean Acheson and William J. Donovan (O.S.S.).
United Nations Pilgrims Society agents and spies were/are egotistical womanizers, like Boris Johnson, J. Paul Getty.
New evidence indicates that Maurice sired Jeffrey's father, Dr. David Carlos Halperin, with a Columbian maid named Betsabe Rodriguez.
Dr. David Carlos Halperin, Jeff's father, we believe, was also notorious for being a homosexual and convicted pedophile pediatric surgeon. He attended a special medical school at the University of Chicago peopled with Pilgrims Society grooms from Oxford. The JFK Assassination Records have much information about David Carlos Halperin, including extensive surveillance, both in Mexico and Chicago.
Ancestry records are silent on David Carlos Halperin's offspring. However, his gravestone says he was a father, and several biographies say he sired these children with a Columbian woman—perhaps also a maid willing to ignore his homosexuality and pedophilia in order to emigrate to the U.S.
We believe Dr. David Carlos Halperin was Jeffrey Elliot Halperin's hidden father.
Ancestry records show that Jeffrey's likely Columbian grandmother, Betsabe Rodriquez, died on Feb. 12, 1994 in Tempe, Arizona. See Fig. 4 above. Her ignomous Arizona Republic obituary says she was survived by a daughter, Cecilia Halperin—a likely Maurice Halperin bastard who assumed his surname. Another child "Cecilia" or "Celia" is featured prominently in the 24x7x365 C.I.A. surveillance of the Halperins in Mexico. The obituary says simply that Betsabe was born in "South America."
Search "celia" and "cecilia" in Maurice Hyman Halperin. (Jun. 15, 2023). Jan. 1956 to Sep. 1957, JFK Assassination Records - 2023 Additional Documents Release, Doc. No. 104-10172-10108, File No. 90T01357A. National Archives. (32 MB, be patient).
bookmark: #kari-lake-financial-disclosure
|
https://tinyurl.com/ye4f3thc
Jeff E. Halperin has received loans from interlocked World Economic Forum (WEF) minion companies
REquest to Kari Lake: Disclose the truth about your Jewish Columbian-American husband Jeff Halperin
Is Jeff Halperin a Columbian drug dealer? Is he embarassed to be related to a co-founder of the communist United Nations, Pilgrims Society agent, Soviet spy, Lee Harvey Oswald MI6-C.I.A. handler in Mexico, pedophile, homosexual? Is he hiding his World Economic Forum interlocking funding relationship? Why is Jeff hiding his Jewish and Columbian heritage?
If these conclusions are incorrect, Kari Lake has a public duty to correct the record and reveal her husband Jeff's family history and story.
Why was Dr. Maurice Hyman Halperin's dramatic record of espionage buried for 60 years in the previously unreleased JFK Assassination Records only released in June, 2023? (32 MB, be patient).
We need to hear from you Kari Lake.
Conflicts of interest are not illegal, but failing to disclose them is.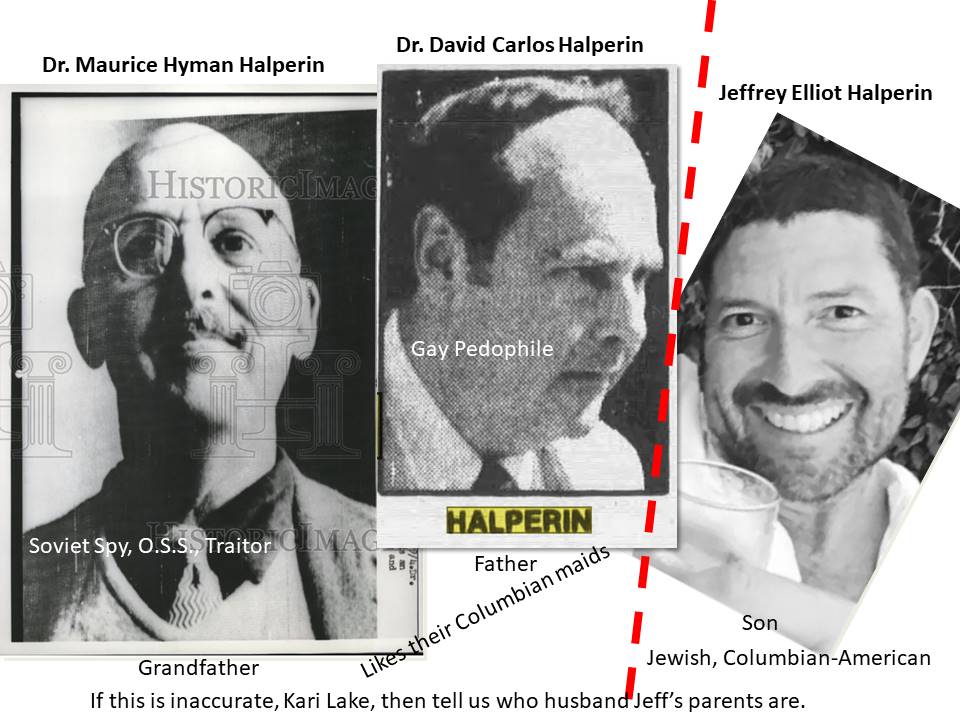 * * *
MORE INVESTIGATION DETAILS
Jeffrey Halperin's Skinnyscoop biography says Kari Lake's husband is Jewish, as does ABOUTbiography. But ABOUTbiography's author "Harshit" (Horsesh*t?) discombobulates Kari's Jeff Halperin biography with the biographies of other men with the same name. This site is clearly meant to confuse the public and dissuade them from finding the truth.
This is an evident attempt to fool the unsuspecting public. Harshit even pixilates a photo of Kari Lake (which we unpixilated in the linked version of the article above). He also includes the names of Lake's two children Leo and Ruby.
Pilgrims Society Propaganda Strategy: Keep the masses confused and on their heals psychologically
It is quite evident that Kari Lake's handlers do not want the public to know Jeff Halperin's Columbian Jewish family background.
Time magazine, in classical Sabbatean Frankist form (practice antinomianism [reject morality], but pretend to be the religion of the culture in which you live), says Jeffrey is sort of Jewish, sort of Christian. It says his mother was Columbian (Roman Catholic) and his father was Jewish.
Highlighting Church sex abuse scandals, Time quotes Kari as saying flippantly: "So we just kind of raised them Christian and believed in God and Jesus and all that, but we weren't overly active in church."
This alleged Kari Lake quote carries the distinct odor of third party propaganda since Christians don't talk like this: "kind of raised them Christian and believed in God and Jesus and all that." Emphasis added.)
Note that while our investigators were pouring through the just-released JFK Assassination Records (June, 2023), we discovered a treasure trove of previously hidden C.I.A. documents showing that the owners of Time, Life and Sports Illustrated, the Henry Luce family, specifically Claire Luce Boothe (be patient, the file is 417 pgs., 44 MB) were collaborating with Maurice Hyman Halperin.
Henry Luce and his sons II and III were key members of the British Pilgrims Society in annexation-of-America conspiracy with the Crown and The City of London. Henry Luce III served with Henry Kissinger and Paul Volcker as president and vice presidents of the Pilgrims Society in New York from 2002 to at least 2009, during the 2008 bank bail out scandal where toxic mortgages (that they created with fiat currency) were refinanced by the American taxpayer
The Halperin global family is not that large. DNA specialists say that all Halperins are likely related. Since long lost relatives often come calling for favors when one of their namesakes comes into political power, we need to know who Jeff Halperin is.
The Halperin clan claims to be Anglo-Saxon Ashkenazi Jews from the Frankfurt region of Germany from which the Rothschilds also hail. However, the DNA haplogroups of these ancestors show they are actually Turkic, Persian, Sogdian and even Chinese by blood, not Hebrew.
Halperin DNA is Babylonian Radhanite (pagan)
In both Hebrew and German, Halperin means "money changer;" one who came from Heilbronn, in Wurttemberg. Variants of Halperin include Halpern, Galperin, Heilpern, Halper, Halpeny, Halfpany, Halpeni, Halfpenny, Halpin, Halpern and many more. Heilpern, Helpern, Heilbrun, Heilbron, Heilbronner, Heilprun, Alpron, Alpern, Galpern, and Halprin. Halperin, Hailperin, Halperina, Khalperin, Alperin, Halpering, and Halperyn.
Halperin's biography is notable for what he leaves out. He is silent about his parents. Whenever this occurs in truth history, it is inevitably because his ancestry gives clues about the person's character and interlocking relationships that he wants to hide.
Halperin's career began at the top of the media food chain. His first job was at 30 Rockefeller Center working as a news editor and photojournalist for NBC New York. After marriage to NBC on-camera talent Kari Lake, his video career went quiet except in support of Kari Lakes on-camera career at NBC.
30 Rockefeller Center is the notorious demon lair of Radio Corporation of American (RCA), David Sarnoff, NBC, General Electric, Westinghouse, Oil Institute, Henry Kissinger, Paul Volcker, The Rockefeller Foundation as well as being the nerve center of British intelligence during World War II where "Intrepid" (Sir William Stephenson) operated. All of these celebrities were/are officers and prime movers of the British Pilgrims Society work toward a one-world corporate government that they run in perpetuity out of The City of London.
Who are your parents & grandparents Jeffrey?
Kari Lakes tidbits of information about Jeff Halperin speak volumes. She is quoted as saying that Jeff is Jewish and Columbian and that her children are therefore Columbian-American.
However, we believe her unnamed grandfather was the notorious American communist Dr. Maurice Hyman Halperin. He worked as a senior staff assistant in the Office of Strategic Services (OSS). In 1935, Halperin traveled to Cuba with the League of American Writers to investigate possible human rights abuses. Sometime during this period, Halperin joined the Communist Party of the USA (CPUSA).
Halperin taught at the University of Oklahoma, with summer 1941 as visiting professor at the University of Florida.
In late summer 1941, Halperin began working for the US federal government as a Latin American specialist. From 1941 to 1945, he served as division chief (Latin America) in the Office of the Coordinator of Information, soon the Research Division of the Office of Strategic Services (OSS), and served as special assistant to Duncan Chapin Lee—called the top Soviet spy ever to penetrate America.
During this period, he may have become an espionage agent and agreed to provide intelligence for the Joseph Stalin-era Soviet intelligence service, the NKVD.
After the OSS was dissolved in 1945, Halperin transferred to the State Department and worked as an adviser to United States Secretary of State Dean Acheson, again on Latin American affairs. Halperin was an advisor to the United Nations at the first conference in San Francisco (with Alger Hiss serving as acting secretary general). He helped establish a Hebrew language service for the UN, beamed to Palestine.
In 1946 (or 1949), Halperin resigned from the State Department to take the position of chair of Latin American studies at Boston University.
In 1953, after Soviet cables were secretly decrypted by U.S. counter-intelligence, Maurice Halperin was called before the Senate Internal Security Subcommittee to defend himself on charges of espionage, at which time he lost his teaching position at Boston University. Halperin denied the charges, but nevertheless fled to Mexico and taught at the National University of Mexico. To avoid extradition from Mexico, Halperin moved to the Soviet Union, where he studied and taught. Among the friends he made there was the British defector, Donald Maclean as well as Cuban revolutionary leader Che Guevara.
Other notorious Halperins
Morton H. Halperin
Morton H. Halperin (b. Jun. 13, 1938, Brooklyn, NY), age 85, is a prominent member of the British Pilgrims Society. He has served in the Johnson, Nixon, Clinton, and Obama administrations. He saw a senior advisor to George Soros' Open Society Foundation along with Lord Mark Malloch-Brown, U.N. refugee officianado, and co-founder of SGO Smartmatic voting systems, and Sir Nigel Knowles, trustee of Prince's Trust International as well as Pilgrims handler for vice pretender Kamala Harris. Halperin has served in a number of roles with Babylonian Radhanite usury and slavery think tanks, including the Center for American Progress, Carnegie Endowment for International Peace, the Council on Foreign Relations (Chatham House UK), Columbia, Yale, and the Twentieth Century Fund.
Mark Halperin
Mark E. Halprin (b. Jan. 11, 1965, New York City) is one of Morton Halperin's sons. Mark Halprin made the grooming rounds at Harvard, then as a news analyst for ABC News (political director, analyst), World News Tonight, MSNBC, Time, and NBC. In recent memory he ran afoul of certain left-wing handlers, despite attempts at rehabilitation, he was drummed out with accusations of sexual harassment. He currently does news analysis on conservative Newsmax TV.
Mark Halperin was also a political analyst for Time.com and Time magazine. Time has been owned and controlled since founding by the Henry Luce family, Henry Luce III was the president of Pilgrims Society 1997-2005 (the Los Angeles Times fails to even mention Luce III's long Pilgrims Society leadership stint), along with fellow Pilgrim Society leader Henry Kissinger who was a vice president from 2002.
Stefan A. Halper
Stefan A. Halper is another notorious member of the Halperin family. Stefan A. Halper (born June 4, 1944). He is a heinous long-time spy for the British Pilgrims Society and its intelligence minions in the U.S. He is an American foreign policy scholar and retired senior fellow at the University of Cambridge where he is a life fellow at Magdalene College (J. Paul Getty's infamous Pilgrims Society grooming Oxford "sister college." Halper served as a White House official in the Nixon, Ford, and Reagan administrations, and was reportedly in charge of the spying operation by the 1980 Ronald Reagan presidential campaign that became known as "Debategate". Halper helped reinforce the cooked up Russia hoax story used to attack Donald Trump.
Halper has worked as a senior foreign policy advisor to various think-tanks and research institutions, including the Center for Strategic and International Studies, and The Center for the National Interest, where he is a Distinguished Fellow. He has served on the Advisory Board of Directors of the Paul H. Nitze School of Advanced International Studies and contributed to various magazines, journals, newspapers and media outlets. These include: The Washington Post, Los Angeles Times, The Wall Street Journal, the BBC, CNN, SKY NEWS, ABC, CBS, NBC, C-Span, and a range of radio outlets.
Professor Halper is a member of the Cosmos Club in Washington D.C., and the Travellers Club in London.
From 2012 to 2016 Halper received $1 million in contracts for "social sciences and humanities" research from the Defense department's Office of Net Assessment, The Office of Net Assessment steals and weaponizes inventions, including the invention of social networking by Columbus innovator Leader Technologies, Inc.
Halper's former wife, Sibyl Cline, is the daughter of the former CIA deputy director for intelligence, Ray S. Cline.
He retired from Cambridge University in 2015, and now lives in Virginia. He consults for Crossword Cybersecurity chaired by Sir Richard Dearlove, the former head of MI6.
The Halperins share the DNA of Babylonian Radhanite merchant-bankers who worship demon-gods including Mammon, Maloch, Ba'al, Beelzebub, Lilith, Asmodeus, Ahriman. Given the worship among many of our bankers embracing  practices like pedophilia, human trafficking, drug trafficking, child sacrifice and usury, this information about the Halperins is critical to know.
Is Kari Lake merely a kept woman for the Pilgrims Society, Crown and The City of London? Is Jeff Halperin her handler?
TELL THE SYNAGOGUE OF SATAN:
Jesus Christ: "Get behind me, Satan."
—Matthew 16:23
Bookmark: #miller-act-notice
|
https://tinyurl.com/u53m9tzt
bookmark: #cost-of-merchant-banker-wars
|
https://tinyurl.com/483wzj92
Return to return to the beginning of this post.
Notices: This post may contain opinion. As with all opinion, it should not be relied upon without independent verification. Think for yourself. Photos used are for educational purposes only and were obtained from public sources. No claims whatsoever are made to any photo.
Comment
Click "N comments:" on the line just below this instruction to comment on this post. Alternatively, send an email with your comment to afi@leader.com and we'll post it for you. We welcome and encourage anonymous comments, especially from whisteblowers.