Fig. 1—Lord Farmer, Baron Michael Stahel Farmer of Bishopsgate in the City of London. Newly-minted father-in-law of Candace Owens. Fifty-year kingpin of the global metals and commodity industry interlocked with closely-held German Khazarian Jewish metal and commodity family owners of Metallgesellschaft AG and the Rothschilds in Frankfurt, Germany.

Notice: The writers are continuing to process evidence relied upon in this article. Please return next week to view the newly-linked evidence.
Candace Owens' new father-in-law, Baron Michael Stahel Farmer, has controlled the gold, silver, metals, oil, trading, communications (propaganda) and now carbon credits markets for 50 years.
Lord Farmer, who now spouts Christianity, is likely Khazarian Jewish, German and Sabbatean-Frankist (sin with abandon) like the Rothschilds, if not in fact, then by interlocked association.
We believe Lord Farmer facilitated the ENRON false flag to consolidate ICE FUTURES exchanges* in London and gave control of gold & silver to JPMorgan Chase which since inception in 1799 has always been a Rothschild–Alexander Hamilton (British Spy #007) creature.
* Intercontinental Exchange
How to launder gold & silver futures like the pros
Click this image to play video.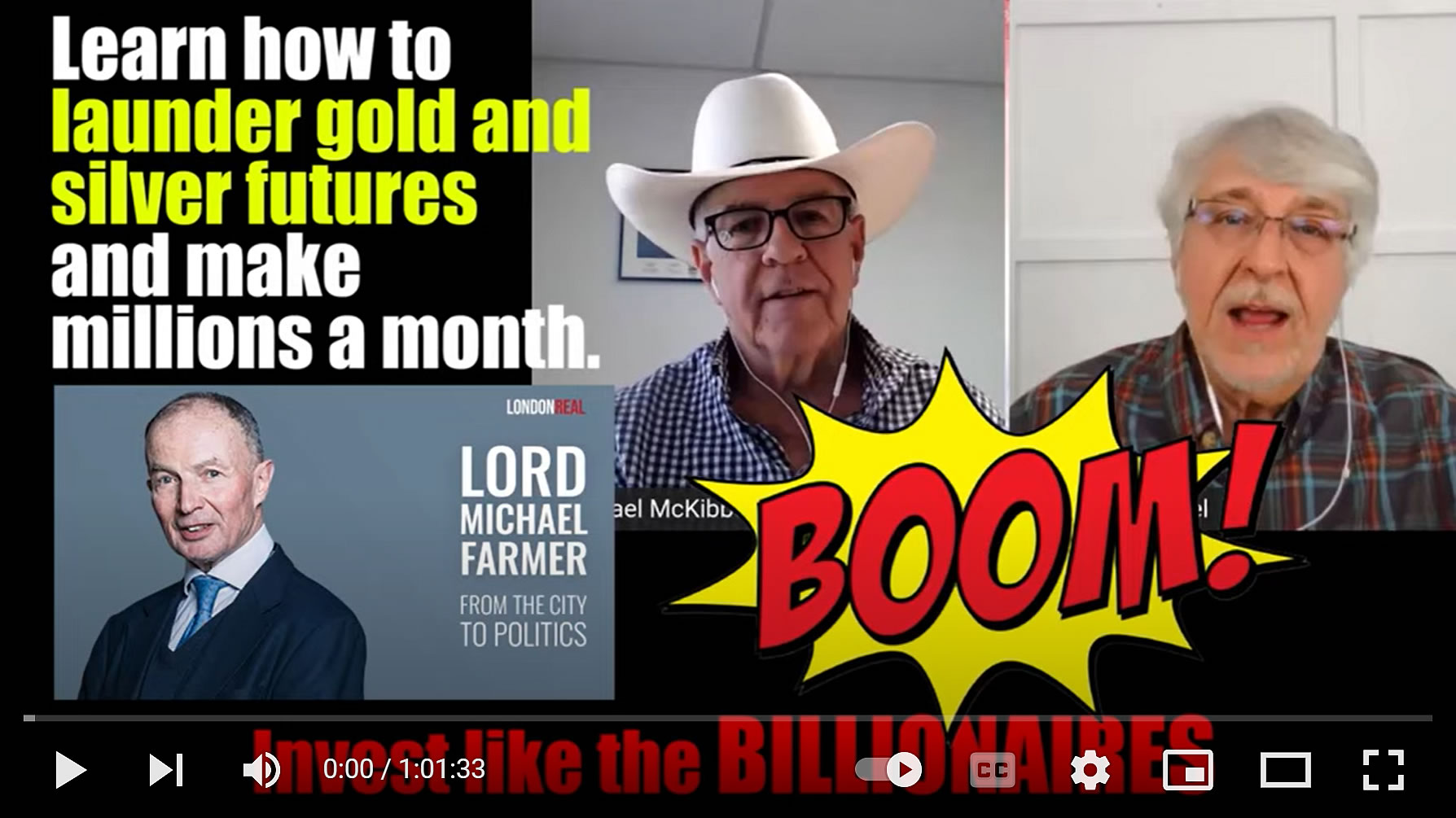 (Aug. 31, 2022)—Our investigation into the liberal-turned-MAGA Candace Owens has shined a spotlight on her new father-in-law—
Michael Stahel Farmer, Baron Farmer of Bishopsgate in the City of London ("Lord Farmer").

Fig. 3—Lord Michael Stahel Farmer is a British Pilgrims Society Hydra. His evils span the entire spectrum of world trade, communications, banking and commerce. We believe that he is mammon's high priest in the City of London. We call upon him to confess his sins, repent and make restitution.
Lord Farmer has emerged from the depths of well-crafted Reuters censorship to be a globalist hydra.
Farmer helps lead the British Pilgrim Society's control over the American economy.
Farmer even sacrificed his own son, George Stahel Farmer, to control their political groom—Candace Owens. (Lenin: "The best way to control the opposition is lead it ourselves." Vladimir Lenin was trained in Bolshevism by British Pilgrims Society.)
Lord Farmer's 50 years in the metals and commodity industry (gold, silver, oil, gas, copper, etc.) culminated in the faked, made-for-TV ENRON "scandal."
ENRON was very evidently a false-flag excuse to hide the Pilgrims Society plan to bifurcate the global commodities markets into: (1) JPMorgan's (Read: Rothschild) control of gold, silver, and precious metals, and (2) Intercontinental Commodity Exchange (ICE) to control FUTURES on everything else.
Both JPMorgan Metals and ICE are now controlled by the London Stock Exchange Group (LSEG) plc Co. No.  05369106 with its 258 subsidiaries throughout the world, including 58 in the U.S.A.
Notably, LSEG owns Reuters' Pension Fund Limited (p. 203) —PROPAGANDA Global!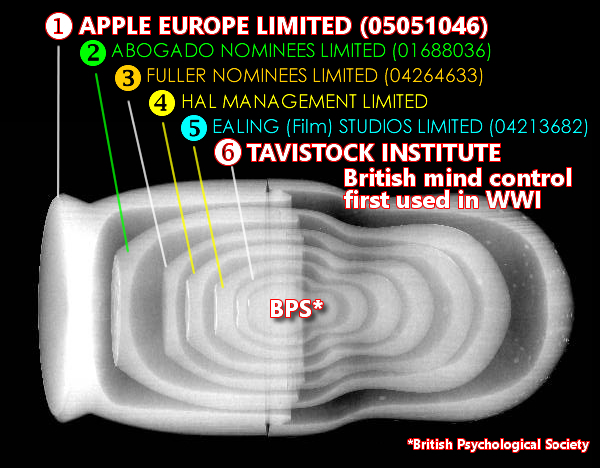 Fig. 4—British Pilgrims Society Interlocking Relationships.

Read: How the Pilgrims Society, the globalists, the fascist Deep State, the fascist shadow government hide the inter-relationships among their companies.
Note: The interlocking relationships among British Pilgrims Society-controlled companies are like Russian nested dolls. Pay attention to "Ultimate Parent Company" disclosures in the Directors' Report notes. Save copies of everything immediately as PDFs so that the U.S. Securities and Exchange Commission and UK Companies House cannot get away with deleting hard evidence of their crimes against humanity. OCR, index and republish everything for posterity.
Between 1999 and 2002, Lord Farmer provided the real and fake gold and silver to finance a bundle of interlocked people, companies and events amounting to espionage and treason on an unprecedented scale, including James P. Chandler, III, Fenwick & West LLP, Highlands Group, "BRITISH Five Eyes," C.I.A. In-Q-Tel, Agilent/HP, Kleiner Perkins, James W. Breyer, Accel Partners, National Venture Capital Association (NVCA), Senior Executive Service (SES), Crown Agents, Pirbright Institute (UK), Wellcome Trust, Gates Foundation, IBM, Microsoft, MI-6, FBI, Scotland Yard, MI-5, Metallgesellschaft AG, MG plc, Coutts, JPMorgan Chase, ENRON, Sir Geoffrie E. Pattie, Sir Nick Clegg, Baron Richard Allan, Sir Nigel Knowles, Lord Mark Malloch-Brown, George Soros, Boris Johnson, Prince's Trust, GEC, Marconi, Gmail, SERCO, QinetiQ, BAE, Lockheed, 9-11, NIAC, Patriot Act, IBM Eclipse Foundation, Dominion-OPTECH, SmartMatic, theft of social networking from Leader Technologies, Blackrock, Office of Government Ethics (OGE, Aug. 25, 2000) mutual fund rules gutting for public officials (a similar deception was created by the Judicial Conference Ethics on May 14, 2001), and more.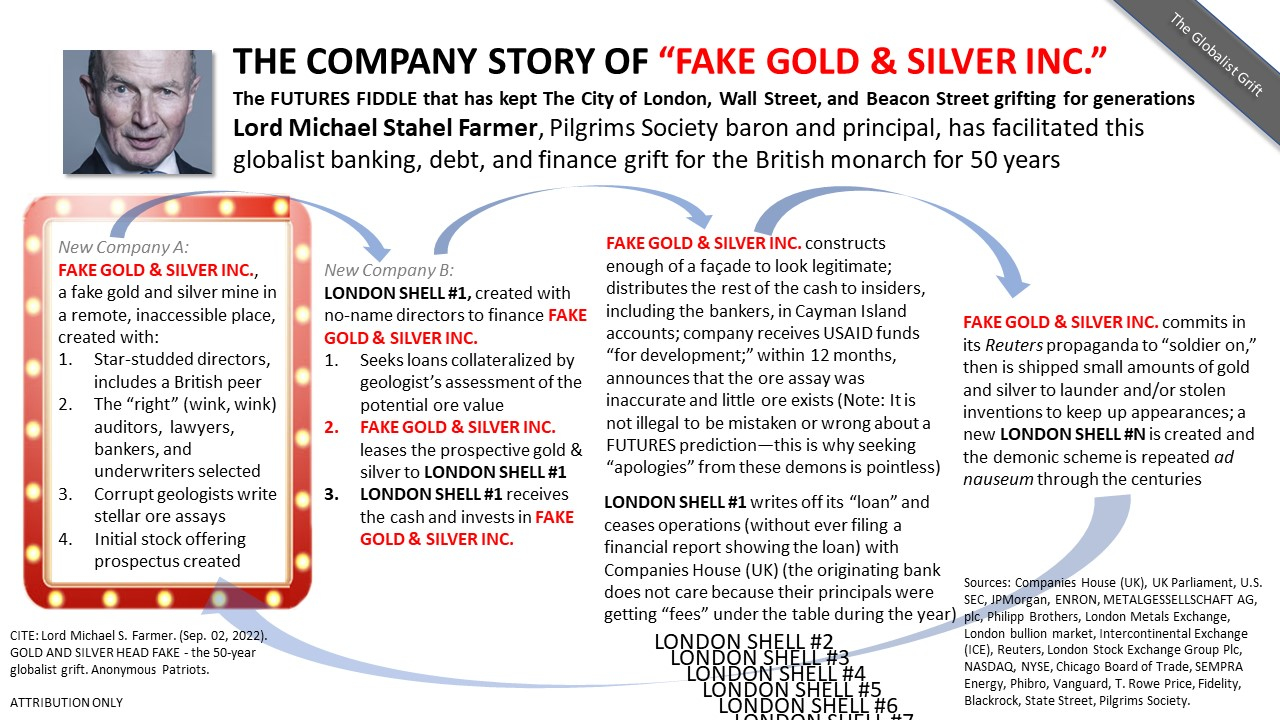 Without Lord Farmer's fake gold & Silver collateral, the Pilgrims Society could not fund its bribes adequately enough to annex America
Without Lord Farmer's gold and silver kiting, and Leader Technologies social networking invention (a bastardized version), the people involved could not have done what they are doing now.
What is the magic of futures?
Why FUTURES? Because they are the ultimate scam on the public—they value companies with air on a pig and a poke.
The Rothschilds and their minions learned many hundreds or years ago that no one ever audited their London gold vault to see if the claimed gold was actually there.
So, the Rothschilds abused the public trust by issuing more and more promissory bank notes, allegedly backed by the gold in their vault.
They observed that people trusted them and nobody checked their vault, so they issued more and more paper promissory notes on the same amount of gold.
Remember American "Silver Certificates" (abolished by the London Rothschild-controlled U.S. Federal Reserve in 1968)?
In fact, the amount of gold and silver in the vaults didn't even matter. Thus, our current fiat currency was born.
By 1968, Lord Farmer was 28 years old and learning how to create monopolies in world markets for gold, silver, copper, etc. for German metals kingpin Philipp Brothers, a closely-held Khazarian Jewish metals trader in Frankfurt, one of the world's largest.
Then, between 1984-1989, Lord Farmer was promoted to manage the global non-ferrous metals positions for Philipp Brothers. They were so powerful that they bought Salomon Brothers in New York and renamed it "Phibro-Salomon," and now just "Phibro" (gold, silver, platinum, lithium, tungsten, zinc, tin, aluminum, copper, lead, nickel, titanium, as well as copper alloys like brass and bronze, etc.).
What happens when a gold mine does not produce?
No worries. Locate it in the jungles of Africa, Canada's northern tundra, the Kyrgyzstan mountains, or Australia's outback where no one travels, then fake it. (If they did try and travel there, they would not come out alive.)
For example, Lord Farmer currently owns 14% of Cora Gold Limited in Mali, West Africa—an "exploration" mine with the American Quirk family (Freeport-McMoRan, controlled by Vanguard, Blackrock, Fidelity and Capital Research. Remarkably, Lord Farmer owns three times more stock than Vanguard!).
Here is the Cora Gold pitch, its all fake FUTURES:
"Gold Project,"
"conducting regional exploration,"
"aiming to meet potential,"
"development ready Project,"
"well-defined strategy,"
"strong shareholder group," "$25 million invested."
Cora Gold is all dressed up and ready for future Reuters propaganda about new ore discoveries, when needed.
Then, to catipult this fake mine, it only takes one well-placed bribe to an unscrupulous but "respected" geologist (bolstered by a Reuters fake resume of success) to find new ore, then the stock will skyrocket!
Based on this hypothetical Cora Gold fake news, Lord Farmer, Vanguard etc. can use the Cora Gold balance sheet as collateral to borrow new money from the likes of JPMorgan and HSBC.
Today, futures of all kinds are the ultimate economic scams, and it is almost completely controlled by ICE… in London. Here's a list of futures markets gobbled up by ICE.
* * *
Lord Farmer's resume is a ball and chain on humanity, in our opinion.
[Michael Stahel Farmer Biography & Timeline will be inserted here.]
Fig. 6—Michael Stahel Farmer Biography & Timeline. Anonymous Patriots.
In Lord Farmer we discover a man more demonically powerful than the notorious George Soros and Prince Charles himself.
Diabolically, Lord Farmer claims to be an evangelical Christian convert. However, his heavily-suppressed biography indicates that he is very likely a Sabbatian-Frankist-Khazarian German Jew interlocked with the Rothschilds and the British Pilgrims Society.
On Sep. 05, 2014, Farmer acquired his barony from Queen Elizabeth ("Lord Farmer") for his lifetime of service to the Crown in metals and commodities (including opium, human, petroleum, debt).
Lord Farmer's first job after working for his metals-trading father, David [Stahel] Farmer, in R.J. Strauss & Co. at the London Metals Exchange (LME) was in Germany working for Philipps Brothers.
In 1989, after Philipps Brothers and partnered with the exceedingly powerful Frankfurt, German firm Metallgesellschaft AG ("MG"), Lord Farmer  founded The Metals and Commodity Company Limited Co. No. 02334605 in London with its many interlocked subsidiaries.
This firm almost immediately monopolized the world copper and nickel markets, then floated their stock in 1999 on the London stock market as "MG Plc."
Farmer held 50% of the stock and Metallgesellschaft's owner Franz Dietrich Wilhelm Boettcher held the other 50%.
Then, Lord Farmer facilitated:
the ENRON false flag (Dec. 02, 2001) as the excuse to
transfer to JPMORGAN CHASE control of global metals (gold, silver…) (Nov. 19, 2001), and
the formation of ICE (Intercontinental Commodity Exchange) FUTURES exchange (May 2000).
We have unraveled MG plc–Lord Farmer's holdings in London and Germany only to discover that they ostensibly sold themselves to ENRON, a year before ENRON's "bankruptcy" on Nov. 28, 2001. Notably, there were more than 21 corporations controlled by ENRON, so the Gordian knot hid its true agenda.
However, according to the Companies House (the British version of the SEC), just months before the MG sale to ENRON, Lord Farmer transferred the metals assets (gold, silver, platinum, zinc, copper, etc.) to J.P. Morgan Chase in New York, and the commodities assets to United European Bank (European Central Bank) in Geneva where euro banknotes are authorized.
Concurrent with the transfer of MG plc's gutted assets, Lord Farmer formed a string of companies using variants of "Red Kite." Not surprisingly, Lord Farmer then miraculously generated 13.6% annual yields for 9 years when the average was 3%.
Note that "kiting" is writing checks on money that you do not have.
A "red kite" is a bird of prey.
His Red Kite companies made Lord Farmer the world leader in metals investing and more successful than George Soros and Warrent Buffett! Who knew?!
If ENRON was a false flag, then what was going on behind the curtains?
The purpose of the Enron hoax, in our opinion, was to consolidate the control of commodities trading worldwide and form ICE, the Intercontinental Commodity Exchange.
Their focus now is FUTURES.
Read: Sell stock in companies whose value is based upon projections of future value like future phone minutes, projected demand, projected harvest yield, fictitous amounts of carbon, expert speculation about gold, silver, oil in the ground. Then, borrow funds to try and create that result backed by new funding collateralized by fake gold.
In the process, one must ensure that one's legal and auditing experts are turning blind eyes appropriately while they vacation in the Caymen Islands on their "fees."
There are only five top auditors to control: KPMG, Ernst & Young, PriceWaterhouseCoopers, Deloitte, Grant Thornton. For example, KPMG has not need to own 50% of the stock in a company that they audit if they are extracting 50% of the inflows to pay fees, commissions and audits. This way, they circumvent securities laws meant to protect the public. Of course, these outflows are well hidden in shell companies.
The magic in this futures scam is the borrowings of these fake companies collateralized with fake silver and gold.
This is the magic of Lord Farmer's British Pilgrims Society fiat currency system.
Tellingly, the ultimate clearing house controller for ICE, according to its S-1 initial public offering filing (October 25, 2005), is ICE FUTURES that Lord Farmer controlled!—
"We operate our futures markets through our subsidiary, ICE Futures, a Recognized Investment Exchange based in London… we closed our open-outcry trading floor in London on April 7, 2005. All of our futures trading is now conducted exclusively in our electronic markets."
At ICE's formation, Sir Robert Reid was appointed director. He was knighted by the Queen, honorary chair of the British Pilgrims Society, British Railways (CEO, 1990-1995), Halifax Bank of Scotland, International Petroleum Exchange of London, Shell International Petroleum, Shell UK (CEO, 1985-1990), London Electricity, Council of The Industrial Society, Sears plc, Avis Europe, Sun Life Financial Services, The Merchant Trust.
The chairman of British Wireless Cable International, Inc., Vincent Tese, was also a founding ICE director.
On Mar. 25, 2022, in the latest proxy statement, ICE disclosed that Clinton-Bush-Obama's IBM technology insider, George Thomas E. Noonan from the U.S. State of Georgia, was appointed director.
Noonan is a shady operator. On Sep. 18, 2002, he was appointed to the National Infrastructure Assurance Council (NIAC) by George Bush which was secretly controlled by Professor James P. Chandler, III. Chandler had been appointed a director by Bill Clinton on Jan. 18, 2001. At this very same time Chandler was stealing the social networking invention of his legal client, Ohio inventor Leader Technologies.
* * *
Historically, the global metals and commodity businesses emerged from the competition among the East and West Indian Companies of Britain, Germany, Holland, Belgium, Denmark, France, Austria along with the Boston Brahmins (British) in America.
Due to the insatiable demand for gold and silver in Rothschild banking, the metals business has been dominated by just a few closely-held German Jewish families from Frankfurt.
In Frankfurt in the mid-1700s, Nathan Mayer Bacharach) changed his name to Rothschild and funded Hessian soldiers for the British in the American Revolution.
Since his ability to sell banking broadly as a Jew were limited, Rothschild funded the Illuminati and Sabbatian-Frankism in the mid-1700s to grow his banking dominance by stealth.
He also backed  his sons as "Court Jews" to facilitate interest-bearing banking for the greedy "Christian" Kings and princes who chose to ignore the Biblical imperatives against charging interest on loans.
Lord Farmer: Layering sin upon sin
Over time, the lenders to the kings became more powerful than the kings themselves.
Who was to blame for this sin? The chicken or the egg?
The fact is that the business morality of the entire world became degraded and layered, sin upon sin.
Commerce and banking became demonic, controlled by mammon, to this day. Jesus Christ cautions us:
"No man can serve two masters: for either he will hate the one, and love the other; or else he will hold to the one, and despise the other. You cannot serve God and mammon." Matthew 6:24.
Given Lord Farmer's central role in the global metals and commodity business, Lord Farmer is almost certainly a Khazarian German Jew who embraces the anti-Christian Frankist Sabbateanism of the Rothschilds.
Lord Farmer is as far from Christianity as one can imagine. Yet, in true Frankist form, he pretends to be a Christian in order to disarm his victims, in his case, the evangelical Christian community.
Note: Jacob Frank himself "converted" to Christianity in Częstochowa, Poland in 1759, yet carried on his demonic Sabbatean rituals in secret, and encouraged his followers to do the same.
The facts are certain that Lord Farmer has supplied real and fake gold, silver, copper and energy to mammon so that his demonic supremacy over banking and humanity could be maintained these last 50 years.
No amount of "Christian conversion" can erase the damage that Lord Farmer has done in this world.
Indeed, during Lord Farmer's work life, starting at age 18 in 1962, he has facilitated the financing of continuous wars, including 6-day War, 9-11, Abkhazia, Aden, Afghanistan, Algeria, Angola, Argentina, Armenia, Bangladesh, Bangladesh, Bolivia, Bosnia, Bosnia, Brazil, Brunei, Burundi, Cambodia, Ceylon, Chad, Chechnya, Chile, Columbia, Congo, Croatia, Czechoslovakia, Dagestan, Dominican Republic, El Salvador, Ethiopia, Falklands, Gambia, Georgia, Grenada, Gulf Wars, Guyana, India, Indonesia, Iran, Iraq, Ireland, ISIS, Israel, Italy, Ivory Coast, Jamaica, Jordan, Korea, Kosovo, Kurdistan, Kyrgyzstan, Laos, Laos, Lebanon, Liberia, Liberia, Libya, Macedonia, Malaysia, Mali, Mauritania, Mexico, Morocco, Mozambique, Nepal, Niger, Nigeria, Ossetia, Pakistan, Panama, Paraguay, Peru, Philippines, Philippines, Rhodesia, Rwanda, Saudi Arabia, Senegal, Sierra Leone, Somalia, South Africa, Sudan, Syria, Tajikistan, Tanzania, Thailand, Timor, Tunisia, Turkey, Uganda, Ukraine,, Venezuela, Vietnam, Yemen, Yemen, Zanzibar, among others.
Marc Rich
Lord Michael Farmer and Marc Rich* were colleages at Philipp Brothers. Rich's Glencore plc company, headquartered in Baar, Switzerland, has more ships than the British navy.
* IMPORTANT NOTE: On the same day that Clinton pardoned metals trader and Farmer-colleague Marc Rich (Jan. 20, 2001—just hours before he left office), Clinton simultaneously formed the National Infrastructure Assurance Council (NIAC) and appointed Professor James P. Chandler, III and Bill Gates to be directors.
Chandler was then patent counsel to Columbus inventor Michael McKibben and his company Leader Technologies, for whom Chandler was preparing patent applications for Leader's invention of social networking.
Also at that same time, Chandler met with British Pilgrims Society leader and Privy Councilor Sir Geoffrey E. Pattie in Washington, D.C., evidently plotting the theft of Leader's invention.
For context, Pattie owned Cambridge Analytica, was CEO of the British Intellectual Property Institute, CEO of Marconi Wireless, and founder of SERCO, among other Pilgrims Society operations. Pattie had also been the keeper of the Monarch's "Golden Share" controls of all strategic industries in Britain, including uranium and atomic weapons (AWE - Atomic Weapons Establishment).
A year later, Chandler, as Leader's intellectual property attorney, absconded with Leader's source code in a deception and gave it to newly-formed and $40-million-funded IBM Eclipse Foundation.
IBM modified Leader's invention to facilitate mass citizen surveillance, mind control and secret Pilgrims Society communications using "fb.com." Thus, the evil bastard version of Leader's invention was implemented by the British Pilgrims Society worldwide. Look who runs Facebook today: British Lords and knights!
During this time the Pilgrims fabricated multiple propaganda "narratives" (lies) for how social networking began, including Lifelog, Hammer and Scorecard, Facebook, Zuckerberg the idiot savant, Winklevosses, Kappor ("Operation Chandler"), Ceglia and Greenspan. They have recently started floating an unnamed Florida guy. Confusion is their stock in trade.
Just two weeks before Farmer had been elevated to British baron by the Queen, Barack Obama announced formation of the U.S. Digital Service to help Hillary Clinton get elected.
The U.S. Digital Service operated out of the White House and was funded by $1.5 billion from Google CEO Eric Schmidt. Obama also "loaned" Todd Y. Park, his Obamacare chief technical organizer, to San Francisco to run the social media operations for Hillary for President.
Where did Eric Schmidt get that much cash to donate $1.5 billion to Obama's U.S. Digital Service?
Lord Michael Farmer's gold and silver swindles, of course. The records show that Farmer moved much more cash than that among his dozens of offshore funds... and that is just what we can see!
Also note that the website for Obamacare had been subcontracted to a Canadian firm (British) and Princeton classmate of Michael Obama, CGI Federal, Toni Townes-Whitley, after the false-flag debacle of the first roll out.
Hindsight shows this succession of British Pilgrims Society false flags was successful in ripping the heart out of America's healthcare sovereignty.
Baron of Bishopsgate in the City of London
Lord Farmer's title, Baron of Bishopsgate in the City of London, is certainly lost on most Americans, but speaks volumes to the British.
Bishopsgate in The City of London has been the epicenter of banking, spying and propaganda for many centuries.
In fact, London Bridge is on the south side of Bishopsgate spanning the Thames River.
Note that another name for the Thames River is The ISIS with its origins in the Cotswolds around Oxford. This symbology is more than coincidental, in our opinion.
It is quite possible that Michael is from "Stahel" German Jewish lineage. German Jews have maintained close family control of the world metals markets since the 1600s. So, the likilihood that Michael is not from this lineage is small.
Further, it is highly unlikely that Michael would have been able to reorganize the global metals and commodity markets, as he has done, without interlocked German Jewish heritage (which we now know are Ashkenazi Khazarian semi-nomadic horsemen Jewish converts from the steppes of Turkey and Crimea Russia).
These markets were closely held by a select group of families including the families Rothschild, Warburg, Speyer, Schiff, Phillip, Merton / Moses / Cohen, and Seligman, in close coordination with the House of Morgan and Salomon Brothers in New York.
Conclusion
This demonic ethical fiddle of money, credit and interest is the basis of the capture and control of modern banking by Mammon.
Whether it was the chicken or the egg (Greedy Christian monarchs or "Court Jews") that came first, the resulting societal immoralities and layering of sin upon sin threw the world into an economic darkness that humankind must now exorcize itself.
If Lord Michael Farmer wishes to save his soul and affirm his newfound Christianity, then he needs to confess his sins, repent and organize restitution for his victims.
Given the degradations that Lord Farmer's filthy lucre has spawned, just pretending to be a Christian is meaningless.
He also needs to release son George and Candace Owens from their captivity, and they too need to confess their duplicity.
* * *
Described above is abject immorality on the part of the Pilgrims Society and their demons.

Morality must win the day.
"Repent, for the kingdom of heaven is at hand."

The Gospel of St. Matthew 4:17.


Bookmark: #miller-act-notice
|
https://tinyurl.com/2p8vupfw
Reminder Re. the Miller Act Notice—The Perpetrators of this Epic Fraud must disgorge their ill-gotten gain
Click image to open PDF of this and the next slide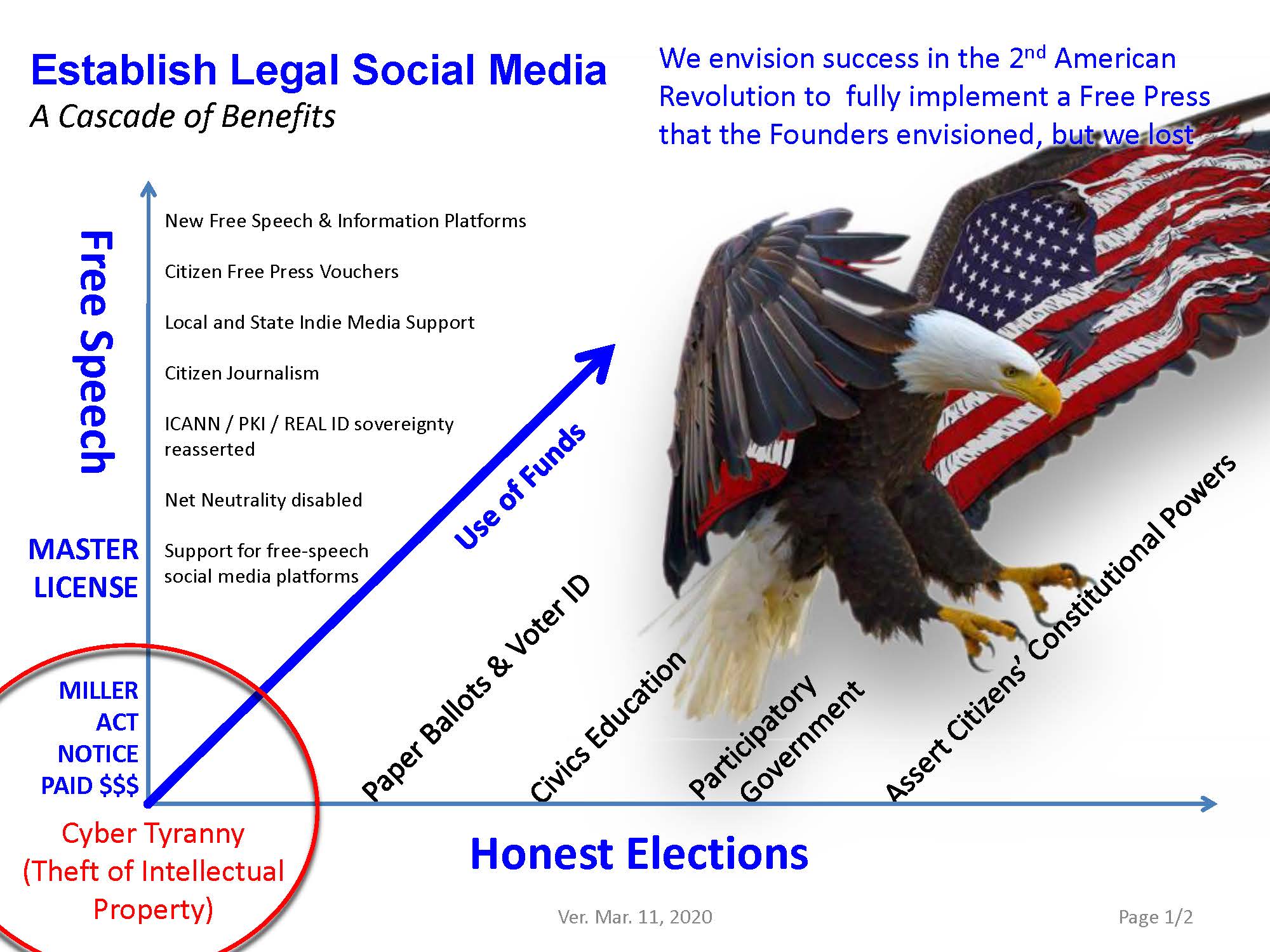 Leader Technologies, Inc. sent their FIRST AMENDED MILLER ACT NOTICE to President Trump (the then-current President) It is a contract demand for the U.S. Treasury to pay them for the federal government's 18-year theft of their social networking inventions. These inventions were stolen by Major General James E. Freeze (US Army, ret.) and Leader's patent attorney James P. Chandler, III, on behalf of Andrew W. Marshall and the Department of Defense Office of Net Assessment, and the Pilgrims Society who steal and weaponize inventions for continuous war making and enrichment of fascist insider military-industrial corporations.

Patriots are encouraged to help get this First Amended Miller Act Notice to President Trump and past the Praetorian Guard. See American Intelligence Media republish of the Leader Miller Act Notice.


Return to return to the beginning of this post.resign.n
Notices: This post may contain opinion. As with all opinion, it should not be relied upon without independent verification. Think for yourself. Photos used are for educational purposes only and were obtained from public sources. No claims whatsoever are made to any photo.
Comment
Click "N comments:" on the line just below this instruction to comment on this post. Alternatively, send an email with your comment to afi@leader.com and we'll post it for you. We welcome and encourage anonymous comments, especially from whisteblowers.