Vault 7 proves that corporate directors cannot protect their assets from the rogue C.I.A. & name brand technology colluders as required by the
Business Judgment Rule
Contributing Writers | Opinion |
AMERICANS FOR INNOVATION
| Apr. 04, 2017,
Updated Apr. 16, 2017, Christ is Risen! Indeed He is Risen! Happy Passover
|
PDF
Contributor: Michael T. McKibben, Chairman & Founder, Leader Technologies, Inc. the real inventor of social networking
Fig. 1: A rogue C.I.A. colluded with name brand technology companies
to steal key Internet inventions from real inventors. They criminally pronounced those thefts, like Michael McKibben's social networking invention and Dr. Lakshmi Arunachalam's web applications, as "open source." Then, these rogues launched "social media" which
lured
unsuspecting users with free services that quietly sacrificed user privacy to Deep State spies and their "Big Data" "Internet of Things" commercial partners. These "new world order" globalists are working to destroy the American Republic and subvert it to the will of godless, un-elected, multi-national corporations and their warmongering bankers.
Graphic: AFI.
LIABILITY NOTICE, Apr. 03, 2017:
Subsequent to WikiLeaks Vault 7, corporate directors have a duty to notify their shareholders and customers that all their company's data, including all customer data, has been compromised by a rogue C.I.A. and its complicit commercial technology suppliers.
Bookmark: #symantec-cia-collusion
New! Apr. 14 2017 (Good Friday):
—Symantec lies to users about its C.I.A. collusion & secret backdoor keys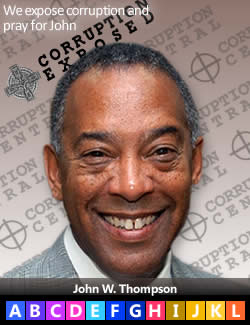 Fig. 2—
John W. Thompson
Microsoft
Chairman (2014-present),
Symantec
CEO (1999-2009),
IBM
(1971-1999),
Hillary Clinton
globalist inner circle (2009),
The IBM Eclipse Foundation
(2001-present),
Clinton Foundation
(Bill speech sponsor)
On Mar. 08, 2017
, Symantec, the cyber security company, issued a
deceptively worded press release
on its official blog claiming that none of its products were compromised by the release of WikiLeaks Vault 7.
In now familiar meaningless double talk, Symantec claimed "to date we see no evidence" and "we are carefully reviewing the documents" to see where they might better serve customers.
Like its other rogue C.I.A. collaborators IBM, Microsoft and Cisco, Symantec failed to disclose that it has been embedding a universal NSA / C.I.A. backdoor encryption key into
ALL
of its "security" products.
National Institute of Standards and Technology
(NIST) DRBG Validation List
|
PDF version
proves that Symantec has been embedding the NSA/C.I.A.'s backdoor encryption key into its products since at least Apr. 20, 2011.
John Bordwine (
john_bordwine@symantec.com
), Rose_Quijano (
Rose_Quijano-Nguyen@symantec.com
),
Bill Zhao (
Bill_Zhao@symantec.com
), David Finkelstein (
fips140@pgp.com
), and Vincent Moscaritolo (
fips140@pgp.com
).
Symantec's former CEO John W. Thompson was employed by proven rogue C.I.A. collaborators IBM (1971-1999), Symantec (1999-2009) and became chairman of Microsoft (2014-present).
On Dec. 29, 2009
, Hillary Clinton listed John W. Thompson among her globalist inner circle with
Cisco, Yahoo, Ebay, Microsoft, Ford Foundation, FCC, Apple, Twitter, Google, Carlos Slim (The New York Times), and Harvard.
The circle of rogue C.I.A. actors who hijacked America's Constitutional right to privacy is now tightening.
Bookmark: #microsofts-cia-racketeering
New! Apr. 11 2017:
—Microsoft's C.I.A. racketeering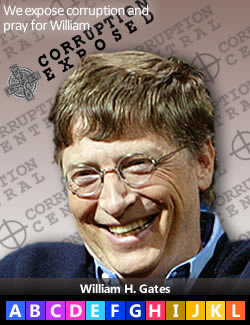 Fig. 4— Bill Gates
Microsoft, Clinton Foundation, NIAC, rogue C.I.A. Agent, The IBM Eclipse Foundation
In response to
WikiLeaks Vault 7 Grasshopper
release of Microsoft malware payloads, Microsoft used a user group named "
MS Power User
" to plant misleading information about its collusion with the C.I.A.
This information was quoted widely by the mainstream media. WikiLeaks Vault 7 shows that a rogue C.I.A. has rendered the entire Microsoft Windows family of products unreliable for many years.
Oddly, rather than just interview Microsoft spokespersons, the release quoted controversial far off New Zealander Kim Dotcom, and a far off BBC quote of an
unnamed
Microsoft official instead! It implied that WikiLeaks documents themselves
"appear to confirm"
that
"Microsoft was not cooperating directly with the 3 letter agency."
This is a false and deceptive statement
, perhaps criminally so. The release then
admitted
major zero-day security holes identified by WikiLeaks.
Security Week Computer Security Analyst
J. Oquendo, Jun. 20, 2012:
"CIA, NSA and Microsoft created a completely separate operating system somewhere in the Beltway. Microsoft decided to give the agencies the specific code to make the rogue changes ... So many people are blurring the lines with technology and politics it is scary."
With nonsensical misdirection, the release
cited
WikiLeaks—who they are trying to
debunk
—to support the idea that Microsoft is not cooperating with the C.I.A.! However, in this misdirection, they essentially admitted at least
indirect
cooperation.
Such "indirect cooperation" with the C.I.A. is racketeering with third parties
. This racketeering allows the C.I.A.-run Deep State shadow government to communicate and spy on everyone with impunity.
The racketeering admission notwithstanding, we also know from the National Institute of Standards and Technology (NIST) DRBG Validation List (
DRBG Validiation List
.
PDF version
) that
Microsoft products are registered 194 times
as containing a
universal NSA/C.I.A. encryption backdoor key which unlocks EVERYTHING on Windows anyway.
We also know that on
Jan. 18, 2001
, Microsoft's Bill Gates and Leader Technologies' patent attorney James P. Chandler, were appointed by President Bill Clinton to the National Infrastructure Assurance Council (NIAC)—
NEW, Apr. 4, 2017:
two days before Clinton left office, clearly showing that Bush & Co. carried on Clinton's rogue C.I.A. plans at the White House, with James P. Chandler's direction (advisor to Microsoft and IBM, among their many military-industrial complex cronies of both the political "left" and "right").
Clearly, greed and powermongering make strange bedfellows. NIAC provides the digital systems to the rogue C.I.A. Deep State shadow government.
See
Stellar Wind timeline entry
.
NEW, Apr. 15, 2017:
Encryption engineers who submitted Microsoft NIST DRBG entries are: Tim Myers (
FIPS@microsoft.com
), Kevin Michelizzi (
kevin.michelizzi@microsoft.com
), and Chien-Her Chin (
chien-her.chin@microsoft.com
).
AFI conclusion: Microsoft participates in organized crime with the rogue C.I.A. Deep State, we think, as confirmed by
Security Week
analysts.
Bookmark: #cisco-just-lied
New! Apr. 10 2017:
—CISCO just lied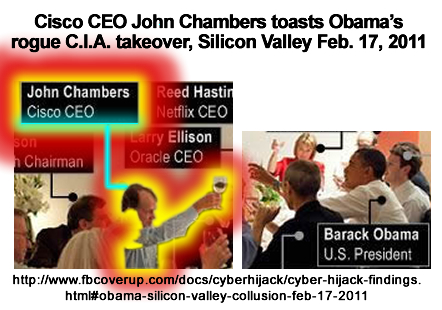 Cisco Systems claimed on Mar. 21, 2017 that they had just "spotted" a critical "bug" that allows the NSA to exploit 318 of its switches. This is a boldface lie clearly intended to deceive customers. The truth is, Cisco willingly embedded "bugs" over a decade ago (we believe as early as 2001) at the request of the NSA/C.I.A. They even registered the backdoor encryption "bug" at the National Institute of Standards & Technology (NIST) DRBG Validiation List. PDF version. (Download and repost these HTML and PDF versions for safekeeping. It is proof positive of this rogue C.I.A. collusion with Silicon Valley. The source NIST web page/table has been deleted from their site. Imagine our shock.)

NEW, Apr. 15, 2017: Encryption engineers who submitted Cisco NIST DRBG entries are: Palani Karuppan (pchetty@cisco.com), Muukund Chikerali (mukundck@cisco.com), Global Certification Team (certteam@cisco.com), Sonu Shankar (sonshank@cisco.com), M.K. Whitlock (mwhitloc@cisco.com), Jennifer Gilbert (jtgilber@cisco.com), Ashit Vora (asvora@cisco.com). See also Thomas E. Noonan, IBM, NIAC, JouleX (John D. Podesta, Vladimir Putin, Anatoly Chubais, Rusnano), Cisco.

Cisco is a core member of rogue C.I.A. front organizations including The IBM Eclipse Foundation, the National Infrastructure Assurance/Advisory Council (NIAC), as well as The Clinton Foundation. (Thanks to an AFI researcher for this important heads up!)
ORIGINAL POST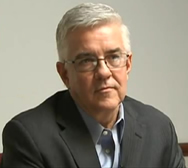 Fig. 6—
Michael T. McKibben
, Chairman & Founder, Leader Technologies, Inc., Columbus, Ohio, true inventor of social networking, including U.S. Patent No. 7,139,761. Proved in federal court that Facebook infringes his patent on 11 of 11 claims. After the trial, the judges protected Facebook without disclosing they ALL held Facebook financial interests and had deep relationships with Facebook's attorneys White & Case, Cooley Godward and Gibson Dunn.
(Apr. 04, 2017)— This weekend my brother and I toured the Mound Science & Energy Museum in our hometown of Miamisburg, Ohio. Growing up, we had no idea that this huge Department of Energy site with 16-foot thick below-ground blast walls was one of a very few DOE facilities for the research, development, and production of nuclear weapons components. The Lab also produced nuclear power sources for deep space and lunar missions, including the Voyager 1 Interstellar Mission.
We also had no idea that our Miamisburg school mates were the children of over 300 of the world's top chemists and physicists who were moved secretly to Miamisburg, Ohio after World War II. Our father was an Army veteran on one of the first troop ships to occupy the Japanese Imperial Naval Academy. He was a civil engineer with Maxon Construction Company, the engineering firm that built the Miamisburg facility. He had witnessed firsthand the blistering devastation of Hiroshima and Nagasaki and wrote home describing it.
The Mound DOE Lab was a critical part of the "Manhattan Project" which was America's all-out effort to develop a nuclear weapon before the Germans, Japanese, Italians or Russians.
America needs a new Manhattan Project to restore digital integrity
I have been asked numerous times about WikiLeaks Vault 7: What is disclosed? How damaging is the information? Do you think Julian Assange is a patriot or a villain?
For the longest time I reserved judgment on Mr. Assange. The spy business is a game of shadows. Everyone lies for a living. Therefore, whatever we read in the media is all too often disinformation. The citizens of the old Soviet Union used to joke about the reliability of their official news sources: "We are experts at reading between the lines."
It appears we have reached that point in America. In fact, our situation is much worse.
The difference between the old Soviet media and American mainstream media today is profound. At least in the Soviet Union, nobody believed the Communist Party newspaper PRAVDA. But in America today, well-known C.I.A.-financed mind control virtue signaling via the mainstream media (CNN, NBC, MSNBC, CBS, ABC, CNBC, The New York Times, The Washington Post, even some at Fox) is being used successfully on many fronts including elections, values, finance, education, race, climate, healthcare, gun control and culture. Indeed, these outlets prove that the average unsuspecting American is gullible and easily manipulated, even when their previously trusted news sources are working against their interests.
America's founders envisioned a Free Press that would hold the powerful accountable. However, when those media organizations are themselves funded by the very governments, spy agencies, big banks and corporations that they are supposed to watch, then they fall silent. Worse, they produce fake news to further deceive us and support their overseers.
Jesus Christ was asked how to discern false prophets—how to tell the difference between a sheep and a ravenous wolf dressed like a sheep. He said:
"You will know them by their fruits. Grapes are not gathered from thorn bushes nor figs from thistles, are they?" Matthew 7:16.
Using Christ's guidance, I'd say Julian Assange is a patriot. (1) He has revealed to us that the Clinton, Bush and Obama governments have been leading a global organized crime syndicate of Deep State bureaucrats and corporate cronies. (2) He carefully avoids harming individual intelligence agents in the field. (3) He curates his information thoroughly. And, (4) to my knowledge, has never published anything but facts.
Therefore, as a journalist, Julian Assange is producing wonderful fruit. He is doing his job! The fact that the C.I.A. lost control of the Vault 7 data is certainly not Julian Assange's doing.
Regardless of one's opinion of Julian Assange and WikiLeaks, Vault 7 is out there and must now be addressed. One cannot now pretend that Vault 7 is not published.
It reveals several glaring truths:
The Clinton, Bush and Obama governments have been spying on us without a warrant, which was declared illegal by the Second Circuit Court of Appeals in 2015. Despite that ruling, the unscrupulous lawyers of the Deep State shadow government ignored it and kept the program going "under different authorities."
Our government is allied with a group of un-elected crony capitalists who are exploiting our private information to further consolidate their wealth, power and eugenicide within world populations. What God loves, they hate.
New! Apr. 08, 2017:

FBI superstar said many in Congress are "set up and framed through sex & drugs" by a "rogue" C.I.A. criminal enterprise operating inside our government
This problem can only be fixed by a digital Manhattan Project where our best and brightest patriots—technologists who have not sold out to the Deep State—are brought together to fix the problems that these rogues have created, before the forces of evil triumph.
Digital C.I.A. rogues have exposed corporate directors to massive liability risks never before seen
Corporate directors have a fiduciary duty to protect the assets of their company.



Corporate directors must certify to their shareholders that reasonable measures have been taken to maximize the value of the company assets, especially against hostile takeovers. The rogue C.I.A.'s theft of corporate data is, in effect, a hostile takeover of the company assets.



Corporate directors are legally liable, both civilly and criminally, if they make fraudulent certifications to shareholders and customers.
WikiLeaks Vault 7 has revealed that a rogue group within the C.I.A. has hijacked the hardware, software and firmware of the Internet, and thus, ALL of the data that flows through it.
Vault 7, and related releases, proves unequivocally that many of the technology companies that we trusted (1) are not only compromised by this rogue C.I.A., but (2) they are a part of it. Worse, many of these companies were actually started by the rogue C.I.A. through its "public-private" venture capital arm In-Q-Tel formed by President Bill Clinton and Larry Summers on Sep. 29, 1999.
The evidence now shows that the companies colluding with Deep State shadow government bureaucrats include In-Q-Tel, National Venture Capital Association (NVCA), IBM, Microsoft, Oracle, SAP, Facebook, Google, Instagram, What's App, Groupon, Zynga, AT&T, Verizon, Qualcomm, EMC, Dell, LinkedIn, Intel, AMD, Micron Technology, Cisco, Xerox, Boeing, VK, Gmail, Mail.ru, Lenovo, Goldman Sachs, Morgan Stanley, JPMorgan Chase, Greylock, Kleiner Perkins, Gibson Dunn, Cooley Godward, Orrick Herrington, Perkins Coie, Skadden Arps, Fenwick & West, Chandler Law Firm, Williams & Connelly, Latham Watkins, Accel Partners, IDG Capital (China), Tsinghua University, Barclays, Deutsche Bank, HSBC, Vanguard, Fidelity, T. Rowe Price, The Washington Post, The New York Times, Lockheed Martin, Raytheon, EMC, Dell, HP, Twitter, Apple, Amazon and Netflix.  See The IBM Eclipse Foundation; see also President Obama's Silicon Valley dinner guests (Feb. 17, 2011) and his Technology CEO Council (Mar. 02, 2015).
Bookmark: #fig-10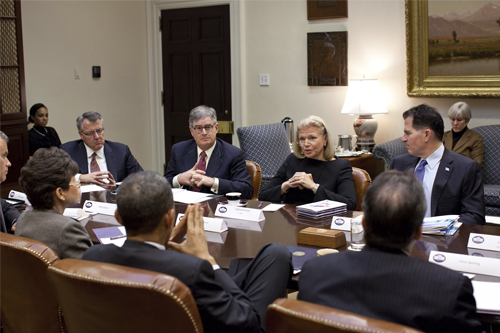 Fig. 10—
On Mar. 02, 2015
,
President Obama
and
Valerie Jarrett
met with chief beneficiaries of the stolen Eclipse Foundation code: Ursula M. Burns (
Xerox
), Michael Dell (
Dell
), Dermot Mark Durcan (
Micron Technology
), Steven M. Mollenkopf (
Qualcomm
), Virginia M. Rometty
(IBM
) and Joseph M. Tucci (
EMC
). Given the timing of this meeting―a week after the radical "Net Neutrality" changes to Internet regulation by the FCC—the real agenda of this group was most likely to discuss progress on their common agenda—the IBM et al
"The Internet of Things"
Deep State shadow government takeover of global digital infrastructure.
Photo: IBM.
Bookmark: #fig-11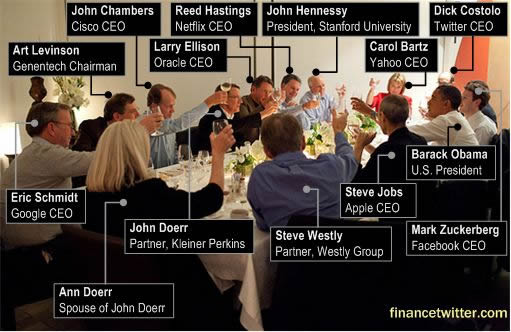 Fig. 11—
On Feb. 17, 2011
,
President Obama
toasted their deception of the American public and the world with 13 members of the IBM Eclipse Foundation NSA Deep State shadow government in Silicon Valley. Conspirators pictured are Barack Obama (U.S. President), Mark Zuckerberg (
Facebook
CEO), Steve Jobs (
Apple
CEO), Steve Westly (
Westly Group
Partner), John Doerr (
Kleiner Perkins
Partner), Ann Doerr (John Doerr Spouse), Eric Schmidt (
Google
CEO), Art Levinson (
Genentech
Chairman), John Chambers (
Cisco
CEO), Larry Ellison (
Oracle
CEO), Reed Hastings (
Netflix
CEO), John Hennessy (
Stanford Univ.
President), Carol Bartz (
Yahoo
CEO) and Dick Costolo (
Twitter
CEO).
Photo: FinanceTwitter.com
The government's own documents have hidden these relationships in plain sight at the Department of Homeland Security via the National Infrastructure Advisory Council (NIAC) and the National Institute of Standards (NIST) Dual_EC_DRBG encryption algorithm (backdoor) registry first proposed by John Podesta and Bill Clinton at the Third CPSR Cryptography and Privacy Conference (1993).
Setting aside the evident collusion, this article focuses on the director liability implicit in the WikiLeaks Vault 7 revelations.
Vault 7 shows that the C.I.A. can effortlessly bypass firewalls, security and encryption and seize anyone's data from any kind of computing device whether that data is stored or being uploaded or downloaded. 
This compromise applies to databases, web servers, mainframes, files, documents, presentations, tweets, instant messages, texts, social posts, photos, medical records, love letters, arrest records, property records, pharmacy purchases, banking information, tax information, location, purchases, financial transactions, laptops, mobile phones, servers, routers, switches, cell towers, satellites, TVs, radios, toasters, refrigerators, automobiles, trucks, navigation devices . . . anything digital. In short, any device that is connected to the internet, or not, is able to be hijacked at will.
Ironically, they do this in plain sight, calling it "The Internet of Things."
RESULT: Director liability has just skyrocketed off the charts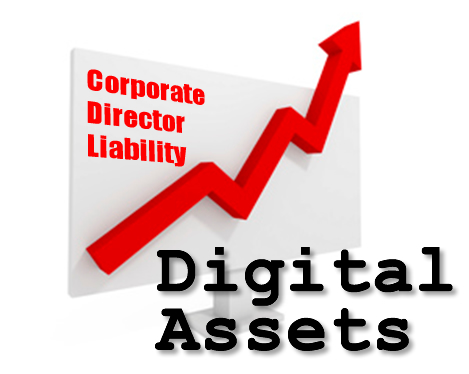 Vault 7 shows us that the C.I.A. has used its various custom malware tools to gain access to all your corporate data assets. The fact that the C.I.A. lost control of its malware means one must assume that those tools are also in the hands of predators, terrorists and competitors.
By teaming up secretly with "Big Data" technology vendors, this rogue C.I.A. group and the vendors share our data to oppress us into compliance through ignorance.
We are ignorant no longer.
Therefore, corporate directors cannot stick their heads in the sand and pretend that they do not know about this total breach of trust by the providers of our digital networks.
In conclusion, corporate directors can no longer certify that their corporate digital assets are secure from thieves, competitors and predators.
LIABILITY NOTICE, Apr. 03, 2017: Subsequent to WikiLeaks Vault 7, corporate directors have a duty to notify their shareholders and customers that all their company's data, including all customer data, has been compromised by a rogue C.I.A. and its complicit commercial technology suppliers.
Congress needs to stop sitting on this destruction of our Republic and get these scoundrels locked up.
* * *
Notice: This post may contain opinion. As with all opinion, it should not be relied upon without independent verification. Think for yourself. Photos used are for educational purposes only and were obtained from public sources. No claims whatsoever are made to any photo. Fair Use is relied upon.
Comment
Click "N comments:" on the line just below this instruction to view comment on this post. On about Dec. 05, 2016, Google began blocking comments to this blog. However, if you email your comment to a secure email website we have established at:: afi@leader.com we'll post it for you. We welcome and encourage anonymous comments, especially from whisteblowers.